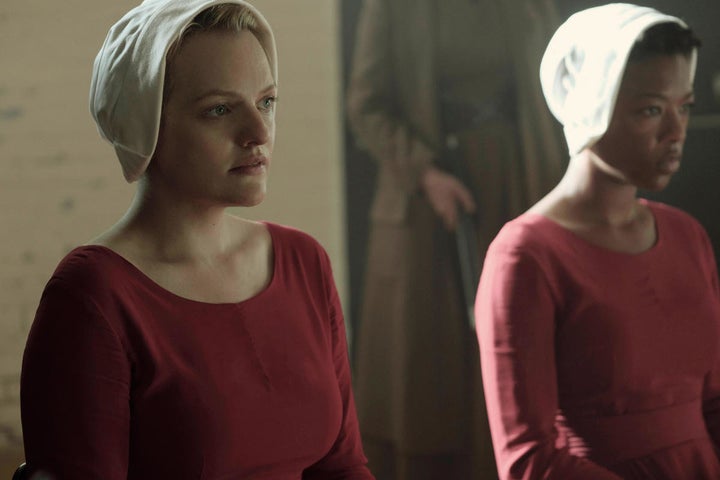 Spoiler alert: Don't read unless you have watched the first six episodes of Hulu's The Handmaid's Tale.
Poor Serena Joy. She was so happy in her pre-Gilead life, plotting the downfall of American civilization. She feels useless in the cage she made for women; I guess that's why she has a perma-tear resting on the rim of her icy, rageful eye. I hate her.
The week's episode of Hulu's The Handmaid's Tale, "A Woman's Place," was far and away the most soap-like. It sure was twisty!
And yet again, this show coincides with a current news story. Blonde Wig is headed abroad for his first presidential outing around the globe. Apparently on Saturday he's planning to hit up a "Men Only" concert in Saudi Arabia. That's cool. I'm going to go ahead and book my train ticket to Canada now, because, according to this week's episode, Mexico isn't an option.
But back to the twists: Offred/June is enjoying her romps with the driver. Serena Joy and the Commander bone down. Mexico decides to deal in Handmaids. Aunt Lydia sort of has a heart. The biggest twist of all: Luke isn't dead.
Luke is not dead! And he may be involved in the May Day Resistance!
There were so many creepy moments. I can see myself lined up with the other maids for inspection. The scene before the dinner in the ballroom reminded me vaguely of my debutante ball. I was trotted out like a prized pony. At 19, in Georgia, in a fluffy white dress it was announced that I was eligible for marriage. I was well on my way to my "place in life" ― being the pretty wife of a good Southern gentleman. All I needed to do was get married and birth some babies. Well, I had a different idea of who I was and how my life would unfold.
It got under my skin when Offred/June was forced to lie about being happy in her position. How often we have to smile in the face of sexism, of oppression. I was unnerved by the giddy flashbacks of Serena Joy. Offred/June's breakdown over her guilt was difficult to watch, because I recognize the self-blaming. Her exchange with the Mexican leader showed a deep betrayal of sisterhood. The episode made it perfectly clear that women are also responsible for how other women are treated. The patriarchy depends upon us internalizing misogyny and inflicting it upon those around us. What's more troubling is that I see the same point echoed in our politics. Republican congresswoman Marsha Blackburn, who once cooked me blueberry pancakes in her Nashville home (I was volunteering for a screenwriting conference she hosted every year as part of her duties with the Tennessee Film, Entertainment and Music Commission), has been very vocal about opposing women's rights and policies aimed at leveling the playing ground for women. She's a capable, shrewd woman — a very intense person, and I've thought of her often over the years, as I watched her take her small-town political career nationwide. Marsha is Serena Joy. Serena Joy is Eva Braun. These women are our undoing.
Now, excuse me while I research opening a bank account across the border.
See you next week for Episode 7. Until then, I'll meet you on Twitter.
Popular in the Community