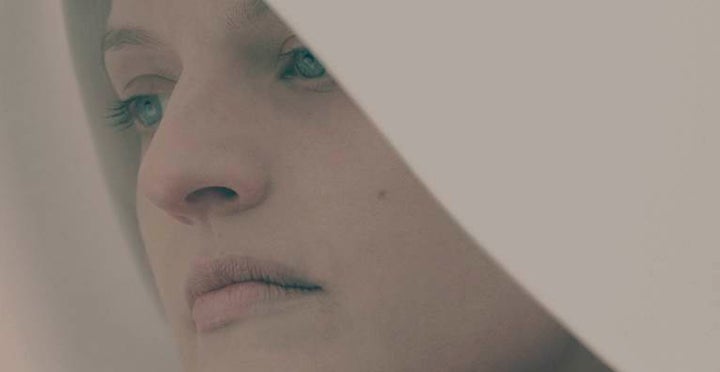 Trigger warning: this post contains discussion about rape, sexual abuse and mistreatment of women.
Spoiler alert: Don't read unless you have watched the first nine episodes of Hulu's The Handmaid's Tale.
"The wives would never accept it," the Commander said in a flashback during last week's episode. "We won't succeed without their support; you know that."
Fred was speaking with two whiter-than-white, silver-haired male colleagues about the kidnapping and imprisonment of all fertile women. In order to make the state-sanctioned raping of women more palatable, the kind, limo-riding gentlemen decided that all that was needed was a little strategic repositioning and a bit of mythology.
I didn't do my weekly recap last week, and I'm glad I didn't, because it gave me the chance to see these two episodes as a package. As I have mentioned before, this show very often uses bookends. Last week, Offred/June went to the brothel for the first time as an unwitting party guest; this week she returned to try to carry out her first spy mission. Episode 8, "Jezebels" gave us insight into the indignant men's right's activists at the center of the narrative. Episode 9, "The Bridge", showed us that no matter how the men of Gilead may try, they will never contain the women. At the end of last week's episode our heroine etched a reminder to herself into the wall of her closet, "You are not alone." And by the end of this week's episode, she finally began to see the truth in her message when she exchanged a knowing glance with the town butcher who'd passed her a secret package.
It's such a relief to see Offred/June unshackle herself from the internalized shame of her position. Last week she worried over who she's become and how far, in her mind, her loneliness had driven her from her principles. She was settling into an uneasy routine with Nick. When he ended things with her last week after her visit to the brothel, she felt desperate, but it was her desperation that drove her to find the courage to join the May Day Resistance. With our current political climate, I simply cannot wait to see the good guys win. House of Cards holds no appeal. I'm disgusted by the villainous plotting of its anti-heros.
At this point it's widely acknowledged that The Handmaid's Tale freaks women the hell out. It's too close to home. In fact, President Blonde Wig fits so seamlessly into the dreary circumstances of this show that Funny or Die cut him into a montage. For the record, the video's not very funny.
When a table full of religious nuts and at least one sexual predator makes the calls about women's health and reproductive rights, there is no doubt we're in a full-scale war against women. I'm so tired of men. I'm tired of their legs spread wide in the subway. I'm tired of smiling when they eyeball me. I'm tired of ring-wing politicians tearing us down while pretending to protect us. I'm tired of well-respected leaders in my own party saying it's OK to support anti-choice candidates. I'm dying to entertainment in which women fight back.
Drive into the night, Moira! You have no idea how much I'm rooting for you.
See you next week for Episode 9 (really, I promise). Until then, I'll meet you on Twitter.