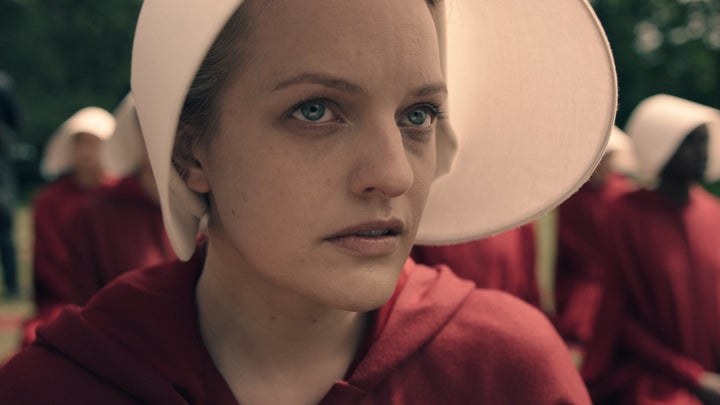 It's difficult to talk about "The Handmaid's Tale," Hulu's adaptation of Margaret Atwood's famous dystopia, without bringing up the story's eerie relevance to contemporary politics. It is, after all, centered on a dictatorial regime hellbent on policing women's bodies.
This was certainly the case during a panel discussion at Tribeca Film Festival on Friday night, during which many of the show's cast and crew were asked how they felt about the political aspects of the series, set to premiere on April 26. When asked whether or not the story's feminist themes in particular were part of the reason some of the actors were attracted to the project, the answers were somewhat surprising.
"Any story about a powerful woman owning herself in any way is automatically deemed feminist," Madeline Brewer, who plays handmaid Janine, told audiences after a screening of the show's first episode. "This is a story about a woman. I don't think this is feminist propaganda. I think this is a story about women and about humans. The three people hanging on the wall were all men. This story affects all people."
"I really echo what Maddie said before," Elisabeth Moss, who plays Offred, said. "It's not a feminist story, it's a human story, because women's rights are human rights. I never intended to play Peggy [from 'Mad Men'] as a feminist and I never expected to play Offred as a feminist."
A few members of the audience, including MTV culture writer Rachel Handler, took to Twitter to express their concern with Moss and Brewer's claims.
In response, another Twitter user thought it wise to see what Atwood, the keeper of the source material, thought:
Atwood didn't necessarily refute the cast's claim, but rather edited it to be more in line with a human rights-centric definition of feminism, one that many contemporary feminists already adhere to.
"It's not only a feminist story," she'd have them say, "it's also a human story."
[I]s "The Handmaid's Tale" a "feminist" novel? If you mean an ideological tract in which all women are angels and/or so victimized they are incapable of moral choice, no. If you mean a novel in which women are human beings — with all the variety of character and behavior that implies — and are also interesting and important, and what happens to them is crucial to the theme, structure and plot of the book, then yes. In that sense, many books are "feminist."
Moss has taken a similar position in past interviews. On stage on Friday, she described her character's actions and thoughts as being motivated simply by a desire to survive and reunite with her daughter ― not necessarily a cemented vision of feminism.
"For me, I don't approach anything with a political agenda," she added. "I approach it from a very human place, I hope."
While several members of the cast seemed less willing to discuss politics point blank during the Tribeca panel, Ann Dowd, who plays a complex villain in "Handmaid's Tale," did not mince words. When asked what kind of impact she'd like the show to have on viewers. "I hope it has a massive effect on people," she said. "I hope they picket the White House and I hope they're wearing ['Handmaid's Tale'] costumes."
Her advice to fans who want to view "The Handmaid's Tale" as a politically-charged warning was made clear: "Stay awake. Stay awake. And don't for a minute think, well, I'll get involved some other time. I won't worry about the midterm election. I'll just... no, no, no. Don't wait. Just stay awake."
Popular in the Community