The red robes ― a nod to the outfits worn by the handmaids in Margaret Atwood's dystopian novel The Handmaid's Tale ― gathered at the base of the steps of the Alexander Hamilton U.S. Custom House in the Financial District around 12:30 p.m. on Tuesday where Pence was scheduled to speak at a cybersecurity summit.
"We're here today because Mike Pence is bringing a real Handmaid's Tale to America," an organizer shouted during the rally, Refinery29 reported. "He's a Christian fascist. He's a theocrat. This couldn't be more fitting."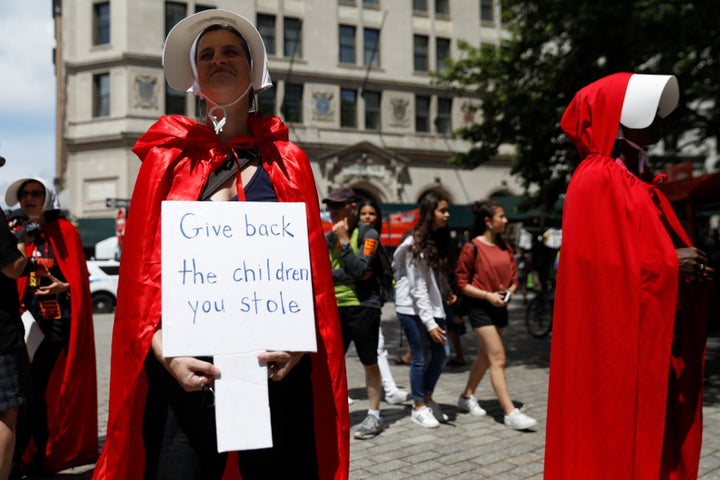 Pence is a devout anti-abortion advocate who routinely declares that he would like to overturn Roe v. Wade, the historic 1973 ruling that legalized abortion throughout the country. Since President Donald Trump took office, his administration has rolled back access to safe and affordable reproductive health care around the world. 
During Tuesday's demonstration, protesters held signs reading "Give back the children you stole" and "Trump/Pence must go!" The handmaids lined up children's shoes to protest the Trump administration's controversial immigrant family separation policy, which separated thousands of families at the U.S.-Mexico border. 
"This is lifelong trauma. Even if they are reunited, the trauma of that is unbearable," protest organizer Emma Kaplan told the New York Post. "It's the torturing of children and it's being done as a way to intimidate and oppress people. That's fascist."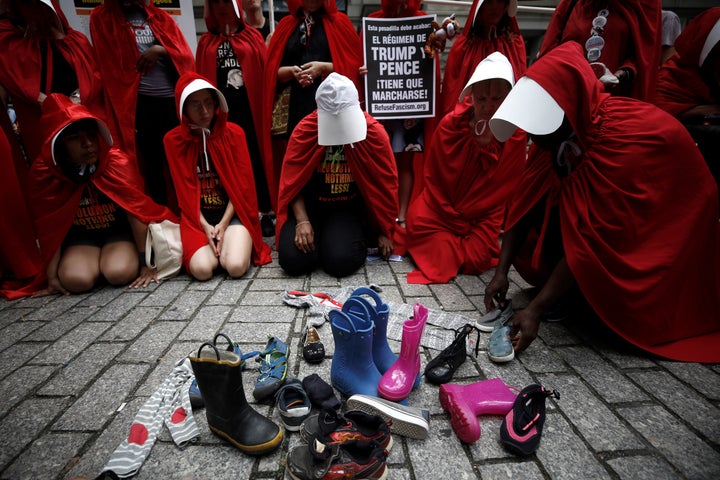 Refuse Fascism explained why they continue to protest Pence on the organization's website.  
"Pence is a Christian fascist theocrat for whom the hellish world of the Handmaid's Tale is a model society: women forced to bear children against their will, the Bible invoked to persecute LGBTQ people and tear immigrant children from their parents," the website states. "Pence and Nielson are part of a FASCIST REGIME that is poised to do even worse ― threatening war, even nuclear war, and destroying the environment for people the world over."
Lillian Forman, 82, told Refuse Fascism that she decided to partake in Tuesday's protest because Trump's policies are threatening the freedom and liberties of Americans. 
"I see how America has changed since Trump's presidency and how it will continue to keep changing if he has his policies fulfilled," she said. "We're losing our liberties, our law protections and our balances. I saw what he did to the kids at the border, and if he can do that to little children — some of them mere babies, literally babies ― he will do anything."
At one point during the protest, the women shed their robes and bonnets to show that they reject Pence and Nielsen's policies. 
"We pledge that we will not stand aside while there is still a chance to stop a regime that imperils humanity," the women chanted, according to Gothamist. "Let's stand together with conviction and courage, overcoming fear and uncertainty to struggle with all we've got, to demand this nightmare must end."
Therese Patricia Okoumou, the woman who recently scaled the Statue of Liberty to protest Trump's immigration policy, also wore a red robe during Tuesday's demonstration. 
"Get the hell out of our White House," Okoumou said of Pence during the rally, according to Gothamist. "You do not know what you're doing. We did not elect you, the Russians did. Stop being an accomplice. We see what you're doing. You are building a criminal enterprise with our taxpayer dollars. It's embarrassing, it's unacceptable, shame on you."
Scroll below to see more photos from Tuesday's protest.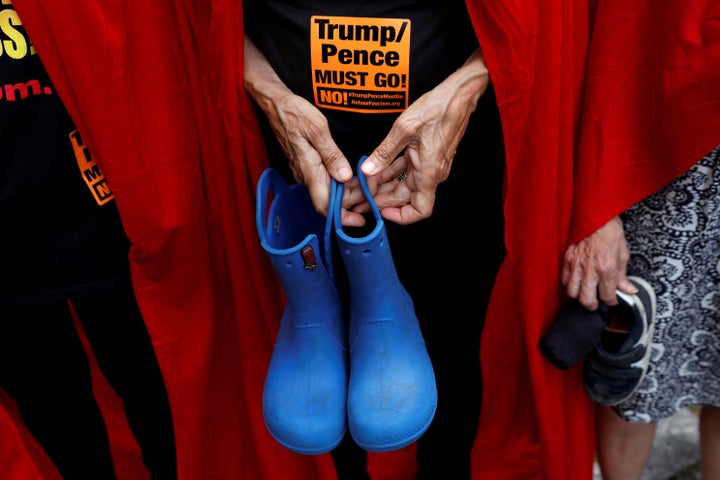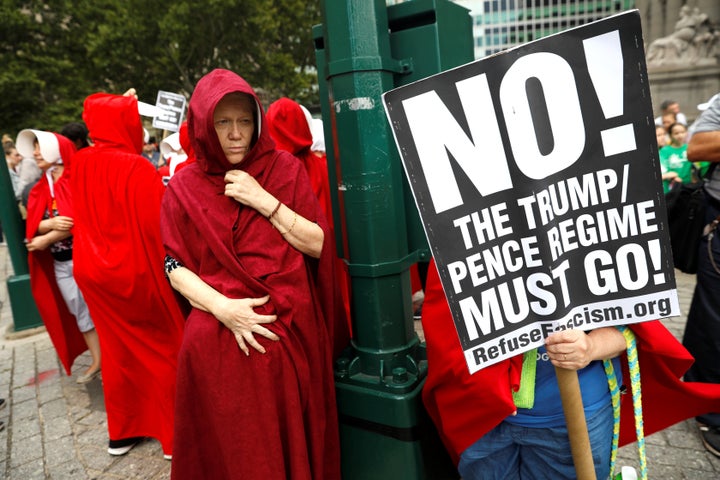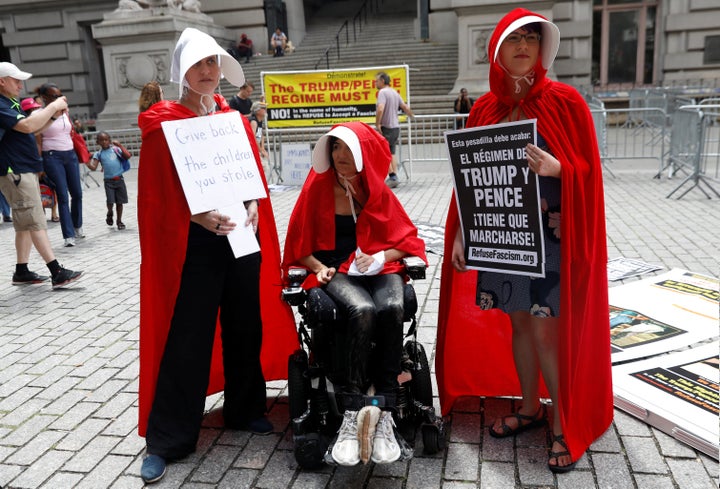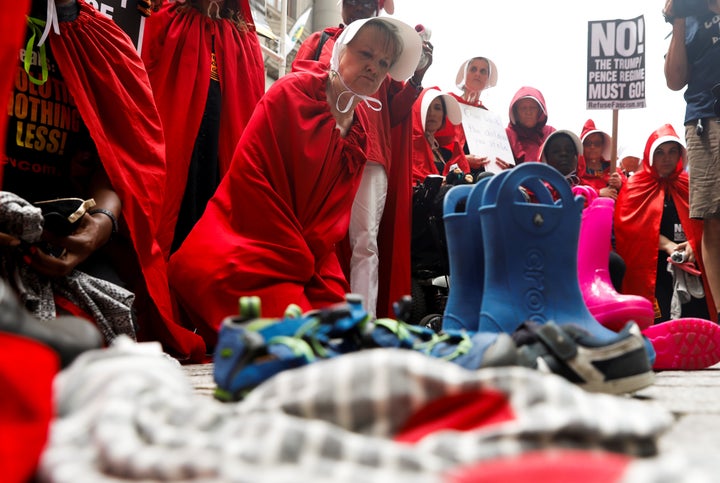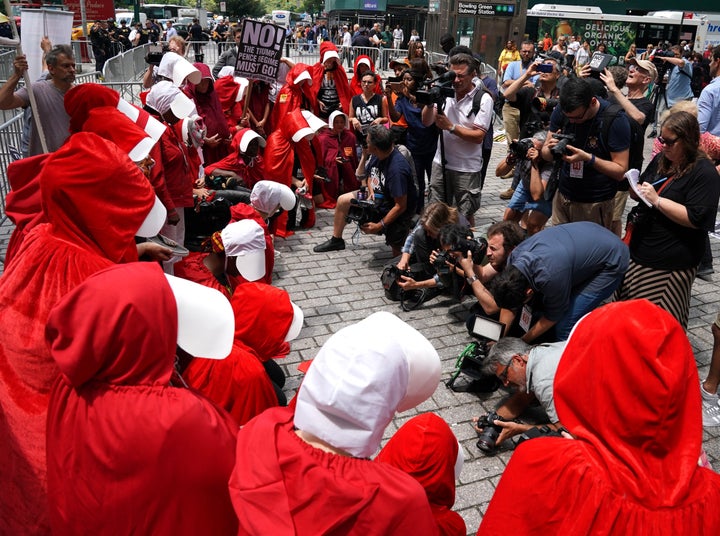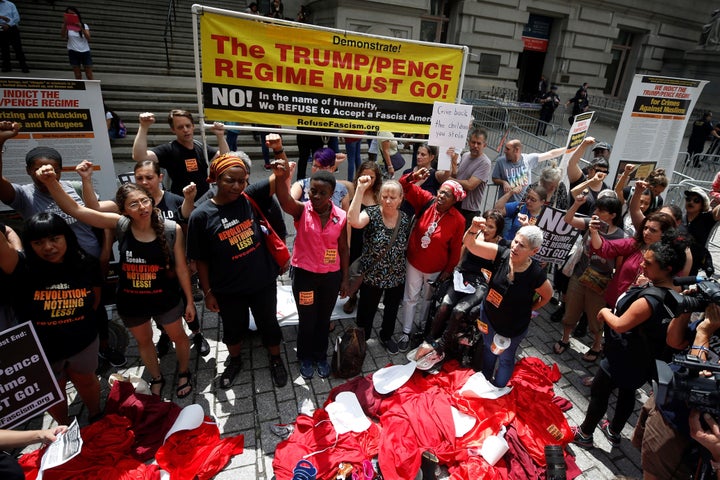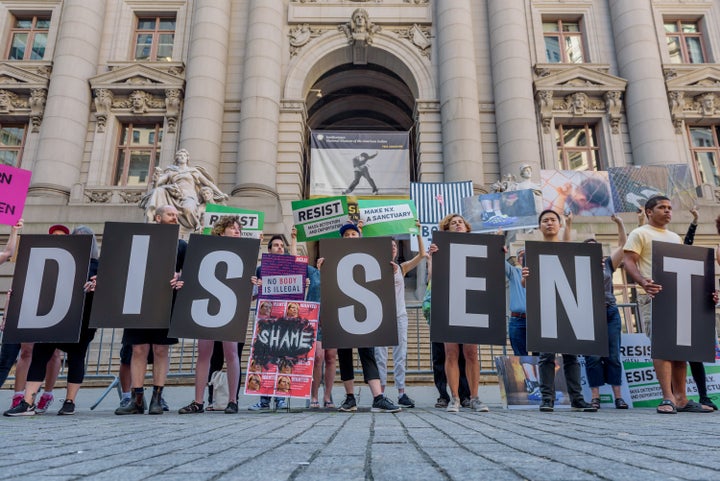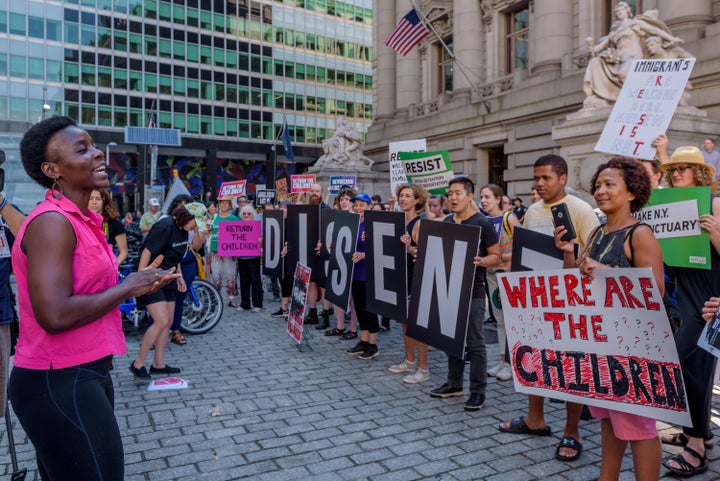 Calling all HuffPost superfans!
Sign up for membership to become a founding member and help shape HuffPost's next chapter