This fruit proved not to be so blessed.
A plan to launch a line of wines based on Hulu's "The Handmaid's Tale" — a television series about women being forced into sexual slavery and to reproduce against their will — was corked in less than 24 hours, multiple outlets have confirmed.
The quick cancellation came after People reported Tuesday that wine merchant Lot18 collaborated with series producer MGM to sell three new wines based on "bold characters" from the show: Offred (Elisabeth Moss), Ofglen (Alexis Bledel) and Serena Joy (Yvonne Strahovski).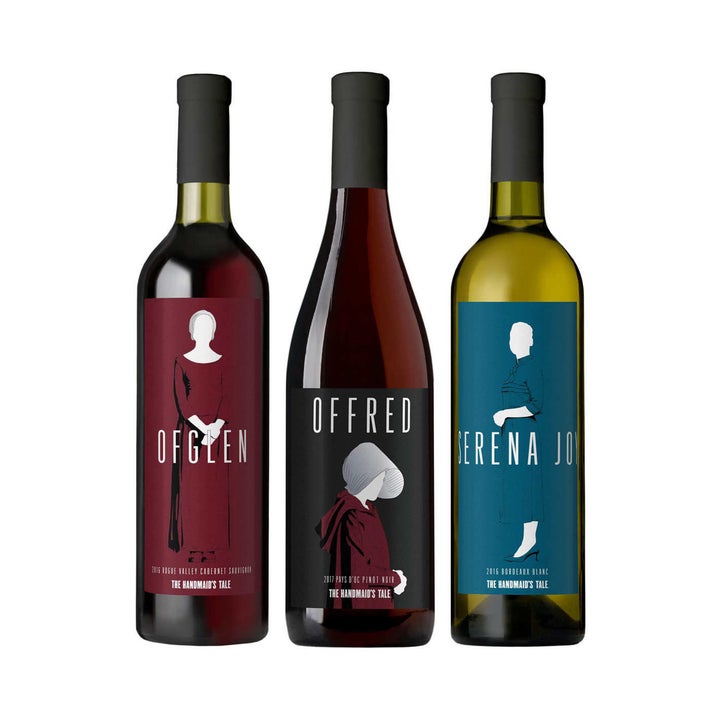 Ironically, most women aren't allowed to drink wine in the totalitarian Republic of Gilead, a dystopian future first depicted in Margaret Atwood's book of the same name.
Yet that didn't stop copywriters from going to town with their descriptions of each wine.
The label for a 2017 Pays d'Oc pinot noir inspired by Offred describes the wine as "rich and complex." Its "lush, fruit flavors of cherry and cassis are complemented by earthy flavors of mushroom and forest floor," an apparent reference to a scene in which Moss' character and her young daughter hide in the woods from the new regime, but are ultimately stopped and separated.
This wine also promises to "a powerful experience you will never forget."
A Rogue Valley cabernet sauvignon based on Ofglen ― a handmaid who falls in love with another woman, is horribly punished for it, and is sent to a labor camp after she lashes out ― is described as "a daring testament to the heights that Oregon Cabs can reach" with a "warm, spicy finish."
And the label of Serena Joy's 2016 Bordeaux blanc calls it "sophisticated, traditional and austere." While the "wine may initially come off as restrained, a few sips reveal it to be hiding layers of approachable white grapefruit and lemongrass, backed by weight and concentration" ― flavors that perhaps best symbolize a repressive woman who is also repressed. 
The idea of marketing wines based on rape, abuse and the oppression of women, didn't go down well with many people on Twitter.
Lot18 did not immediately respond to a request for comment.
Although the merchant's website currently lists the Offred pinot noir as "sold out," the company and MGM reportedly pulled the collection by the end of the day Tuesday.
Calling all HuffPost superfans!
Sign up for membership to become a founding member and help shape HuffPost's next chapter