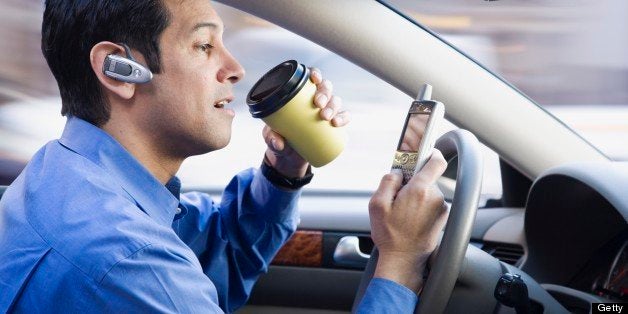 With Siri on the iPhone and Bluetooth in dashboards, it's a lot easier for drivers to talk or text on their cellphones -- but a study released Wednesday found these hands-free technologies could be even more dangerous than hand-held devices when used on the road.
The study by the AAA Foundation for Traffic Safety measured drivers' brainwaves while they were multitasking and found they had to cope with a heavier "mental workload" and distractions when using voice-to-text email features compared to talking on a cellphone, whether hand-held or hands-free.
The study found voice-to-text features sometimes caused drivers to have "a kind of tunnel vision" or -- even more problematic -- "inattention blindness," Automobile Club of Southern California senior research associate Steve Bloch said.
With the former, he explained, drivers "see what's right in front of them, but don't see stop signs, traffic lights, people on the side of the road who might enter the road."
With the latter, drivers "don't even see what's right in front of them, because they're so lost in their own thoughts, so cognitively distracted," he added.
Bloch, who did not participate directly in the study, said the notion that hands-free is safer than hand-held is "just not true" and creates "a false sense of security."
But the Alliance of Automobile Manufacturers expressed skepticism about the findings.
"We are extremely concerned that it could send a misleading message, since it suggests that hand-held and hands-free devices are equally risky," it said in a statement.
The trade group said the study focused only on the mental distraction posed by using a device, and ignored the visual and manual aspects of hand-held cellphones versus hands-free systems integrated into cars.
With a growing number of automakers allowing smartphones to interface with their vehicles so that drivers can use voice commands to turn on windshield wipers, find the nearest restaurant, send and receive text messages, set appointments, and even post on Facebook, Kelly Browning is worried.
"We need to do only one thing behind the wheel, and that's driving," said the executive direct of Impact Teen Drivers, a Sacramento-based organization created to reduce teens' risk of car crashes, particularly those caused by distractions and inexperience.
"Anything that takes away from that, regardless of whether it's voice activated or not, can be lethal," she warned.
California Highway Patrol public information officer Vince Ramirez urged drivers to refrain from using their cellphones in car. After all, in most cases, it's illegal anyway.
The state banned drivers from making calls with handheld cellphones in 2008, and driving while texting in 2009.
Hands-free texting, however, is permitted as of January of this year, unless you're under 18.
"Anybody under 18 is prohibited from using a cellphone or any type of electronic device whatsoever, when driving," Ramirez said.
He added most first offenses for distracted driving result in a fine of about $150. A second offense could cost about $250.
CHP hands out an average of 36,000 such citations monthly, but that's only a tiny fraction of the number of drivers using cellphones.
According to a recent study by the state Office of Traffic Safety, the percentage of California drivers using cellphones at any one time is 7.5 percent.
That's down from almost 11 percent in 2012; nevertheless, OTS director Christopher Murphy said the number is still too high because any usage of cellphones while driving creates distractions and compromises reaction times.
"Before you start your car, either turn off your cellphone or put it out of reach," he advised. "Change your voice message so that if someone calls you while you're driving, they will know that you will call back when you can.
"And if someone you know -- especially your son or daughter -- is in a car, don't text or call them if it can possibly wait."
Citing data from the National Highway Traffic Safety Administration, AAA said 3,331 people were killed and 387,000 were injured in crashes involving a distracted or inattentive driver in 2011.
U.S. Transportation Secretary Ray LaHood issued guidelines for automakers to reduce the distraction risk posed by electronic devices in their vehicles in April, after a study found cellphone texting, browsing and dialing increased the risk of a crash by three times.
LaHood recommended that drivers take their eyes off the road for only two seconds at a time, and 12 seconds total, to operate in-car communications, entertainment and navigation devices.
He also called for disabling texting, browsing, video-phoning, Web pages and social media unless the vehicle is parked.
The guidelines, however, are voluntary.
In the meantime, BMW's website advertises "ConnectedDrive," a feature that uses Bluetooth to let drivers "conveniently view your appointments, diary entries, information and news on your vehicle display -- all without having to pick up your phone."
"Just concentrate on driving: the text-to-speech function can read out your e-mails, notes, diary entries or text messages via the speakers of your audio system," it continued.
Ford has SYNC, which reads incoming text messages aloud while the vehicle is in motion while GM promises in-vehicle "infotainment" and Iomation, touted as "the ability to find goods and services on the fly, powered by location-based information services."
With a five-fold increase in such infotainment systems expected in new vehicles by 2018, AAA President and CEO Robert Darbelnet called for action.
He said the automotive and electronics industries should limit the use of voice-activated technology to core driving-related activities, such as climate control and windshield wipers; and disabling certain voice-to-text technologies that use social media, email and texting when a vehicle is in motion.
"There is a looming public safety crisis ahead," Darbelnet said. "It's time to consider limiting new and potentially dangerous mental distractions built into cars, particularly with the common public misperception that hands-free means risk-free."
The Associated Press contributed to this report.
christina.villacorte@dailynews.com; @LADNvillacorte on Twitter
(c)2013 Daily News (Los Angeles)
Distributed by MCT Information Services
Related
Before You Go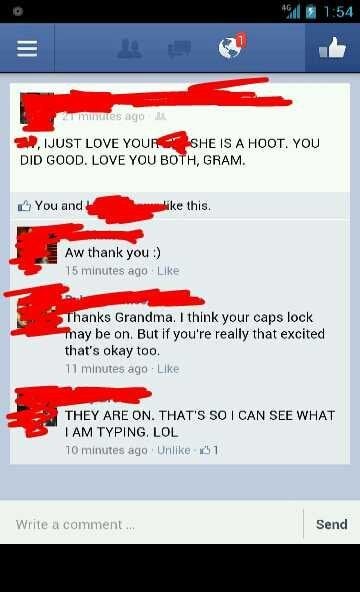 Grandparents On Facebook
Popular in the Community