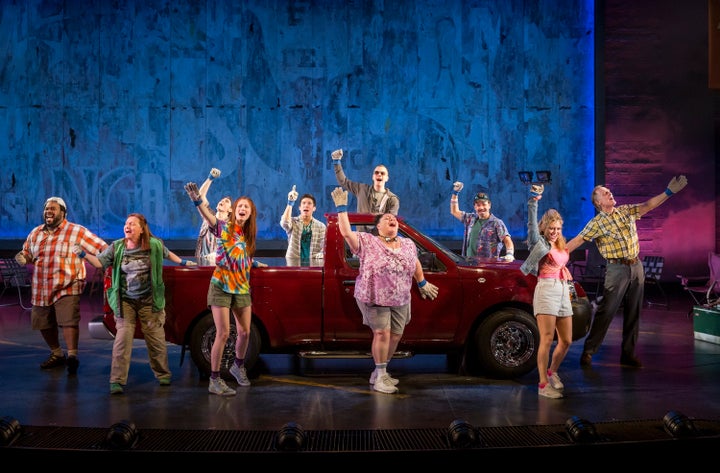 In 2005, Richard Vega removed his hands from a truck in the lot of Patterson Nissan, the most famous car dealership in Longview, Texas. It was an unexpected move for Vega, until then a fierce competitor in the dealership's annual "Hands On A Hardbody" contest. Whoever's hand stayed on the truck the longest got to keep it.
Vega disconnected three minutes before the break whistle (the rules entailed five-minute breaks on the hour, 15-minute breaks every six hours, with no sitting, leaning, squatting, or sleeping in between). "He took it very personally," a BBC reporter covering the contest later recalled, trying to make sense of what happened next. Vega crossed the street to the Kmart, threw a trash can through the entrance, stole a shotgun and shells from the sporting goods section, and killed himself.
How far off the edge will the desire for a pickup truck push someone? In "Hands On A Hardbody," the new Broadway musical that premiered Thursday, no one goes as far as Vega, whose death put an end to the 20-year-old competition. But the production, based on S.R. Bindler's odd and wonderful 1997 documentary of the same name, isn't all sunshine and dance numbers, either.
This is a world of unreal types, so suited for the stage it's hard to believe they weren't born in a writers' room. There's Benny Perkins, smug returning champ and cowboy philosopher; Norma Valverde, who swears her stamina comes from praising Jesus; Ronald McCowan, who subsists on Snickers bars; Don and Janis Curtis and their industrial grade AC unit; a lone Marine; and Kelli Mangrum, a good girl who becomes disturbed as the days pass.
The very real characters Bindler found in the flesh in Longview in 1995 are now, improbably, pleading their cases on Broadway. It's simple enough math. As McCowan put it in the documentary, in a line now in the show, "A car can't make you money. A truck can make you money."
The musical's premiere coincides almost to the day with the reprint of the documentary, which is now available for purchase for the first time in years. Since making "Hardbody," Bindler has directed one movie, the poorly received comedy "Surfer, Dude" (starring fellow Longview son Matthew McConaughey). In the meantime, he's watched his first creation rack up admirers. Robert Altman reportedly died in the midst of developing a feature adaptation, and Ira Glass devoted an episode of his radio show, "This American Life," to interviewing Perkins, the "Hardbody" anti-hero. Meanwhile, copies of the hard-to-find film sold on eBay for hundreds of dollars apiece -- likely to buyers who never saw the re-release coming.
You can't exactly blame them. Until recently, the revival of the documentary (shot and edited for less than the cost of the Nissan Hardbody its subjects fought over) would have seemed like a pipe dream to even the staunchest fan. When Ideal Films, the small production company that owned "Hardbody," folded in the late '90s, Bindler's golden egg supply dried up. "With [Ideal] disappeared all five 35 millimeter prints of the movie," Bindler told The Huffington Post.
He couldn't make a new print, as there were no master copies left. And he couldn't figure out how to get his hands on a copy. "Netflix was the last place you could get a few, and I think people just started to keep the ones they rented," he said. "And then they ran out of units."
But what he did have were clones of his original 8 millimeter tapes, made in a panic over the course of a few sleepless nights in 1997, when the first-time filmmaker realized he'd turned over all of his assets to distributors. Bindler's early fears had proven true -- the assets were now gone. Worse, over the years, those cloned strips had started to degrade.
Working with a restoration artist, using a "really bad dub" ripped by Ideal as a guide, Bindler rebuilt his movie frame by frame in Final Cut Pro, with the cloned raw footage. "I eyeballed it," he said of his method. "I'd say, 'OK, I have a shot of Benny talking." Then I went and looked through the 100 hours of material to find that shot."
The laborious process took Bindler four years, during which he was approached by Pulitzer-winning playwright Doug Wright about making a musical. It wasn't a new proposition -- three parties had previously asked Bindler for rights to do the same thing, with no luck. They were "simple" offers from lovers of the documentary, according to Bindler. But in the team of Wright, who grew up in Dallas, and Green, a songwriter whose Texana credentials include the stage versions of "Debbie Does Dallas" and "Bring It On," Bindler felt he'd found not only experienced surrogates, but ones "sensitive to my concern that the people in the documentary be treated with respect."
It shouldn't be long before we find out whether Wright and Green carried out Bindler's charge. At the Longview premiere all those years ago, some "Hardbody" stars, like Ronald McCowan, weren't in the audience because they weren't in the White Pages. This time around, a detective was hired to track down the contestants. At the Thursday opening show, Benny Perkins, the movie's talkative central figure and the best critic you could ask for, sat front and center.
CORRECTION: A previous version of this article incorrectly referred to Benny Perkins, one of the subjects of the documentary, "Hands On A Hardbody," as Benny Smith. The error has been corrected.
Before You Go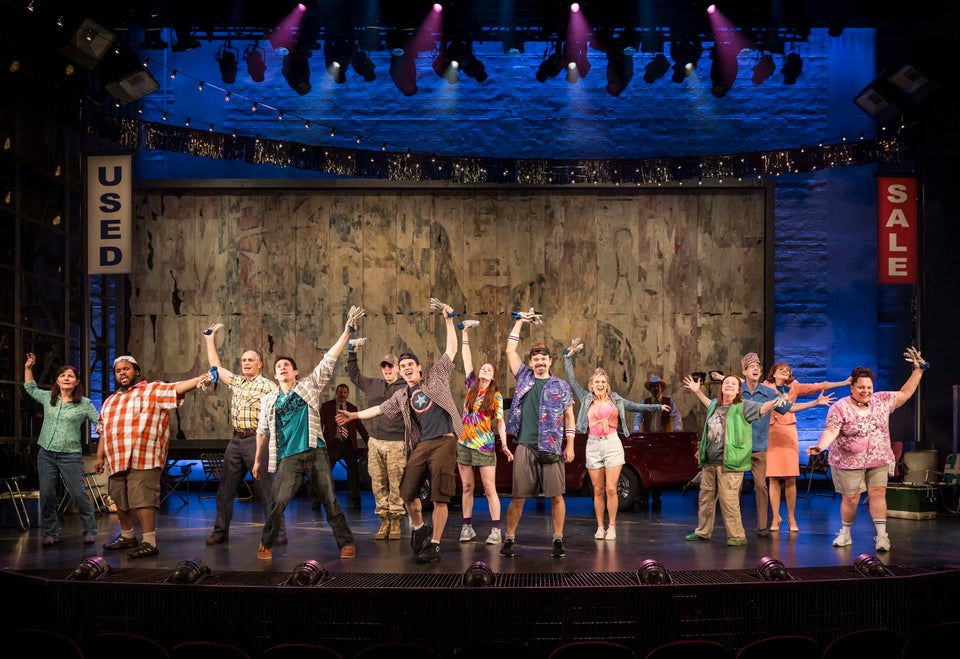 'Hands On A Hardbody': From Cult Hit To Broadway Musical
Popular in the Community