I've now had a couple opportunities to play with with Galaxy Tab Android tablet that Samsung announced at the IFA consumer electronics show in Berlin. And while a few minutes of usage at a trade show is not the same as taking it out for a test drive, it's enough to get some first impressions.
My initial reaction is mostly positive. After using the Apple iPad with its 9.7-inch screen and many smart phones with 3 or 4 inch screens, I was a little skeptical about the idea of a 7-inch tablet yet I found that there was enough screen real estate to happily browse the web and read books though I only had time to read about a page using the device's bundled Kobo e-reader which looks a lot like the Apple's iBooks app).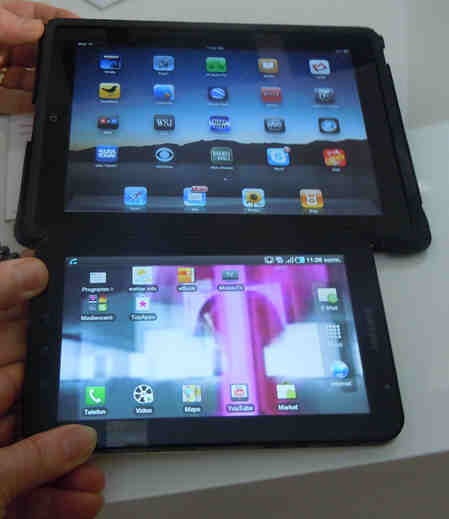 Apple iPad next to Samsung Galaxy Tab. Both in portrait mode (Photo: Larry Magid)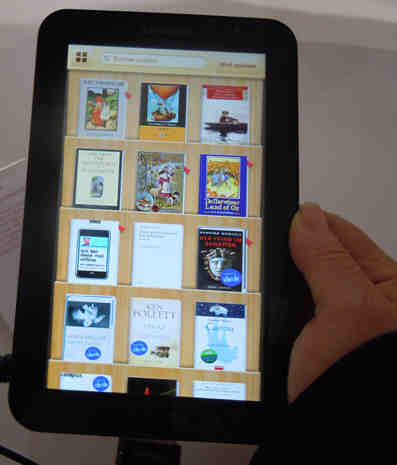 Kobo e-reader on Samsung Galaxy Tab (Photo: Larry Magid)
3G Video Conferencing as Easy of Facetime
The user interface on the Tab's video conferencing feature rivals that of Apple's Facetime which is currently only available on the iPhone 4 and the soon-to-be-shipped new iPod Touch. But, unlike Facetime, the Tab allows you to make a video call over 3G networks rather than only via WiFi. I had a chance to test that at the T-mobile booth at IFA (confirming that T-mobile will sell the Tab, at least in Germany). To my delight, iniating a video call is very easy. It's simply one the options in the standard phone dialer app.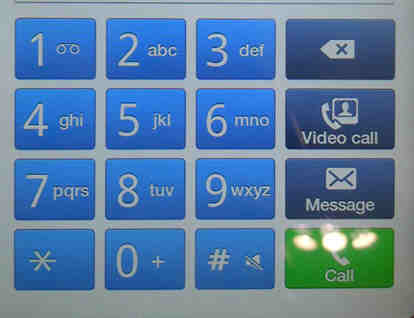 Simply touch "Video call" to initiate a video conference (Photo: Larry Magid)
Because the one test call I made was via a 3G cellular network and not WiFi broadband, there were some delays and the video was a bit choppy but it was better than I expected.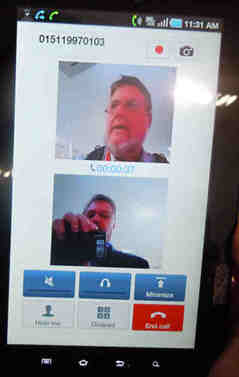 Larry (bottom screen) chats with tech-blogger Steve Wildstrom at T-mobile booth at IFA
The good news about web browsing on the Tab is that the screen is large enough to give you an experience more or less on par with an iPad or even a PC. The bad news, which my colleague Steve Wildstrom pointed out to me, is that the Android 2.2 browser "identifies itself to websites as a mobile browswer so the sites scale the image for a 3-inch display." It would be very simple for Google to modify the browser so it brought up full sites rather than mobile versions but it's not clear whether Google will do that during the life-cycle of the Tab. Samsung confirmed that it is working on a separate tablet that will run Google's as-yet-unannounced HoneyComb version of Android, optimized for tablets but current versions of Android are not designed for larger screens. Still, most apps seems to look pretty good on this device though Samsung has admitted that some don't work well on this sized screen.
I'm pleased that Samsung has created what feels like a serious attempt to create a new subcategory of tablet computing which is more suitable to mobile applications than the Apple iPad. With its 7-inch screen and form factor of 7.5 by 4.7 by .5 inches it is small enough to easily hold in one hand and use even as you walk around. Although it has a phone, I don't see many people using it to make phone calls and if they do, they are almost certainly going to want to use a headset or use it as a speaker phone.
I'm also glad to see the phone support Flash so users will be able to enjoy video and other Flash applications that remain quite popular on the web and, as an Android device, it's nice to know that it will be able to run most of the tens of thousands of apps that are available for that platform. I am, however, concerned that there may be apps whose display is simply not optimized for this screen size. That's also true with the iPad which allows you to double the size of iPhone apps so that they are larger, albeit grainier. My hope is that Google figures out a way to let apps scale to work on any sized screens and that app developers find ways to create apps that will work well on a variety of form factors.
Calling all HuffPost superfans!
Sign up for membership to become a founding member and help shape HuffPost's next chapter