Nicholas Heyward Sr. has been trying to find justice for his son, Nicholas Jr., for over 21 years. Little Nicholas Jr., 13 at the time, was fatally shot in a Brooklyn public housing staircase in 1994 by a housing cop named Brian George. If that sounds familiar it's because that's what happened to Akai Gurley in November of 2014, just about 20 years later. Heyward and Gurley both took their last breaths in a NYCHA staircase. Two lives separated by a generation but linked by the barrel of a cop's gun.
Mr. Heyward, along with the mothers of other victims of police violence, was at the side of Gurley's family earlier this week in court. Only another parent can know what it's like to lose a child. For now Gurley's family won't have to live with the pain of Akai's killer walking scott free. Rookie police officer Peter Liang was convicted last night of manslaughter for shooting into the staircase of the Pink Houses that night.
The network of families who support each other not only share the same pains, they know that their pain is the result of a pattern--the product of a system. The continued theft of black and brown lives, from Nicholas to Akai, from Tamir Rice to India Krager, is, as Akai's supporters have always chanted, "no accident."
Liang's conviction last night wasn't delivered by the district attorney. It was the product of thousands of New Yorkers clogging city streets. It was demanded at every march and vigil where his family, friends and supporters would lift his name. Akai's aunt, Hertencia Peterson, one of the most graceful and powerful people I've ever met, led marches and inspired supporters with her words. The family's early decision to not allow Al Sharpton to commandeer Akai's name resulted in a powerful, family-led movement.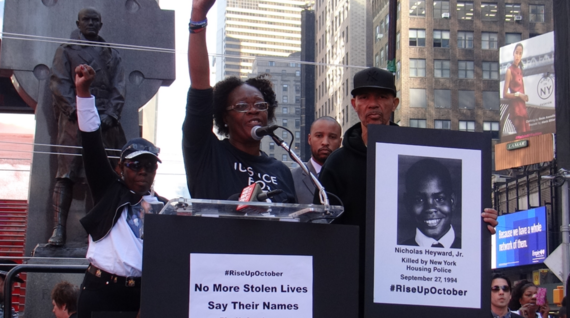 Hertencia Peterson and Nicholas Hayward Sr. at a rally (photo: Cat Watters)
While no one should be 'happy' this morning, there is some level of relief for the family and that's important. But it's also important to recognize that even in the conviction there is a salute to the police. Brooklyn District Attorney Ken Thompson, asked for comment after the verdict, said that the result was in no way a reflection of any systemic issues with the NYPD, which he called "the greatest police department in the world." For Thompson, like many others, the bad apples are the proper focus--not the system.
There is also the deafening silence from the police unions. Blowhard PBA president Pat Lynch was nowhere to be found after the verdict, instead delivering a three sentence statement to the press. Somehow the thought of a rookie Asian-American cop being carted off to jail didn't elicit the usual table-pounding we've come to expect from Lynch. On the other hand, white cops like Daniel Pantaleo and Richard Haste, responsible for the deaths of Eric Garner and Ramarley Graham, have not only avoided prosecution but have been furiously defended. Haste even received a hero's welcome from applauding and cheering cops during his court appearances while Ramarley's parents cried for their son.
So where do we go from here?
Ramarley's parents have begun to pressure US Attorney Preet Bharara to bring charges against Haste. Garner's family has followed suit, waiting for federal action. While there is a long line of parents who've had feds deny their requests for involvement, the Department of Justice recently announced that they're looking deeper into Garner's case. On the other hand, they have provided cover for a city and police department that is refusing to fire him outright. The DOJ has also not, like in Ferguson, taken steps to investigate the NYPD more broadly.
And what about for residents of the Pink Houses and other public housing developments? Despite Lynch and Liang's lawyer's predictions that the conviction would have a "chilling effect" on cops, public housing residents should expect an increase in intrusive policing tactics after the killing of an East Harlem housing cop last year and the shooting of two others last week in the Bronx.
For demonstrators, many of whom have found their voice in shutting down traffic and lifting the names of other relatively unknown victims of police violence, there is the surveillance and aggression by cops eager to snuff out political protest. Mayor Bill de Blasio, as comfortable with the police than he's ever been, has given his blessings and approval to an NYPD that has taken a more aggressive tone with activists. There are, after all, former military prison guards (from Abu Ghraib, no less) leading the NYPD's policing of protests.
To counter Thompson's bad apple-ism we should put the focus right back onto the system. That's why Gurley's family and supporters have called for a rally tonight at 5pm in front of police plaza.
We have a long way to go in any fight for justice. Vertical patrols will continue. The city will still rather send an armed cop in public housing than open a community center or provide basic services. And convictions or no convictions, the memories of police brutality victims will continue to haunt us.
Popular in the Community