 Terry Smith of West Richland, Wash., learned this week that he'll be losing his job in a few days thanks to federal budget cuts.
"It stinks," Smith, 56, said in an interview. "I think people in Washington, D.C., don't have a clue. It just kinda stinks."
Smith said he's worked since 2009 as a radiation control technician at Hanford Nuclear Reservation in Washington state, where the government has been trying to clean up nuclear waste since the end of the Cold War.
It is the nation's most contaminated nuclear site. And now federal budget cuts known as sequestration may interfere with the cleanup efforts being carried out by the 9,000 men and women who work there. Some Republicans have accused President Barack Obama of exaggerating the impact of recent budget cuts for political reasons, but the impact is real for the 244 Hanford workers who received pink slips on Monday. Another 2,000-plus received furlough notices, meaning they'll have to spend weeks on unpaid leave.
"These lost jobs and work hours will adversely impact families in the Tri-Cities and will harm economic recovery in the region," Washington Gov. Jay Inslee (D) said Monday, according to the Associated Press. "Now is no time to scale back federal commitments to protecting public and environmental health in our state."
The U.S. Department of Energy, which oversees Hanford, said safety would not be compromised. "While some cleanup activities at Hanford may be impacted as a result of sequestration funding levels, the Department and its contractors will continue to ensure that operations and facilities will be maintained to protect our workforce, the public, and the environment," spokeswoman Keri Fulton said in an email.
Dave Molnaa, president of the Hanford Atomic Metal Trades Council, the union that negotiates on behalf of many workers at the site, said radioactive waste won't get cleaned up any faster with fewer workers.
"I think there are going to be cleanup deadlines missed," Molnaa said. "In order to get the work done, they need the people to do it."
Starting during World War II, Hanford made plutonium that went into nuclear bombs -- including "Fat Man," the one that exploded over Nagasaki in 1945. After the end of the Cold War, the site was mostly decommissioned and efforts to clean up millions of gallons of nuclear waste began. Some of the site's 177 underground storage tanks have been leaking radioactive sludge into the ground.
"[Sequestration] is already affecting the work," one contractor who does regulatory compliance and has been at Hanford for more than 20 years told The Huffington Post. He, like many others interviewed for this piece, requested anonymity in order to speak openly.
"When you start furloughing people who are involved in a project and they have to be gone for a week and you can't get a hold of them because they're furloughed -- you're not supposed to get a hold of them -- it's going to mess things up. There's no doubt about that," said the employee, who will be furloughed for 120 hours. "It's going to cost more money in the long run."
Hanford workers assured HuffPost that despite the steep budget cuts, the safety of the employees and the public would not be put at risk.
"We need to keep up with the bare necessities -- the 'min. safe' level, is what we call it -- of what we have to do to try to prevent waste from leaking, but we're not able to achieve any more," added another contractor who has been working at Hanford for nearly three years and focuses on making sure work there is performed safely and correctly. He is facing approximately 150 furlough hours.
"You have potentially more leaking tanks if you keep kicking the can down the road and putting this off. So it's more of a long-term issue than an immediate issue," he added.
The furloughs affect non-union workers, while the layoffs apply to union members. But Molnaa said the union asked some members to volunteer for unpaid leave -- either by giving up earned vacation time or by taking a furlough -- in order to prevent some of the layoffs.
Jason Frazier, 38, who works at Hanford as a chemical technologist, said he volunteered to take two weeks of unpaid leave. He said he worried the cutbacks would affect the local economy, which has long been supported by the workforce at the nuclear site.
"This type of work, we deal a lot with radioactive material and so these are really good middle-class jobs," said Frazier, who lives in nearby Pasco. "Because of this it's really going to affect the middle class here in this area."
This story has been updated to include comment from the Department of Energy.
Before You Go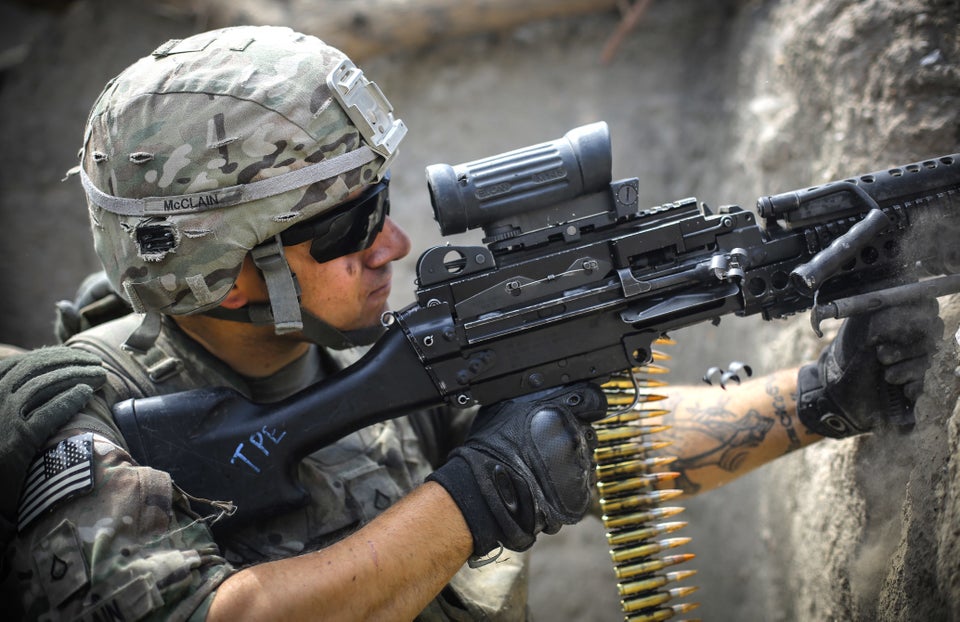 What Sequestration Would Cut
Popular in the Community