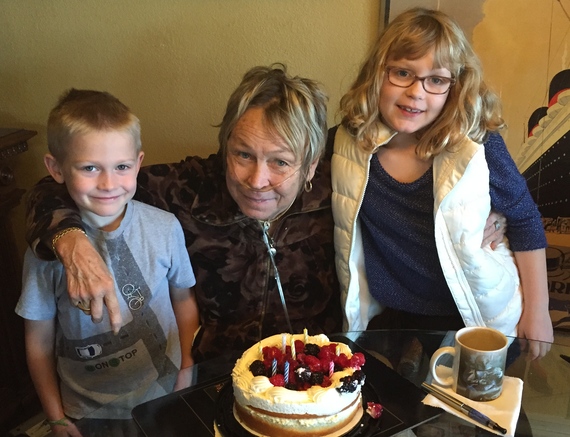 "Can we go to Sue's house?" I have heard that simple question hundreds of times. It's almost always followed by the kids grabbing a bike, scooter, or just high-tailing it down to their best friends house.
I watch them through our big picture window. See their smiles, hear their screams of joy, feel the excitement. They always go around back and let themselves in, like they live there.
"Hi Sue, can we hang out?" My kids wait all day to to say those words.
They stand in the doorway, waiting for the next part. Wait there hoping to hear her boisterous deep laugh, see her huge smile, and feel her love as she looks at them. Then she says it. The all too familiar statement that means the world to my son and daughter. "Sure kids, come on in."
You see, my kids best friend neighbor Sue, is 69 years old.
Growing up, so much of what is learned happens in your neighborhood. Colorful stories from crazy adventures, new friendships formed, and days spent hanging with your crew. When my kids were born, I thought a lot about where they would have these adventures and who their crew would be.
Our neighborhood is made up of two houses on either side of us. We don't have any random kids tearing through our house. No soccer in the street. No bonfires on the beach. No games of tag that take over the entire neighborhood.
When my kids tell stories about their neighborhood adventures, they involve one friend. Never in my wildest dreams did I think that my kids best friend would be neighbor Sue.
I can still recall the summer my kids started hanging with Sue. It is not uncommon to hear me hollering out the door for my son. Never knowing where he is, I walk around screaming his name. Usually I hear right here, but on this particular day, I heard nothing. Figuring that they had found their way down to their friends house, I took off down the driveway and rounded the corner. I stopped before they saw me.
Sitting at the patio table were my kids and neighbor Sue. It was a hot day, so my kids had their swimsuits on. Glasses of Kool-Aid and bags of Doritos filled the table. There was some intense action going on. Sue was teaching my kids how to play rummy cubes.
Aa I stood there watching, I found myself filled with love and appreciation for this amazing woman. This neighbor who had become my kids best friend. This kind, gentle, soul who always makes time for my kids.
My kids have spent countless hours hanging with neighbor Sue. Days spent watering her flowers, drinking Dr. Pepper, eating snacks that aren't allowed at home, and playing Scrabble. They have shared every holiday, Halloween costume, Santa picture, first day of school stories, and birthday with her.
Sue has taught my children more about life than any neighborhood game of tag could. My kids have learned that spending time with others is sometimes the one thing that keeps them going. Sue has taught them that time is essential. Sitting with someone and sharing stories is the greatest gift of all.
They have learned one very simple truth about people. Lifelong friendships are formed with care, laughter, and compassion. Equal parts of give and take. Time spent fostering feelings of respect, love, and happiness. Friendships should be simple. She has taught them that.
I'm still not exactly sure what goes on when I'm not around. Not sure what jokes are told and snacks shared while they are playing rummy cubes. Whatever happens, there is one thing I am sure of. My kids are forever changed by the magic shared with their best friend neighbor Sue.