I was in Seoul, South Korea this month at the invitation of the wonderful EBS TV Documentary Festival, and was truly, happily surprised to see a resurgence of activism among ordinary Koreans. Don't get me wrong. Since its founding, Korea has had a tradition of fierce, die-hard activism (which Koreans themselves may attribute to a diet high in garlic and red pepper, as well as their commitment to social justice), but this ferocity seemed to have gone dormant in the mid-nineties. I was overjoyed to find that this was no longer the case.
While in Korea, I had the opportunity to slip away to Jeju-do for a few days. It had been 20 years since the last time I had visited the island, when I had gone for vacation like most visitors to Jeju-do. An idyllic, sub-tropical climate and a UNESCO heritage site status have made Jeju-do an extremely popular tourist and honeymoon destination, while the remoteness of the island from mainland Korea has bred a unique and independent culture.
In 2005, Jeju-do was dubbed "Island of World Peace" by then Korean president Roh Moo-hyun. This was perhaps in an effort to scrub itself clean of a bloody past, as Jeju-do is the site of one of the most disturbing and grisly episodes leading up to the Korean War. Under the leadership of American puppet Syngman Rhee, right-wing paramilitary forces from the mainland waged a brutal campaign against a "communist" uprising which, at the most conservative estimates, killed 30,000 people (one-tenth of the population of the island) and displaced countless others. This memory of the April 3, 1948 massacre is still vivid in the minds of Jeju-do villagers, who are once again mobilizing against repression.
One might also see this designation of "peace island" as a hopeful talisman against further abuse, but for several years the South Korean government, at American urging, has been relentless in its attempts to build a naval base on Jeju-do, and now have their sights set on the tranquil coastal village of Gangjeong.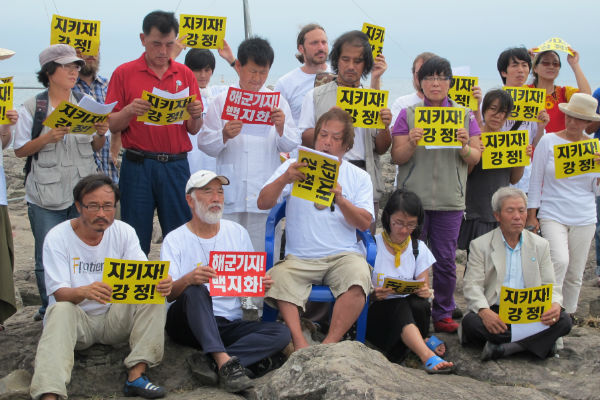 Members from the international community, including Japanese people from Okinawa Island (where the U.S. has military bases) join locals in Jeju Island to protest against the construction of a U.S. naval base.
While offering several reasons for building the base -- to protect commercial interests, to serve as yet another defense against a belligerent North Korea -- most of the islanders understand that the base at Gangjeong will offer little protection against a possible attack by North Korea, functioning mostly as a proxy for American missile defense against an ascendant China. In other words, American militaristic posturing at a grievous cost to the local ecology -- an unwelcome combination to the island, and to a region that has suffered enough war in the 20th century.
The Jeju-do I visited this time around was radically different from my previous experience. In addition to water sports and walks along the shoreline, the people there were engaged in some less likely activities for a paradise island, like chaining themselves to construction equipment, tethering their bodies to each other and to the site of the proposed naval base. I also attended the celebratory release of Sung Hee Choi, an artist who was being released from jail after three months and remains on probation. Her crime, like so many others protesting the base, was "obstructing business" -- in Choi's case, standing in front of oncoming cement trucks. Choi was in good company, as people from all sectors of the community, including the mayor of Gangjeong, have also been brutalized and imprisoned by police forces. Upon my arrival, I have learned that an additional 600 riot police, including water cannons and riot buses had been imported from the mainland in anticipation of larger protests, leaving the community on edge.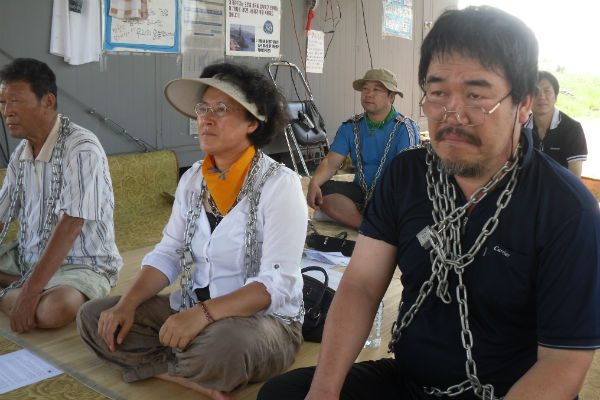 Korean activists prepare to chain themselves to construction equipment, tethering their bodies to each other and to the site of the proposed U.S. naval base.
Back on the mainland, things are equally restless. As the economy lags, and the government of South Korea moves increasingly to the right, labor has suffered greatly. Enter Jin-suk Kim and her "aerial protest."
In the southern coastal city of Pusan, a woman named Jin-suk Kim has been confining herself in a high-rise crane for nearly eight months. Kim is a member of the Korean Confederation of Trade Unions (KCTU), and has been up in crane no. 85 in the Yeongdo shipyard since January 6, in protest of severe layoffs by the Hanjin corporation (HHIC).
Incidentally, crane no. 85 was the site of another protest eight years ago -- but rather than a prolonged sit-in inside the crane, the protestor in question preferred to string a noose and hang himself from it.
Although initially flying solo in her aerial protest, Kim is not alone. Caravans of "Hope Buses" carrying thousands of supporters have been visiting the crane area to offer their support. Like the protests on Jeju-do, this has not been without obstacles -- one caravan was met with batons, tear gas, and water cannons as they tried to push the police line. The founder of the Hope Bus campaign, a poet named Kyung-dong Song, himself stands a vigil of sorts in the KCTU trade union offices in Seoul. If he leaves KCTU safe haven, he will be immediately arrested by the police hovering around the building day and night, waiting for that opportunity. This is the price Mr. Song will pay for successfully "obstructing business" and organizing large demonstrations without a government permit. Again, just this past weekend in Seoul, hundreds of miles from the no. 85 crane in Pusan, 9,000 police have been deployed to disrupt around 2,500 "Hope Bus" protestors demonstrating against the Hanjin layoffs with water cannons and other means of force.
Hanjin is hardly the only corporation being targeted by this resurgent labor movement. The ordinary citizens who protest the naval base on Jeju are also protesting Samsung, a chaebol (family-run mega-corporation), which has offered obscene bonuses to upper management while laying off thousands of workers, and which stands to profit from the construction of the base in Gangjeong.
And here we find a lovely coalescence, as these protestors are not "labor," strictly speaking. Many of the activists I met in Korea told me how inspired they have been by the Arab Spring protests, and of their hope for a similar "Asian Spring" in South Korea and elsewhere to fight against corporate greed and militarism. Accordingly, the Hope Bus campaign found support not only from labor, but from the disabled, sexual minorities, religious figures, and other groups, all of whom stand unequivocally opposed to the immoral practices of the chaebol culture. And it is not only Koreans getting involved. Renowned American feminist Gloria Steinem has offered her voice in support of the protestors on Jeju-do, and prominent anti-war activists from the west have arrived on the island to join in the opposition. Figures like Noam Chomsky are coming out in support of Jin-suk Kim and the Hope Buses.
What I saw in Korea was a beautiful thing, true solidarity among people of different interests and nationalities, thousands of people, ordinary people, who have found that when they speak as one, it is impossible not to hear them.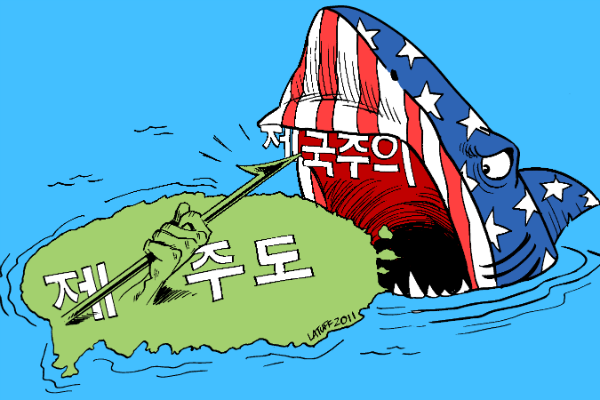 Exclusive cartoon by Brazilian artist Carlos Latuff, hero cartoonist of FREE PALESTINE cause. Here he extends support to Jeju Island villagers who protest against the construction of the U.S. naval base. cartoon translation: shark's teeth IMPERIALISM bites green Unesco site JEJU ISLAND ... but locals resist!!!

Related
Popular in the Community