For the past two years, the Boston NAACP has partnered with Comcast, the Smithsonian Channel, the Urban League and the Museum of African-American History to bring eye-opening documentaries to Boston for screening. Last year it was The Legend of Lead Belly, the provocative story of Huddie William Ledbetter, a Louisiana gospel, blues and folk singer born in the post-reconstruction era, whose songs have been covered by musical greats from Led Zeppelin and Frank Sinatra to Red Hot Chili Peppers and Nirvana.
This week we are pleased to bring a special screening of The Hammer of Hank Aaron this Friday, February 19th at the Museum of African-American History, located at 46 Joy Street on Beacon Hill in Boston. A Reception begins at 6:00 pm, followed by the screening at 6:30 p.m. The Speaker lineup includes Michael Curry, President of the Boston NAACP and Chris Hoelzl, VP of Program Development at the Smithsonian Channel, along with representatives from the Museum and Comcast.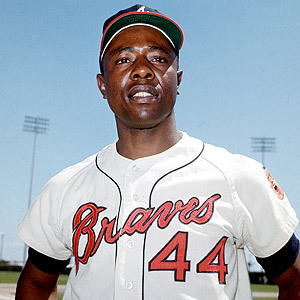 Hank Aaron, or "Hammerin' Hank" as he is fondly known, literally demonstrated to the world what it means to "level the playing field" by giving equal opportunity to people of color. He made his Major League Baseball debut at age 20 in 1954, just one year before Rosa Parks refused to give up her seat to a White passenger in Montgomery, Alabama. Aaron rose in his baseball career during the height of the Civil Rights movement. While prominent Black baseball players Willie Mays and Ernie Banks were criticized for remaining silent, Hank Aaron was an outspoken champion for racial justice. He was "hammering" as an outfielder for the Braves in Boston and then Milwaukee before the team moved to Atlanta, which was the home of Dr. Martin Luther King Jr. When asked why he felt obligated to talk fervently about Civil Rights, Aaron said, "If you're not gonna do it right, then don't do it at all." Congress would eventually pass the Civil Rights Act in 1964 and the Voting Rights Act in 1965.
On the playing field, Hank Aaron smashed through racial barriers and ignored racist death threats and hate mail when he broke Babe Ruth's long time "sacred record" for home runs on April 8, 1974. He finished his career with 755 home runs and 3,771 hits and was elected to the Baseball Hall of Fame in 1982. Aaron pushed not just to have Black players on the field, but also at all levels of management and ownership. After retiring as a player, he became an Executive Vice President in the front office of the Atlanta Braves.
Today in 2016, in almost all areas of American life, the playing field is still not level for people of color. Vast disparities continue to exist in education, health care, housing, criminal justice, employment and wealth. We've come a long way since the 1950's when Hank Aaron began his career, but if Black History Month is here to remind us of anything, it should remind us of how much work remains to be done when fighting for equity, access and opportunity for all. For instance, just last year, the Federal Reserve Bank of Boston released a study on the Color of Wealth which found that White households have a median wealth of $256,500, compared to $700 for African American households. We need to remove structural barriers of entrenched and institutionalized racism that still exist in this country if we're truly going to have a level playing field where people of all races and ethnicities have doors opened and real opportunities to succeed.
Hank Aaron, who today still lives with his family in Atlanta, says, "My motto was always to keep swinging. Whether I was in a slump or feeling badly or having trouble on the field, the only thing to do was keep swinging." That's great advice for those of us in the fight for social justice. Keep swinging.
Join me and the Boston NAACP for the exclusive screening of The Hammer of Hank Aaron on Friday, February 19th.
Ayele Shakur is Chairman of the Education Committee for the Boston NAACP, and Regional Executive Director for BUILD. Follow her on Twitter @AyeleShakur
Related
Popular in the Community