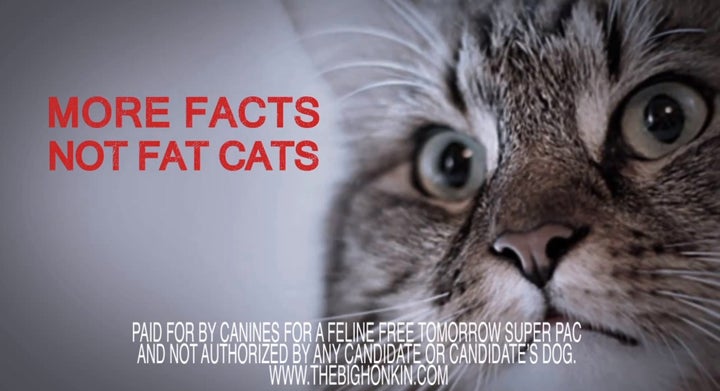 A humble house cat's bid for the seat being vacated by retiring Sen. Jim Webb (D-Va.) caught fire this week, drawing messages of praise from Russia and Saudi Arabia, with one group offering to go door to door canvassing for the caramel-colored kitty.
But the claws are also out. Opponents of the comic "Hank for Senate" campaign have released a feline-bashing, drag-'em-into-the-litterbox attack ad.
"Hank for Senate? No Way," posted on YouTube, doesn't pussyfoot around. Taking a cue from many of the hottest political attacks, Hank's dogged detractors point out that this would-be four-legged lawmaker has never released his birth certificate or his tax returns. They also question whether he has ever been to a vet, and they aren't above a little name-calling.
"Should a Maine coon be running for Senate in Virgina?" the ad asks as the word "carpetbagger" appears onscreen.
WATCH "Hank for Senate? No Way." (Story continues below.)
Hank is taking the fiery fight in stride, campaign manager Matthew O'Leary told The Huffington Post.
"He's still taking his daily naps and getting excited about cheese," O'Leary said. "He was a bit grumpy for his last televised interview, but that appeared to be because it was too close to dinnertime, so we're scheduling his appearances for midafternoon and he's doing well."
The catnip-roots campaign won't respond to negative ads, but according to his spokesman, Hank thinks the ad is baseless and part of those "same Washington insider tricks."
Thus far, Hank's campaign has centered on the need for jobs. He also advocates for spay and neuter programs and rescue groups, such as the one that saved him in Virginia.
"Hank has expressed concern that politicians ask for Americans' hard-earned money and then spend it on ads that continue this vicious, hateful cycle," O'Leary said.
In their ad, the candidate's political opponents also touch on Virginia's recent reproductive rights controversy. The spot asks, "Would Hank force females to undergo an ultrasound before being spayed?"
On another front, O'Leary wanted to clear away the criticism of Hank's weight. He is not a "fat cat," as the video says. In fact, O'Leary said, Hank's enthusiasm for leaping high and staying fit would do Michelle Obama's "Let's Move" campaign proud. The candidate works out daily with a bouncy ball, and at his last veterinary visit, his 12 pounds were pronounced perfect for his age and breed.
"He has Republican roots as cats tend to be more conservative," O'Leary said. "He also only tears up liberal books when trying to wake me for breakfast."
The anti-Hank ad was posted by an account called "The Big Honkin'," which identifies itself as a group of writers, directors, visual-effects creators, editors, producers, actors, and filmmakers from Virginia, but the super PAC Canines for a Feline Free Tomorrow claimed credit for the spot.