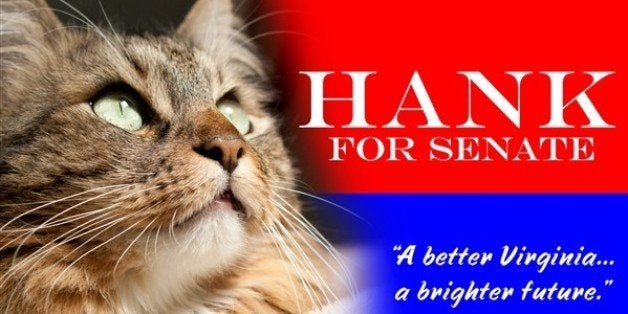 "We know Hank will be not allowed to be on the ballot, because he doesn't have a social security number," says O'Leary, who is wearing a Hank campaign T-shirt. "He doesn't have the eligibility to vote. And he's a cat."
The fluffy Maine coon, for his part, is doing what any candidate might do while campaigning in a very close election. He's wearing a bow tie and lounging underneath a coffee table covered in swag: Hank For Senate campaign bumper stickers, campaign posters currently for sale on eBay, a campaign mug. (All swag proceeds benefit animal rescue groups.)
Being a cat has influenced Hank's approach to politics. For example, the feline candidate -- who enjoys sleeping, attention and cheese, according to his owners -- avoided Virginia's contentious political battles over reproductive rights. When asked about abortion, O'Leary says Hank's response was "a bit different."
"[With cats] There are so many of them and it's so rare that there's an actual abortion taking place," O'Leary says.
Though Hank's campaign is now, at least partly, a serious (if fun and adorable) critique of campaigns, it started as a joke. In the fall, when campaigns for Virginia state Senate were underway, O'Leary and Roberts got tired of seeing politicians' signs along the road.
"So we thought it would be fun to create the Hank for Senate campaign, and run him for state Senate," says O'Leary. "When the election came we found out he actually got nine votes. As a typical politician, what do you do when you fail? You run for the next highest seat."
"He's not too into civics," says Roberts. "He could be a D.C. councilmember."
How many votes Hank will garner in the November election is an open question. Many of his supporters live out of state -- he's even got a substantial following in Russia -- and it's impossible to measure Hank's actual Virginia-based support, though "someone did an online poll and Hank got 98 percent," says Roberts.
"People ask what will you do if he wins," O'Leary says. "That's for the courts to decide."
And should Hank -- now sitting outside, under a chair on the deck -- lose?
"He always tells me that he wants to focus right now on the Senate campaign," O'Leary says. "But he has also told us that he very much wants to serve the public for the rest of his life. 2016, the race will be pretty wide open I think. We'll have a pretty good shot."
PHOTO GALLERY
Hank The Cat's Campaign Headquarters
Calling all HuffPost superfans!
Sign up for membership to become a founding member and help shape HuffPost's next chapter
BEFORE YOU GO