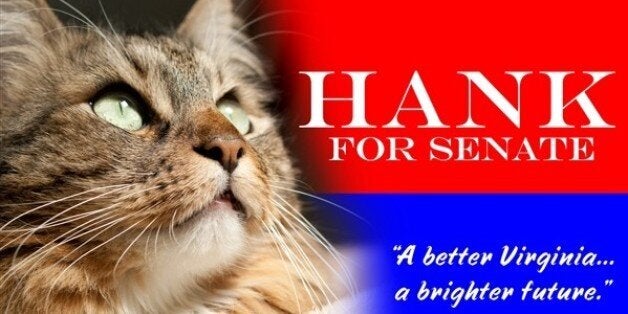 At one point, fans hoped that a handsome Maine coon cat named Hank might one day run for president, an office historically occupied by humans.
Campaign Manager Matt here -

It is with amazing sadness to inform you that Hank passed away today in our arms just before 5pm EST. Hank fought to his dying breath in the same way he fought in his political career -- with bravado and strength unmatched even in humans. Simply put though, there seem to have been a combination of factors that just didn't allow Hank to prevail, including a heart murmur with developed into congestion, along with anemia and a number of other serious things to deal with on their own, let alone when fighting a very large cancer mass.

Hank was our baby boy, and our pain is immeasurable -- but we let him know all throughout his long night last night, and right up until his final moments, that he was loved by so many, and that he had done so much for so many critters. Hank's amazing story will continue to live on, and as we often see with the most amazing trailblazers (such as Tuxedo Stan), they change the world and leave before we're able to truly appreciate them.

We greatly appreciate all of the well wishes, thoughts and prayers sent our way. Hank was always so very humble with regards to his celebrity, but we were so incredibly proud of all he achieved. Each night I'd carry my baby boy up to bed, and he would snuggle into my legs and 'milk' them before settling in to sleep -- and I'd often think about how very lucky I was to have this famous cat, loved by so many out there, curling up with me to sleep through the night. I will miss that most of all. If you were lucky enough to meet Hank in person, or want to share a story about how you heard about Hank's campaign in the comments below, feel free to do so. Hank is looking over all of us tonight, and I'm certain he's got a happy kitty smile with half-closed eyes of contentment.
Hostile canines aside, Hank's many supporters have been expressing their sadness and affection on Twitter and Facebook -- which O'Leary told HuffPost is some comfort for him and Anthony Roberts, Hank's other owner and O'Leary's husband.
"He was one of a kind, and our sorrows are slightly dulled by the fact that he was loved by so many," O'Leary said.
"By breaking the milk ceiling," he said, most likely via his English-speaking representatives, "I hope that other cats, dogs and other animals decide it's time to make a difference in their community and follow in my footsteps."
Those stepping feet may have been small in size, but they were great in ambition, reach, style and even, we'd say, humanity. We'll miss you, Hank.
Calling all HuffPost superfans!
Sign up for membership to become a founding member and help shape HuffPost's next chapter
BEFORE YOU GO
PHOTO GALLERY
Hank The Cat's Campaign Headquarters