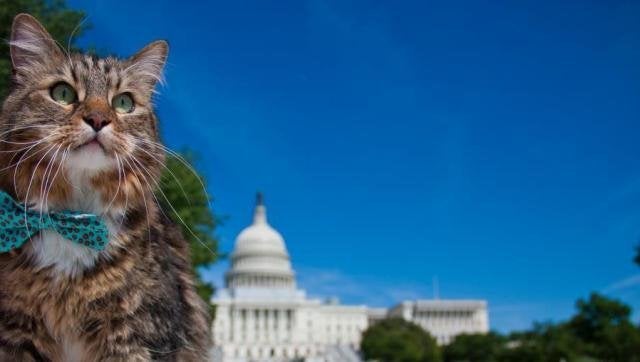 Indeed, yes -- but there are other alternatives. Hank's owner and campaign manager Matthew O'Leary says that some fans are agitating for Hank to join Democratic operative Terry McAuliffe, Virginia Attorney General Ken Cuccinelli (R) and White House party-crasher Tareq Salah (R) by jumping into the already crowded and colorful 2013 Virginia gubernatorial race.
We're "not sure about that," says O'Leary, noting concerns raised by Hank's other dad, and O'Leary's husband, Anthony Roberts. "One thing Anthony has said [is] that things can go on for too long and cheapen the whole experience. We don't want that to happen."
Along those lines, O'Leary says that, despite the interest in Hank's political future, not to mention the surprising uptick in the purchasing of Hank lawn signs, bumper stickers and other campaign merchandise after Election Day, "we'll be looking at an official closing of the campaign." (Stock up on Hank gear here; T-shirt sales will extend past the campaign's official close, but lawn signs and other goods will no longer be available.)
If life as a candidate and animal welfare advocate is ending, Hank should have at least a half-dozen more lives to pursue other adventures. He's even considering entering the private sector, though he hasn't yet settled on exactly what he'd do there.
"Hank is looking at all of his options," says O'Leary. "So many people donated their hard-earned money. He wants to be one of those people to donate money."
"When I started this campaign, I was just a cat -- a wonderful, fluffy, cute cat, no doubt -- but today, I now belong to each and every one of you, and I will continue to be yours for all time," reads the message, which has already provoked dozens of fond responses.
Hank does not preclude reentering the political sphere -- in his message, he writes that perhaps someday, he " will return to the political arena once again. If and when that day arrives, you will certainly be the first to know, and I have no doubts that you will support me once again if the need arises."
I stand before you today a very changed cat. Before I decided to run for the open US Senate seat in Virginia, I was concerned about how the majority of people would respond to my campaign. Within minutes of the official announcement, those doubts were erased. You, my loyal supporters, stood by as I was attacked in the media by a canine SuperPAC (https://www.youtube.com/watch?v=0M0r-dNEH38), and cheered me on every step of the way - when I got my first Congressional Softball League team(https://www.dropbox.com/s/eywfetkt2tosbdr/hanks-hitters-web.jpg), when I appeared with New York Times Bestselling author Gwen Cooper(https://www.dropbox.com/s/ufp2vp5u77bm871/gwen.jpg), and when we celebrated my 10th birthday(https://www.dropbox.com/s/tor2bflutfbdvg7/cake-facebook.jpg). You were also there for me during the rough times - when I was denied ballot access for being a 'non-human', when my Dad had a heart attack, and when Hank's Hitters succumbed to defeat in the playoffs with true poise and dignity.

I have done my best to educate you with my knowledge of our history and the political system today - just the same, I have learned a great deal from so many of you on a wide array of topics. Together, we have enjoyed ups and downs, consoled each other on tragic losses of friends who left the world too soon (RIP Bonnie and Rustles!), and revelled in our amazing achievements.

Because of you, because of your constant support, your endless donations, your thousands of write in votes (which is certainly the highest vote total America has seen for any animal in a long time!), I am proud of the cat I am today. As long as there are people out there like you - intelligent and caring persons who strive for a better government in bleak times, who can no longer go back to the same old political tricks and opponent bashing, who demand representation and dialogue from their leaders - as long as you are out there, I have no fear for the future of our democracy.

Today, I am officially announcing the end of my campaign. We fought hard together, and we made a real difference for thousands of lives, human and animal. We brought to light the farce that is the political system as it stands today, and we showed without doubt that any politician interested in actually helping their community can do so with very little money, increased media coverage, and a sense of actual self-respect.

I am taking a break from politics right now because something happened on the campaign trail that I never expected - I began to appreciate the deep understanding of giving to those in need. As a politician, I regularly asked for your hard-earned money, and this aspect began to gnaw away at me. While one could argue about the 'career' of a politician, it was clear that so many of you work so hard each and every day to strive for a better world for you and your families - cats, dogs, even human children! To donate that money, even just a few dollars, is really defining of a special type of person (or cat, or dog, etc). To put your money where your mouth is, as the saying goes (Of course, Sammy likes to do this literally, as he loves playing with cash - but that's a story for another time). This is something that I would like to experience for myself, as it has been such a joyous experience to see so many wonderful people come forward and help a cause they believe in, even if it's for a kitten halfway around the world. Because of this desire, I have decided to enter the private sector as a consultant (as I am doing so in the image attached on a construction project). Now that I have felt the humbling touch of thousands of wonderful people, I want to be one of those who give.

While we have limited stock left with the bumper stickers, yard signs, and buttons, the t-shirt sales will continue indefinitely (and remember, there are plenty of new designs including "Vote the Humans Out" at www.hank2.com), with proceeds still benefiting the various groups.

Perhaps someday, I will return to the political arena once again. If and when that day arrives, you will certainly be the first to know, and I have no doubts that you will support me once again if the need arises. When I started this campaign, I was just a cat - a wonderful, fluffy, cute cat, no doubt - but today, I now belong to each and every one of you, and I will continue to be yours for all time. I hope this campaign has helped you become a better person as much as it's helped me become a better cat, and witness the true beauty of this great nation - the people such as yourself, who want the best, and will fight against all odds for it.

With tears in my eyes, and love in my heart,
Hank.

Virginia's State Board of Elections does not add up how many write-in votes any individual candidates get, nor do other county and city boards. Some don't record votes for nonhuman or nonexistent candidates.

But a Washington Post review of records from Hank's own Springfield District, which covers 29 precincts in Fairfax, found that the kitty got at least 13 votes — and possibly 20 more — out of 155 total write-in votes and 54,000 cast overall in the Senate race. Eight of the votes came from Hank's home precinct — Pohick. (For the record, Democrat Timothy M. Kaine won the Senate seat and Republican George Allen came in second.)

If Hank got the same 0.0006 percent of the statewide vote that he did in his home district, which seems unlikely, then he received roughly 2,000 votes overall. O'Leary originally estimated that Hank might have drawn thousands more.
Take a look at The Huffington Post's tour of Hank the Cat's campaign headquarters ...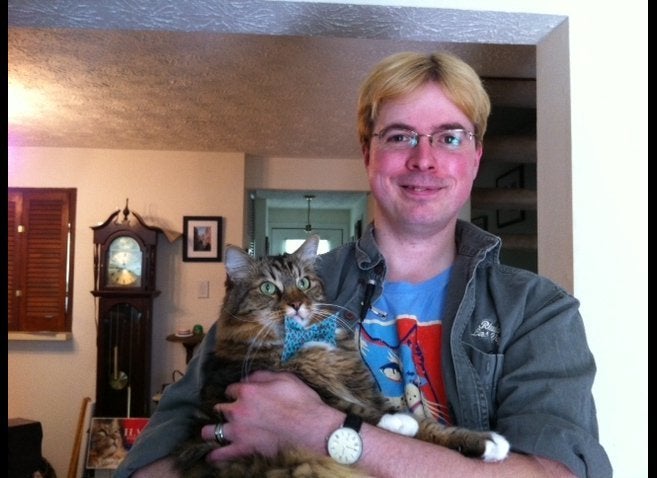 Hank The Cat's Campaign Headquarters