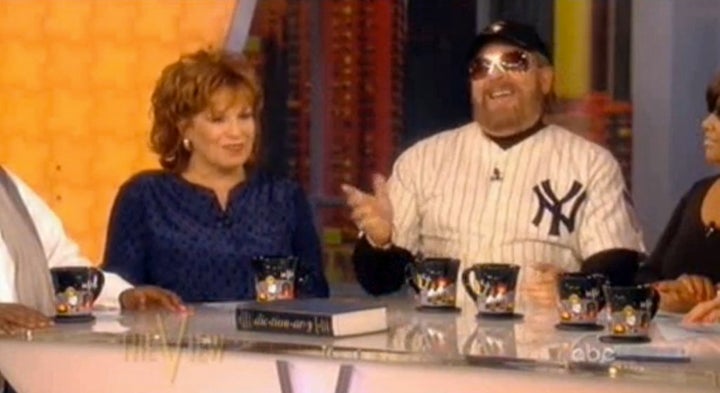 In a wild Tuesday interview, Hank Williams Jr. gave the ladies of "The View" a hard time getting straight answers about the controversial choice of words that got him fired from ESPN last week.
Williams, who sang the former opening for "Monday Night Football," made controversial statements on "Fox and Friends" comparing President Obama playing golf with John Boehner to "Hitler playing golf with Netanyahu," and was fired by ESPN.
On Tuesday, Williams gave "The View" some rather colorful responses about the controversy that seemed to do everything but answer the co-hosts' questions directly. He even quoted Harry Truman about not kicking cow turds on a hot day. This caused Whoopi Goldberg to gaze skyward in a gesture of complete befuddlement. Joy Behar joked, "We used to say that in Brooklyn all the time!"
Williams, who was sporting sunglasses, began the segment by asking Sherri Shepherd to read the definition of an analogy from a dictionary, telling her "very good!" when she was done. (Shepherd appeared only slightly amused.)
Elisabeth Hasselbeck and Barbara Walters tried to press on with their questions and get Williams back on track. When Hasselbeck jumped in to ask whether it was Williams or ESPN who pulled the song from "Monday Night Football, Williams answered with a story about his daughter asking him whether or not he was in trouble. His response was, "If I am, then we all are." Okaaaaayyyyy.
When Behar said that Hitler was a very politically sensitive analogy, he said, "I didn't go to Harvard, Joy, I don't know. I'm not smart enough to know the difference." But he admitted to understanding why comparing Obama to Hitler was a bad idea.
He finally wound the interview down with another social studies analogy. "Disney, ABC and ESPN and the opening of 'Monday Night Football' are kinda like the Spanish-American War," he remarked. "They're history."
"What is history?" Barbara asked.
"I'm out of there," he said.
Watch (via Business Insider):
Related
Popular in the Community