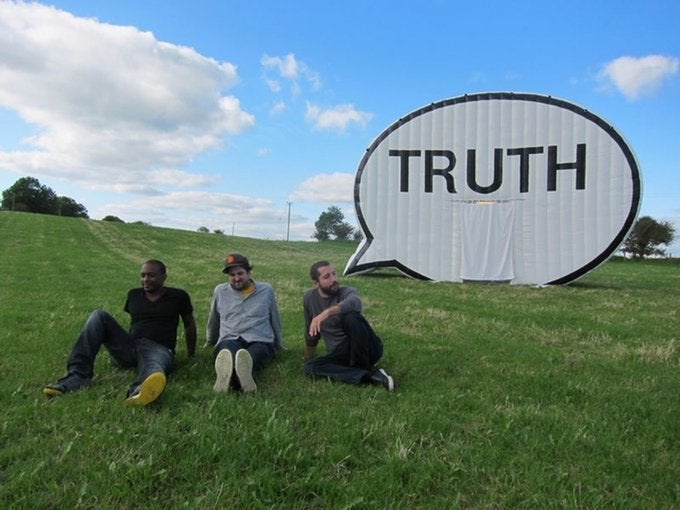 Hank Willis Thomas' "Truth Booth" is shaped like a giant cartoon speech bubble. Also known by its longer moniker "In Search of the Truth," the 14-foot high inflatable sculpture has a door, and inside that door is a video recording booth. The booth has traveled throughout places like Ireland, Afghanistan and the U.S., welcoming passerby to record a two-minute video inside. All they need to do is complete the sentence, "The truth is..."
The booth, Thomas and his collaborators -- Jim Ricks, Ryan Alexiev, Will Sylvester, together known as Cause Collective -- claim, is an ideal platform for finding out what people are thinking during critical times. "What is a critical time, exactly?" you might ask. Suffice it to say, this American election period counts.
"Bernie Sanders and Donald Trump have definitely shaken everything up and made it no longer business as usual," Thomas explained in an email to The Huffington Post. "I think everyone is sitting on the edge of their seats even more than in the past because it is like a thriller movie." 
Citizens of the United States are used to hearing about the election via politicians and pundits. It's hard to glean an accurate and representative idea of how civilians -- from New York to Los Angeles and everywhere in between -- are actually feeling. "Every election season we hear politicians and pundits speaking for and about the citizens in sometimes simplistic and generic ways," Thomas added. "We know that the American public is much more nuanced and complex. We also know that everyone has the capacity to express themselves articulately about the things that they know and care about."
Enter "Truth Booth," which, after touring several countries and gathering thousands of statements, is headed back to the U.S. for a 50-state run. Thomas and Cause Collective members have taken to Kickstarter to raise $75,000 to haul the booth around the country, just in time for this critical election. 
The booth is, as Thomas outlined, meant to be a safe space for generosity and vulnerability; an invitation to the public to express itself. Once inside, people are encouraged to do and say whatever they want. "The best thing about art is that it grows in unexpected ways and gains new meaning in the context it is presented in," Thomas said. "We have learned not to try to anticipate what will happen and what people will say [inside the booth]. We just get to listen and witness the incredible wisdom and creativity of total strangers."
To compliment the booth, Cause Collective will create an interactive website that will allow people to follow the tour and view truths from the traveled locations. "Throughout this long-term project, the video footage will be compiled and edited into a video installation to be exhibited in galleries, museums, and public viewings," the "Truth Booth" Kickstarter page states. "It is our hope that viewers, as we have, realize that there are common things that people struggle with. That things like loss, love, hunger, and the feeling that you are worth more than society suggests are universal. That we all share truths."
"The truth is I don't think I have enough money to finish college." - Hofstra University 2012
Thomas is no stranger to socially-conscious art. His past exhibition at Jack Shainman Gallery, "Unbranded: A Century of White Women, 1915-2015," explored the ways advertisements "created" the White American Woman. His series "B®ANDED" addressed the commodification of African-American male identity. "I believe that all art is political, whether or not we decide to call it that," he said. "It is a form of free speech that people have, and continue to fight for its value and place in society. I think fine art has the capacity to unify and open minds like nothing else in society. It can do this because it can take some many different forms."
"My answer changes from moment to moment, but right now I will say: The truth is that it is better to speak for yourself than to let someone else speak for you."
"My truth is that my father died a year ago, a Vietnam vet from Agent Orange exposure and we miss him a lot and wish he was here. My other truth is I've been separated from my husband for four long years and they have been the hardest and most difficult of my life and I would give anything for us to get back together again because I still love you Herman. You're the love of my life and me and our daughter miss you lots. Thats my truth. That's all I got to say." - Brooklyn 2015
"The truth is, um, I've been dealing CRPS Chronic Regional Pain Syndrome since I was 10. And now I'm 14 and I am done with it. I've come to realize that I don't want to have to deal with it anymore. Now I'm here in Cleveland, Ohio at the Cleveland clinic for regional pain and they've gotten me from a wheelchair to walking, well hardly walking, in a matter of three weeks. Now I'm staying an extra week so [I can] get the extra touches put back in place and I'm really excited to go back to my normal life. So the truth is you never should give up because we all have a story and people don't know that story until you actually tell them and you're a fighter and you just gotta fight until you get what you deserve. So that is the truth for me." - Cleveland 2014
"The truth is that I'm still 11 years old but I really do believe in unicorns. I know I sound super crazy but I believe unicorns are real, also mermaids, also fairies, and all of those sort of things. I love magic. You can't take that from me. I also love the Percy Jackson series and I am never going to stop loving them no matter what my mom says." - Miami 2014
"The truth is that Afghanistan will be all right one day. Then people will live together in a free and healthy environment again. I want to make clear that if all Afghans join hand-in-hand and raise capacity and the level of knowledge they can defeat poverty and solve the problems that exist in our country and rebuild the nation. Then all our problems will end. Thank you." - Afghanistan 2013
"The truth is not to be discovered because it was there before we were born. It hid itself when we were born and it only comes out once we are dead. I am nearly dead so the truth will shortly emerge." - Ireland 2011
REAL LIFE. REAL NEWS. REAL VOICES.
Help us tell more of the stories that matter from voices that too often remain unheard.
BEFORE YOU GO
PHOTO GALLERY
Bernie Sanders And Hillary Clinton Face Off