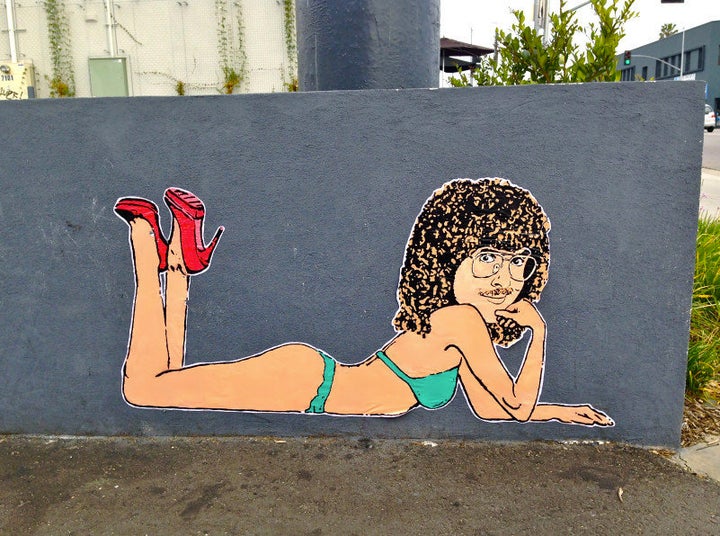 The street artist and master punster known as Hanksy is in Los Angeles this week promoting his upcoming solo exhibition at Gallery 1988. How do we know? The cheeky celebrity jester announced his presence through a series of murals in downtown LA, decorating a few doors, buildings and even a toilet seat with his hilarious designs.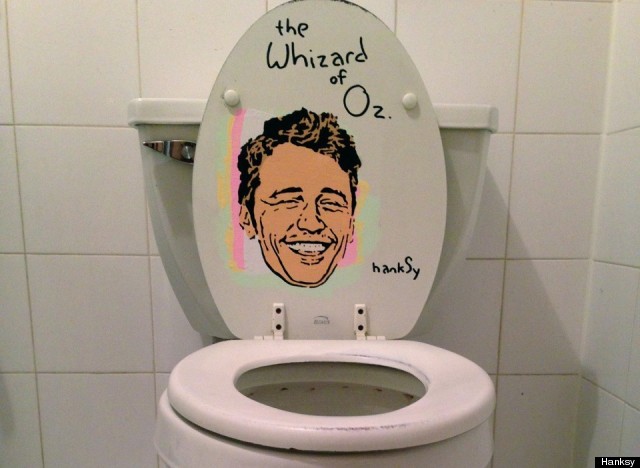 Along with this jubilant portrait of James Franco, Hanksy also paid tribute to celebrity mugs like Pee-Wee Herman, Jamie Foxx, Christopher Walken and a couple Arrested Development cast mates. Our personal favorite has to be Ghost Buster Bluth, a combination of two of the greatest works of film and television ever put on this earth.
According to Krause Gallery, the process of plastering the new batch of street art was interrupted by a run-in with the LAPD. In an email to the Huffington Post, Hanksy's reps told us that while he was adding the finishing touches to his Weird Gal Yankovic piece, the artist was confronted by police officers who quickly cuffed the sneaky word play king (and snapped a few shots of the artwork, of course).
Scroll through the slideshow below for a look at Hanksy's new works. Let us know what you think of "Toe-Bias Funke" and "The Whizard Of Oz" in the comments. For more on the wonder that is Hanksy, check out our coverage here, here, here and here.
Photos courtesy of Krause Gallery.
REAL LIFE. REAL NEWS. REAL VOICES.
Help us tell more of the stories that matter from voices that too often remain unheard.