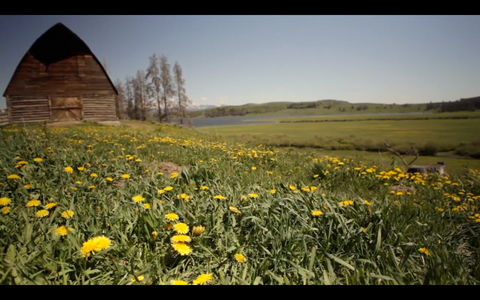 When it comes to movies, don't you just love great Western? I mean, who doesn't love a cowboy? Rugged individualist taking on the elements, wrangling a herd of beautiful beasts while riding on another -- images of Rockmount shirts and cattle drives, wide open spaces, midnight campfires and split-rail fences; this is the cinematic dreamscape of the American psyche. Just ask Ralph Lauren.
Having its world premiere screening in the Starz Denver Film Festival, Hanna Ranch is the story of one Colorado cattle rancher and the land that he loves, beautifully played out in director/producer Mitch Dickman's expressive film. Superhero of the prairie, Kirk Hanna is in the struggle of and for his life, as he fights for his land and lifestyle. Hanna, a one-time commodities broker returns to the ranch he was raised on to protect it from encroaching developers, pressure from family members to sell and the changes that have driven so many private ranches off the western landscape.
Featured in the book Fast Food Nation, Kirk Hanna was dubbed the "eco-cowboy." An early adopter of Holistic Resource Management and the environmental ranching movement, he saw the future and took up the sword of sustainability. With a burning desire to preserve the land that was his livelihood, this visionary took on adversaries large and small, and created a proposal that would protect over a million acres from disappearing into the squall of suburbia. But the fight became too much. Worn down, he would no longer be able to fight his greatest battle, the one that raged inside of him; a war he ultimately lost.
Filmmaker Mitch Dickman, a Denver-based producer/director and founder of Listen Productions, had originally intended to create a narrative film. That changed quickly when at their first meeting, Anna Hanna rolled out hundreds of news articles to help tell her husband's story. It was clear to the director that documentary style would hold the story best. Part homage to Hanna, part love letter to Colorado, part wakeup call, this beautiful film anchors us in the American ranching tradition as it unfolds one man's courageous struggle to create and preserve an environmentally responsible stewardship of the land. From magical sunrise to golden sunset, you'll spend a day on the ranch with the people who fight for and against Kirk Hanna's vision; those who live and die to maintain the legacy and lifestyle that is Hanna Ranch.
Screening times and tickets:
Saturday, November 9, 3:00pm/Ellie Caulkins Opera House (1101 13th St., Denver, CO 80204)
Wednesday, November 13, 2:00pm/Sie FilmCenter (2510 East Colfax Ave., Denver, CO 80206)
Special event: "THE LAND THAT FEEDS US" BRUNCH & PANEL
Hanna Ranch, an "Environment in Focus" SDFF 36 documentary selection, introduces us to holistic ranching pioneer Kirk Hanna. Dubbed the original "eco-cowboy," his legacy lives on in the sustainable ranching movement - which is up against grim statistics. Over the last 30
Support HuffPost
The Stakes Have Never Been Higher
Related
Popular in the Community