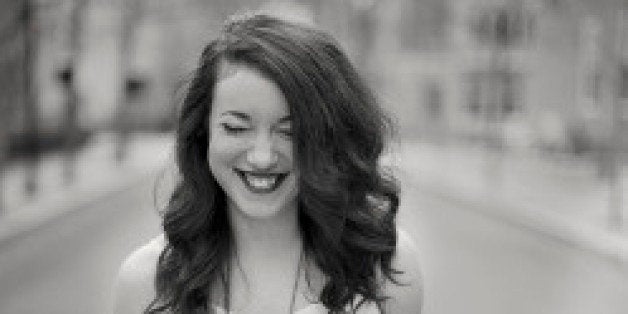 I've been following Hannah Brencher's story for a few years now. Her organization, More Love Letters, has always inspired and intrigued me. So, when I heard she was writing a book, I knew I had to get my hands on it. Needless to say, I wasn't disappointed. The book, If You Find This Letter, was beautifully written, uplifting and heartbreaking at the same time. I won't give it all away, but I will encourage you to pick up a copy -- it just came out on March 10th.
Along with reading the book, I also had the opportunity to pick Hannah's brain. Read on to hear what this amazing, empowering woman has to say about writing her first book, looking back on her life thus far, and what inspires her.
What was your favorite part about writing this book? And what was the hardest?

My favorite part about writing the book was having the chance to sit down and finally find all the words for things I've thought about and lived for the last few years. I'd been in this whirlwind of living out my story that I was never really able to step back and fully process all the bits and pieces that brought my journey full circle. I loved being able to gain clarity and some sort of peace when I finally got the words out there and could feel like I'd finally done the stories justice when I strung them together.

The hardest part was looking at my story and wishing, at a lot of turns, that I'd been a nobler character. I didn't realize how much I wish I'd said things differently or done things better until I was in the writing process. I had to find a way to make peace with all the times when I could have been nobler and stronger and braver and still give myself grace for not holding the world together all the time.

Is there anything that you left out that you wish you could've included? And how did you decide what was included?

I think whatever was cut from the book was meant to be cut. There were some parts about the letter writing to a lot of the young women who showed up in my inbox that were originally their own chapter, but I trust that everything fell into place for a reason. It was really important for me, as a first-time author to rely on my editors to know the flow of story and how to sequence events fluidly. I really wanted to be able to follow their guidance so that the book could be as seamless and fluid as possible. Both of my editors were amazing when it came to the storytelling aspects -- they pushed me and challenged me and made me a better writer through it.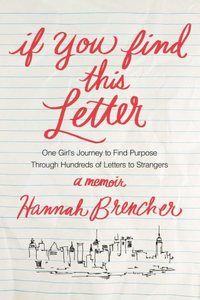 If you could describe your book in one word, what would it be?

Hope-filled. I tried to fill the book with as much hope as possible.

Tell me about the process of writing a book.

I imagined and expected the process of writing a book would be tough, but it wasn't until I was knee-deep in the trenches of it that I saw how hard it really is. Writing a book is a lot of long days, spent by yourself, writing and rewriting sentences. It's a lot of conversations with yourself. It's a lot of notebooks strewn across the room and field trips to coffee shops to edit at night. I found that the process of writing was all-consuming for me. I ate, slept and breathed that book while it was in my possession. It was hard to step outside of it -- everything was inspiration for it. But at the same time, the process of writing a book was, by far, the most rewarding thing I've ever gotten to be a part of. It filled me with so much joy. So much happiness. And so much appreciation for my story. I would do it over again in a heartbeat.

How would you describe your writing style? And who/ what influenced it?

I would say that my writing style is normally a lot of prose poetry style. It was definitely a challenge to have to dig in deeper than I would with regular blog posts and share the full story, leaving no details behind. I never had any training as a writer though beyond writing for newspapers and magazines. I continued to show up and write every day since 2009 -- personally and on my blog -- and I was able to see my voice and my style take shape from there.

What books and authors have inspired you?

I am inspired by the classics and by the truth tellers. I love Cheryl Strayed right now and I am sucker for anything Ann Voskamp writes. Tiny Beautiful Things was absolutely beautiful and I continue to leaf through it for inspiration. I often find myself inspired by the Modern Love column. I love reading it weekly.

What did you learn from writing your book?

I learned that anything you create/write -- whether it's a chapter of a whole book -- is just a snapshot of who you were in that moment. You can't get it back and you may never get the feelings of it back again. I realized that I would probably write the book completely differently in two years from now or five years from now. I could probably rewrite every sentence right now if you would let me but it was important for me to write this book when I was young, I think. At the time in my life. The things I care about and the truth I needed to tell was fitting for the age of 22 and I really wanted my voice to be able to resonate with the younger readers.
Related
Popular in the Community