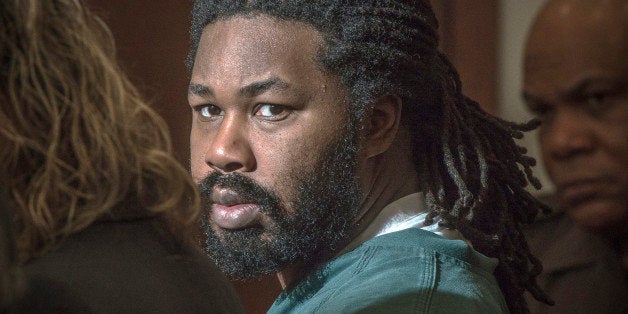 WASHINGTON, D.C., Jan 9 (Reuters) - A Virginia judge denied a gag order request on Friday in a rape and attempted murder case against Jesse Matthew, the man also charged with abducting Hannah Graham, a Virginia student whose body was discovered in October on a farm after a five-week search.
Fairfax County Judge David Schell denied a request by Matthew's defense attorney to ban all parties involved in the case from talking to the media.
"The public has the right to be informed," Schell said. "It's important to facilitate an appropriate flow of information."
Schell also ordered court files sealed until the conclusion of the trial, and $2,000 in court funds allocated to the defense to hire a DNA analyst to assist in the case.
On Thursday, Schell denied a request to permit cameras in the courtroom during the trial, which is set to start March 9.
Matthew entered the courtroom Friday afternoon wearing a green prison uniform and a long beard. He said nothing, but visibly brightened when he saw his father in the court room.
The 32-year-old was arraigned in October on three felony charges stemming from a 2005 case in which police say he grabbed a 26-year-old woman walking home from a Fairfax grocery store, dragged her into a wooded area and sexually assaulted her.
He was arraigned on charges of attempted capital murder during abduction, abduction with intent to defile, and sexual penetration with an object during the Sept. 24, 2005, incident. He has pleaded not guilty.
Matthew is also charged in the disappearance of Graham, an 18-year-old sophomore at the University of Virginia last seen with Matthew on Sept. 13. Searchers discovered her remains Oct. 18 outside Charlottesville.
In addition, Virginia State Police have said forensic evidence links Matthew to Morgan Harrington, a Virginia Tech student who disappeared after leaving a Charlottesville concert in October 2009. Her body was discovered in 2010.
Charlottesville TV station WTVR has reported that forensic evidence had linked the Harrington case to the Fairfax attack.
Matthew was arrested in Texas on Sept. 24, a day after he was charged with abduction with intent to defile in the Graham case.
He was questioned in a 2002 campus rape investigation while attending Liberty University in Lynchburg, Virginia. No charges were filed. (Editing By Frank McGurty; Editing by Diane Craft)
Calling all HuffPost superfans!
Sign up for membership to become a founding member and help shape HuffPost's next chapter