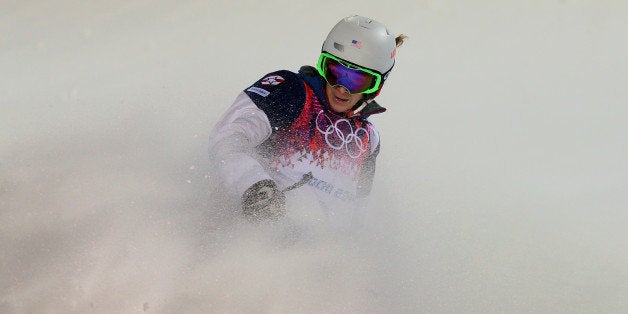 ROSA KHUTOR, Russia, Feb 8 (Reuters) - American Hannah Kearney arrived in Sochi as clear favourite to retain her freestyle skiing moguls crown but one mistake on Saturday means she will leave her third and final Olympics with a bronze medal.
There was no looking at positives or celebration of winning a medal of any sort from the 27-year-old from Vermont, the tears that flowed unabated told the tale of a woman who felt she had just blown four years of hard work.
The goal had been to become the first freestyle skier to win two gold medals but that all ended when, going last in the final, the American fluffed the landing off her first jump.
While there was no lack of graciousness, Kearney clearly placed the blame for her third place finish on her own shoulders rather than credit the Canadian sisters who took the gold and silver, Justine and Chloe Dufour-Lapointe.
"I feel like I let myself down," said an emotional Kearney who has dominated the event since winning gold in Vancouver four years ago.
"I wanted that gold medal and I skied for it but I made a huge mistake and you can't win at the Olympic Games when you make a mistake.
"You don't prepare for this moment, you prepare for success but life does not always go according to plan," she told reporters. "I have to treat this bronze medal as a reward for fighting but not for perfection."
Kearney has endured Olympic disappointment before.
She arrived at her first Games in 2006 with a world title under her belt and confident of at least a spot on the podium, if not a gold medal, in Turin.
The then-teenager was simply overwhelmed by the occasion, however, and stumbled after her first jump on her first run, placing 22nd in qualifying and failing to reach the final.
A serious knee injury followed but she battled back to fitness in time for Vancouver where she broke the hearts of a nation by pipping defending champion Jennifer Heil of Canada to gold on the last run in the final.
Although she will definitely not be back for the 2018 Olympics in South Korea, Kearney said she might continue competing for another World Cup season.
"Right now I would very much like to ski again," she said. "I will try my best to let it go, that will help my happiness levels.
"All of my training and all of my focus has been on this moment. Now that is over I have to re-evaluate for other goals.
"It's tough when you know your Olympic career is over and it did not end well." (Editing by Tony Jimenez)
REAL LIFE. REAL NEWS. REAL VOICES.
Help us tell more of the stories that matter from voices that too often remain unheard.
BEFORE YOU GO
PHOTO GALLERY
PHOTOS: Women's Moguls Finals