Author's Note: This post originally appeared on The L Stop, and is presented with modifications with the express permission of the Editor.
I was tempted to call Hannah Thomas an emerging singer/songwriter, and then I heard her sing. Even though she's floating around the country to small pubs with a single roadie, this girl knows who she is and nearly blew the roof off the Elbo Room the first time she toured to Chicago last year. A time snafu and a hot steamy weekday made for an especially intimate crowd, but Thomas may as well have been playing to a crowd of hundreds.
I was still tempted to use the title "emerging", and then I found out she has been running around the country opening for the Indigo Girls, Terri Clark, and Jennifer Nettles, and that's when I changed my mind entirely.
"[Hannah has] the soul of old country, and that will always be there, but she's also a die hard rocker with some punk thrown in the mix" - Amy Ray
The Indigo Girl Ray, who sings back-up vocals (back-up vocals!!) on Thomas' 2013 album "Goodbye on Wasted Time" called her an "outlaw songwriter," because it's so difficult to place her music in any one category. I might be a dance writer, but I jumped at the chance to interview Thomas for The L Stop last year. This September, Thomas returns to Chicago for the fourth time, and I haven't missed one yet.
Growing up in a small town outside Atlanta, Thomas was initially influenced by her country upbringing. As her experiences grew richer, so did her music, and today it's not so clear what kind of musician she is. Among a slew of other young indie rock/folk/lesbian singer-songwriters, there's something different in Hannah's music that's hard to put a finger on. I asked her about her musical influences: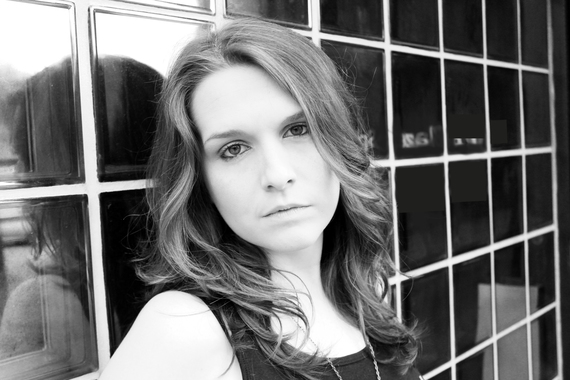 "I grew up listening to the music of my parents, just like most people," she said. "So I heard Black Sabbath and Aerosmith with my Dad and Tina Turner and the Judds with my Mom. My uncle introduced me to Smashing Pumpkins and I am forever grateful. I think those influences can be heard in my songs. I really wanted to be Garth Brooks when I was little. Then there was Johnny Cash and Janis Joplin - how can you not want to be like them? On my own I discovered the Spice Girls and eventually Indigo Girls and Tori Amos. Now you can see why my music doesn't fit easily into one category..."
Sure. I can see that. In passing conversation, it's likely that most listeners will peg Hannah Thomas as a country singer, and her voice at times has hints of Natalie Maines (Dixie Chicks), at others Bonnie Raitt. In the end, her voice and her lyrics are entirely authentic, and speak to her personal experiences.
Thomas has been spending nearly every waking minute in a car, onstage, or doing interviews and TV spots. Most recently, she was featured on the cover of She Magazine as a rising LGBT singer/songwriter. What's it like to be an out lesbian country singer from a tiny town in Georgia?
"I think people can tell when you aren't being honest. When I started writing music without filters it got better. It's a difficult decision for anyone to come out, but when you grow up in a small town where people are vocal about the perception of homosexuality being wrong, it's even harder. It took a lot of years of soul searching, but when I moved to the city [Atlanta] I felt more free to be who I am. It was a hard decision - country music has not really had a successful out entertainer yet, but I think the world is changing and people are becoming more accepting. I never want to make up anyone's mind for them, by thinking that they won't accept me because of who I am. I just write music from my heart and leave it up to my fans. So far it has been nothing but a positive experience."
Hannah Thomas is currently recording a new album, set to release this Winter. Her touring calendar can be viewed online, or follow her on Twitter @htmusic.
Thomas is also raising money for Thistle Farms with all proceeds from the song "New March" benefiting this Nashville-based organization that provides opportunities for women who have survived prostitution, trafficking, and addition. Details here.
Photo credit: Meredith Singer
Calling all HuffPost superfans!
Sign up for membership to become a founding member and help shape HuffPost's next chapter