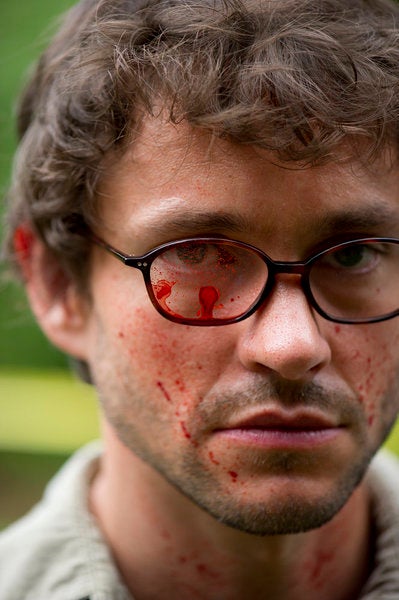 Bryan Fuller, creator and showrunner of the series -- which premieres on Thursday, April 4 on NBC -- assures fans that it will be as bloody as humanly possible. "[NBC] put us on at 10 o'clock for a reason -- so we can maximize what we can show to honor the genre and also provide fans of the genre certain ingredients that they are expecting to see," Fuller told The Hollwyood Reporter. But there have been some limits. "I would love to be going a lot further but NBC keeps reminding me where the line is ... Eye gouging, seeing people's intestines being removed from their bodies in great noodly clumps -- those types of things they tend to say no to."
"Hannibal" is based on Thomas Harris's 1981 novel "Red Dragon," which also spawned the Anthony Hopkins franchise and Fuller also told TVLine that he wanted to explore something with the show that the movies hadn't touched upon before. "There's a line in 'Red Dragon' where Hannibal says to Will Graham -- paraphrasing here -- 'You caught me essentially because you're crazy, too,'" Fuller said. "And I just thought, 'Oh, there is a great untold bromance that I would love to see, as an audience member.'"
That bromance, however, may take a while to brew, considering what Mads Mikkelsen had to say about his character Dr. Hannibal Lecter on the show. "I believe that Hannibal Lecter is as close as you can come to the devil, to Satan," the actor told EW. "He's the fallen angel. His motives are not banal reasons, like childhood abuse or junkie parents. It's in his genes. He finds life is most beautiful on the threshold to death, and that is something that is much closer to the fallen angel than it is to a psychopath. He's much more than a psychopath, and there is a fascination for us. We can't understand it, but we want to understand it."
PHOTO GALLERY
Midseason 2012-2013
REAL LIFE. REAL NEWS. REAL VOICES.
Help us tell more of the stories that matter from voices that too often remain unheard.
BEFORE YOU GO