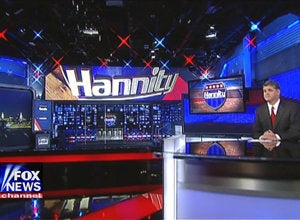 Sean Hannity's solo career got off to a strong start Monday night, easily maintaining the 9PM top spot that he enjoyed while hosting "Hannity & Colmes."
"Hannity" debuted Monday night with an average of 2.9 million viewers, according to Nielsen Media Research. That's more than his two 9PM competitors, Rachel Maddow (1.4 million) and Larry King (945,000), combined.
Ratings were similar in the Adults 25-54 demographic. "Hannity" drew an average of 720,000 A25-54, while Maddow averaged 466,000 A25-54 and King averaged 331,000 A25-54.
"Hannity & Colmes" averaged 2.3 million total viewers and 505,000 A25-54 in the month of December.
Popular in the Community