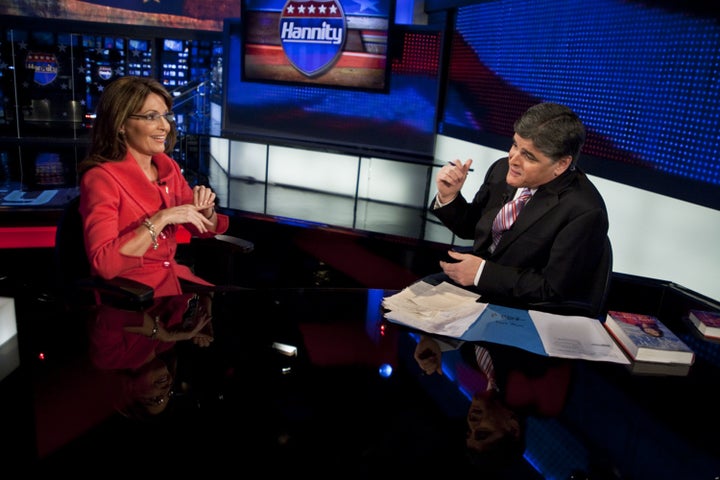 Fox News host Sean Hannity addressed the controversy surrounding a top Virginia exorcist Catholic priest at the end of his Hannity cable news show Wednesday night and made note of the unusually favorable treatment he has been getting from Huffington Post commenters.
After playing portions of a now-infamous 2007 exchange in which then-Human Life International Father Thomas Euteneuer called Hannity a "heretic" and "cultural Catholic," Hannity read part of Fr. Euteneuer's recent confession to transgressions which caused him to be removed as head of Human Life International.
"I take full responsibility for my own poor judgment, my weakness and my sinful conduct that resulted from it," Hannity read.
The host then noted the priest's admission of violating his vow of chastity due to human weakness, which Fr. Euteneuer said "did not involve the sexual act."
"Bill Clinton would be proud of that," Hannity joked.
"Look, I don't want to make a situation worse. Apparently something happened -- pretty severe -- and he's been taken away from his position," Hannity said.
But Hannity still seemed upset at at having his faith questioned and the priest's conduct after the appearance on Hannity & Colmes.
"He's so self righteous. He spent years raising money off this exchange with me and building his name recognition," Hannity said.
Euteneuer had originally appeared on the program to chastise Hannity for supporting birth control instead of abortion for persons who did not live a Christian life.
"But in this world we live in, do you really think that you can convince non-Catholics, non-Christians [to] wait until marriage to have sex? There's a certain realistic quality to what I was saying. Not that I like it. It's just real," he said.
Hannity said he does teach his own children to abstain from sex until marriage.
One of the panelists joked that the video clip of his face-off with Rev. Euteneuer had "brought out the inner liberal" in Hannity.
Hannity responded, "That's like the Huffington Post defending me [today]."
A version of this story originally appeared in MyFrontRoyal.com.
Dan McDermott is a former award-winning radio talk show host. He lives in Bentonville and Lynchburg, Va. where he publishes three newspapers: Warren County Report, The Lynchburg Times and The Sherando Times.
Popular in the Community