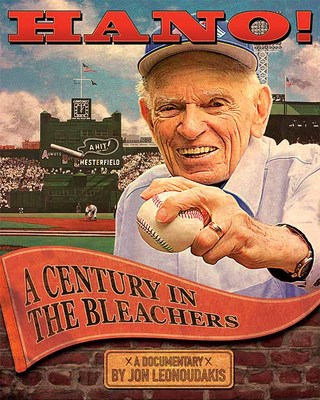 Arnold Hano's A Day in the Bleachers is one of the three greatest nonfiction baseball books ever written - along with Roger Kahn's The Boys of Summer and Elliot Asinof's Eight Men Out. Inning by inning, it chronicles the opening game of the 1954 World Series, which the underdog New York Giants eventually won in four games over the Cleveland Indians. Hano takes readers into the stands in order to view the game from the perspective of the ordinary fans. He describes the most famous catch in baseball history -- Willie Mays' over-the-shoulder steal of Vic Wertz's fly ball to the Polo Grounds' deep center field that, had Mays not caught up to it, would have certainly been a triple (or even an inside-the-park homer). Hano also describes bleacher fans' thrill when Dusty Rhodes hit the game-winning pinch-hit home run in the 10th inning.
A Day in the Bleachers is a baseball book but also a book about American culture at mid-century. We not only learn what occurred on the field but also about the observations and comments of the bleacher bums.
Although A Day in the Bleachers is Hano's best-known work, he was for five decades one of America's preeminent sportswriters and one of our most under-appreciated chroniclers of the social and political events of the second half of the 20th century. Hano, now 93 years old, is a world-class writer, with 27 books (including biographies of Willie Mays, Sandy Koufax, Roberto Clemente, Muhammad Ali, and Kareem Abdul Jabbar and a number of novels, several of them pulp fiction written under pseudonyms) and over 500 magazine articles, many of them for SPORT, Sports Illustrated, and TV Guide.
He's also been a champion for social justice. He successfully battled racism in Orange County in the early 1960s and land developers in Laguna Beach and the Sequoia National Forest, and also helped stop dam building in parts of the Grand Canyon. In 1963, his peers voted him magazine sportswriter of the year and he also won the prestigious Sidney Hillman journalism prize for his article on the plight of California farm workers.
Jon Leonoudakis, a brilliant documentary filmmaker, is making a film entitled Hano! A Century in the Bleachers that will debut this fall with screenings in the San Francisco Bay area and Los Angeles and a promotional event in New York City. The DVD will be released on November. He just launched a crowdfunding campaign for the film and you can learn all about it and share your support at this link.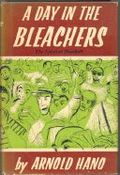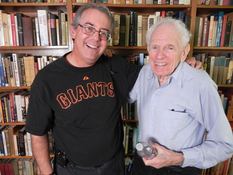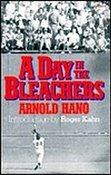 The original cover of the classic book. Leonoudakis and Hano. A more recent cover emphasizes Willie Mays' catch.
Leonoudakis' subject is a gregarious, witty, colorful character with a remarkable memory for details and a lifetime of fascinating stories about his personal journey from a Depression-era boyhood to his encounters with Hall of Fame athletes, politicians, movie stars, writers, and everyday Americans.
Hano was born in New York in 1922. His older brother taught him to read when he was three years old. He was briefly a Yankees fan, at age four, but when the Yankees lost the 1926 World Series he switched his allegiance to the New York Giants. His grandfather was a New York City cop and had free passes to the Polo Grounds and Yankee Stadium, which accounts for Hano's regular attendance at both ballparks. He began his writing career in 1930 on a mimeographed newspaper that he and his brother published when they were seven and ten years old.
One of Hano's early heroes was Carl Hubbell, the Giants' ace pitcher who mortified batters with his dazzling screwball. As a pitcher on Long Island University's baseball team, Hano tried to emulate Hubbell. During an interview for the documentary, Hano told Leonoudakis, "I want to throw a screwball and get it on film." So, the day before his 93rd birthday, the two of them went over to Bluebird Park near Hano's home in Laguna Beach. Leonoudakis set up the cameras and went into the catcher's crouch as Hano took aim some 25 feet away. Hano, who is legally blind, tossed twelve screwballs, nine for strikes. If you don't believe it, you can see it on film as a clip from Leonoudakis' forthcoming documentary.
Hano, who had been editor-in-chief of LIU's weekly newspaper, got his first newspaper job as a copy boy at the New York Daily News in 1941. The next year he enlisted in the Army. During artillery training at Fort Ord in 1943, he was accidently run over by a four-ton truck, crushing his right ankle and two vertebrae in his back. He not only survived, but recovered to serve with his unit in the Pacific until 1946.
After the war, Hano pursued a career in book publishing in New York, becoming managing editor of Bantam Books, a paperback pioneer, in 1947 at age 25. He was fired in 1949 after trying to unionize his fellow employees. He moved to Lion Books, where he recruited authors and put out a number of anti-war novels.
When he wrote A Day in the Bleachers, Hano was not yet a professional sportswriter. On the evening of September 28, 1954, he said to his wife, "I think I'll go to the game tomorrow," referring to the first game of the World Series at the Polo Grounds. "You'll never get in," she said.
Hano stood in line for 40 minutes, talking with other fans, and finally paid $2.10 for a seat in the centerfield bleachers. Hano didn't go to the game intending to write a book. Like many fans, he kept score. But during the game, he also began scratching notes in the margins of the program as well as the newspaper he'd brought to the game. He recorded his conversations with fellow fans as well as what was happening on the field.
After the game he took the subway home and later that evening began to write about his day. Less than four weeks later, he completed the manuscript. He found a publisher, who quickly brought out the book, which got glowing reviews, even though Hano was not part of the baseball writers' old-boy-network. The book was not a commercial success at first, but it established Hano's reputation as a remarkable writer. Over the years the book has gained a wider following and, equally important, has inspired many other writers to look at baseball and other sports from various idiosyncratic angles. By now, it is recognized as a sportswriting classic. Fortunately, the book is still in print.
In 1955, Hano moved with his wife Bonnie and children to Laguna Beach, California, where they live today. He's made his living as a freelance writer and as an occasional writing teacher at the University of Southern California, Pitzer College, and the University of California, Irvine.
After moving to Laguna Beach, he made friends with one of the area's few African-American families and learned that blacks were forced to drive out of town to get their haircuts because local barbers refused to cut their hair. When Hano reached out to the barbers, they told him they couldn't cut that kind of hair, and two of the barbers said that they were concerned they would lose white customers if they served blacks. Hano found a 1905 accommodation law on the books that stated if you're open for business, you were open to the whole public. Hano told the barbers about it, and they didn't care. In October of 1963, he took action, notifying the police and newspapers, telling them of his plans to desegregate the barbershops. Shortly thereafter, his son Stephen, who is white, entered a barber shop and was served. Midway through Steve's haircut, Hano arranged for Eli Pitts, who is black and a family member of Hano's friends, to enter and ask for a haircut. A barber asked Steve if he minded and young Hano said it was fine with him. The barber begrudgingly agreed to do so, and half-heartedly cut his hair. This event effectively cracked the Jim Crow practice in town, with one barber closing his shop and leaving town.
In the early 70s, when Laguna Beach's political leaders wanted to change the town's zoning laws to allow developers to build high-rise hotels along the beach, Hano led a group to vote to impose height limits to three stories. It passed and the law is still going strong today.
When Disney wanted to build a ski resort at Mineral King in the Sequoia National Forest, Hano wrote an article that pointed out they'd be chopping down 200 trees to support a parking lot for thousands of cars. It had an effect. William Douglas on the Supreme Court mentioned the piece in his decision.
When President Lyndon Johnson wanted to build hydroelectric dams on the Colorado River in the Grand Canyon, Hano rented a plane, flew through the canyon and the proposed site, and then wrote an article in the Los Angeles Times' West magazine objecting to the project . Stuart Udall, who was LBJ's secretary of the interior, told Hano: "You pulled my chestnuts out of the fire when you wrote that piece," because he personally opposed the plan but had to publicly support it.
In 1991, when Hano was 70 years old and his wife was 65, they both joined the Peace Corps in Costa Rica. One of their biggest accomplishments during their two years n that country, was helping to re-build a schoolhouse that had been broken down over 30 years from earthquakes and disrepair. An astonished friend, upon learning that Hano was joining the Peace Corps, asked him, "Isn't there an age limit?" Hano replied: "Yes, you have to be at least 18."
Leonoudakis' film features interviews with a remarkable collection of Hano's colleagues, friends and others who hold him in high regard, including ballplayers Orlando Cepeda and Felipe Alou, New York Times columnist George Vecsey, sportwriters Al Silverman, Ray Robinson, John Schulian, and Ron Rapoport, artist Mark Ulriksen (who has illustrated 49 covers for The New Yorker), and Laguna Beach Council Member Toni Iseman (a big fan of Hano and his wife Bonnie, who rarely miss a monthly City Council meeting).
As a sportswriter, Hano championed the efforts of Latino ballplayers to gain full acceptance in the major leagues in the late 1950s and early 1960s. He wrote profiles of Cepeda, Clemente, and other Latino stars for Sport magazine, describing the struggles they faced, the stereotypes they encountered among sportwriters, and the racism that persisted in major league baseball long after Jackie Robinson broke the color barrier in 1947. Two of the film's most compelling interviews are with superstars Cepeda and Alou, who powerfully recall the racism and discrimination they experienced as young players on the San Francisco Giants from the late 50s to early 60s, particularly at the hands of manager Alvin Dark.
Leonoudakis remembers reading Hano's biography of his hero, Willie Mays, when the future filmmaker was eight years old and growing up in San Francisco. Many years later, he devoured Hano's 1954 classic, A Day in the Bleachers. In 2010, he interviewed Hano for his documentary film, "Not Exactly Cooperstown," about the Baseball Reliquary, a quirky people's hall of fame, and was not surprised to discover that Hano is a great storyteller and has a great memory. After he finished his next film project, "The Day the World Series Stopped," about the 6.9 scale Bay Area earthquake that briefly halted the 1986 World Series, "something tugged at my sleeve about Hano," Leonoudakis recalls.
"I did more research on him, and discovered the tremendous accomplishments in his career and personal life, and how they blended together as part of his efforts as a champion of social justice. Here was a guy who saw 70 games at the Polo Grounds in 1926 at the age of 4, saw Babe Ruth pitch his last game in 1933, then actually ran into the Babe and talked with him about it a few days later. He saw the 1934 NFL Championship game at the Polo Grounds, known as 'The Sneakers Game.' He won a contest and got a free trip to see the 1956 World Series, so he was there for Don Larsen's perfect game. He interviewed John F. Kennedy the day after he won the Democratic nomination in 1960. He went to the first Super Bowl. He wrote powerful articles about Cesar Chavez and California farm workers. What a life! Interviewing him on camera was like mining gold."

Anyone who donates will be in the film's credits if they do so by August 14. The campaign runs until then, but Indiegogo says people can donate beyond that date as well.
Peter Dreier is professor of politics and chair of the Urban & Environmental Policy Department at Occidental College. His latest book is The 100 Greatest Americans of the 20th Century: A Social Justice Hall of Fame (Nation Books).

Calling all HuffPost superfans!
Sign up for membership to become a founding member and help shape HuffPost's next chapter