If I had to do one thing for the rest of time, I would walk the streets of Hanoi.
The colors, sights, smells and sounds you take in with every step and the thunderstorm of motorbikes and taxis that explodes every day.
And the food: The delicate but powerful flavors of the noodles cooked just that little bit differently in each street restaurant, the little baguettes with a myriad mysterious fillings or the barbecued pork that smokes as it grills on a street corner in the warm evening air.
Perhaps it's the feisty characters you meet there, whose tough fronts drift away into heart-meltingly honest, unreserved smiles that light up their faces like a firework show.
You walk and walk and walk and every corner reveals something new for the mind to try to absorb. Nothing is certain, everything is new, and just when you think you know the place it plays another magic trick on you.
The night market you come across, completely by mistake, teems with people at half past two in the morning. Fresh flowers exhale their perfumed vapors into the warm darkness.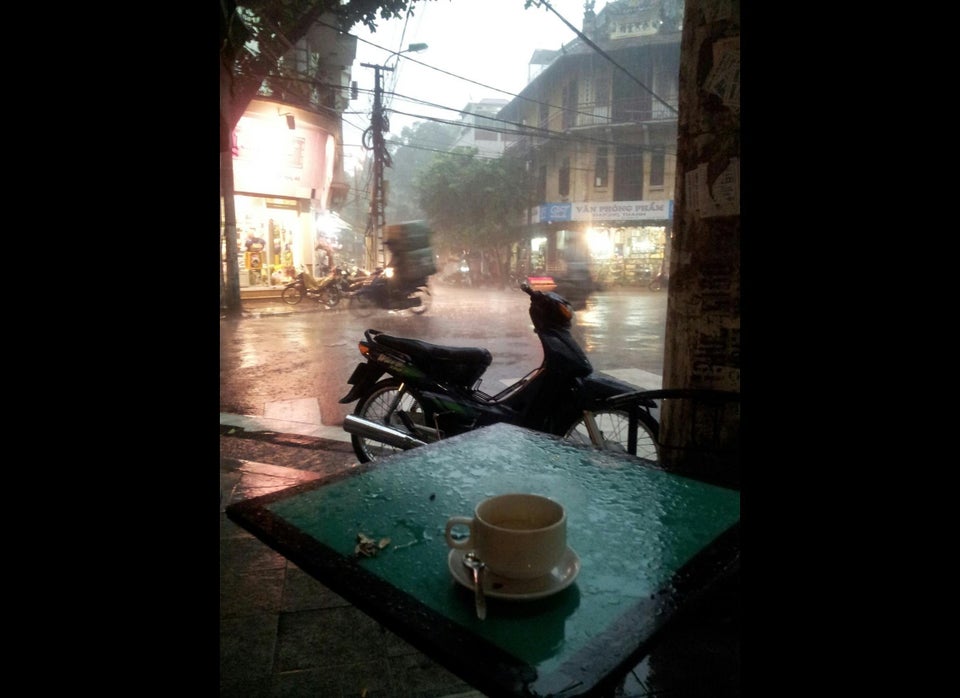 Hectic, Electric, Magnetic, Hanoi
Or the chaos of the Old Quarter with its infinity of cafes, shops and market stalls in a spider's web of lanes and roads. And then the tranquil shores of Hoan Kiem Lake where old ladies do tai chi in the early morning light and young lovers sit hand in hand in the golden evening glow.
The street you find where every shop sells toys, or sweets, or babies clothes, or herbs or meat or steel rods and everything in between.
Another turn takes you onto a different road of metalware shops and their tireless workers who sit outside industriously tapping, buzzing and banging away at sheets of aluminium on its way to being pans, or kettles, or kitchen units.
Then you find you find yourself on another strip half a mile long of little furniture shops, where the air is rich with the smell of glue, varnish and freshly-sawn wood.
Or you can sit in some café with a sweet iced coffee and let Hanoi flow past you.
And watch the bikes and cars and people buzz by, the ladies in those pointed wicker hats straining under the weight of the baskets they carry like scales, and the scooter drivers that weave and zip and criss-cross each others' paths like super-charged particles.
The food markets are smelly, brutal places where fish spend their last few hours kept alive in tanks or bowls just large enough for them to open their gills, butchered pigs, cattle and dogs lie in pieces waiting to be cooked and duck eggs are kept under a cloth in case the foetus inside cracks open the shell and crawls away before it can be sold as a snack.
It's just so different, so distinct so unique from anywhere I've been before. Anything but easy and sometimes downright infuriating, there's a totally ingenuous charm about Hanoi that sunk its teeth into me the second I arrived and makes me feel free every time I visit.
It's so ultimately Asian yet there's a strange echo of its days as a French colony, when it was known as the 'Paris of the East'.
And sometimes when you find yourself on a mellow summer's evening in some little square or a quirky café it can feel just a little bit Parisian, infused with that Vietnamese zing you can't quite define.
The Vietnamese have a common phrase, không có gì là không thể -'nothing is impossible'. And believe me, it's much more than just words in Hanoi.
Need to take seven crates of flowers to the market and you only have a little scooter? Some people might stand around scratching their heads and weighing up the options, the Vietnamese just get on with it. Somehow they strap all the crates to the back in a flimsy wobbly stack so in the end there's more crate than bike (or rider) and away they go.
If a crate, or the whole stack falls off, just stop, go back, pick them up and carry on. No problem.
To me that sums up a lot about Vietnam, and Hanoi - the most purely Vietnamese city of all. There's a grit, a determination, a self-reliance about the whole country.
Maybe it's because over the centuries they've seen off the Chinese, the French and the Americans single-handedly, and even today Vietnam seems to stand alone in the world.
They just get on with things. They don't ask for help from anyone; family and neighbours are their support network and it's all backed up by a phenomenal work ethic. Most people work six or seven days a week for what we would consider peanuts and the concept of holidays is pretty much unheard of.
In the West it's all about the individual. People live egocentric lives of self-service and narcissistic satisfaction and the greater good has been largely forgotten.
In Vietnam family, community and society are the only rocks, with ego the last of most peoples' priorities. It is human life stripped to its barest bones. Trade and commerce are the pillars of society but there isn't the ugly back biting competitiveness you see in more 'developed' countries.
One street will be lined with shops all selling exactly the same goods for exactly the same price. Somehow shoppers make their choice and everybody seems to gain equally.
But sadly, I'm afraid it might not last. Already in the two years since I last visited I've sensed a change in the atmosphere. There seemed to be more cars this time round, more Western luxury and designer boutiques.
Progress is finally reaching Vietnam and I fear that it will wash away some of its charm. There is an aspiration to be like the West that I find upsetting.
It's facile and patronising to beg the Vietnamese to keep the walls up and turn the future away from the door because I don't want it to change. The people who graft away for little reward no doubt dream of less gruelling days ahead.
But I hope they don't go too far down the road of mimicking the West. And take on egotism, competition, indifference and the other fatal flaws of our way of life.
It would be a terrible tragedy if the Vietnamese ended up diluting their own magic, their uniquely feisty culture, the spirit, the independence and the enterprising zeal.
To many Vietnam might seem backwards, ripe for development and opportunity. To me it's one of the last true islands left, a bastion from the ruthless globalisation and insipid consumerism that is overwhelming the rest of the world.
It's sad to think that these irresistible forces will inevitably overpower Vietnam, and yet another rich culture will find itself incorporated into the mainstream.
Hanoi teaches you to let go. Let go of your preconceptions however well-travelled you are, let go of yourself and give in to the power that courses around it.
If you do, you'll be mesmerised by its energy, its intensity, its gut-wrenching pace. And the people, who are full of grit and fire yet have a softness, a magnetism, a feisty sense of humour, a vivacity that stays with you long after you leave them behind.
It's a one-off, an underdog, an organised chaos. That hectic, electric, magnetic, Hanoi.

What to do in Hanoi
Take a (long) wander around Ho Tay (West Lake), in the North of the City. It's a large, ancient lake teeming with life and some excellent cafes and restaurants, like Highway4.
And for a really eccentric treat try French crêperie Duc de Hanoi on Xuan Dieu, where the quirky French ex-pat owner David will make you traditional crepes and pasta using all sorts of home-grown organic ingredients late into the night.
If you want a real escape, there's a lovely little book shop down a tranquil alley just to the east of the lake, Bookworm Too, where you can relax with a coffee and soak up the mellow classical music before heading back out into Hanoi.
One of the best things I did in my short time was to take a Vietnamese cooking class. The food is wonderfully simple to make and absolutely delicious. I did it at the Hanoi Cooking Centre on Chau Long and the afternoon included a tour of the Chau Long food market, which is an experience in itself.
I stayed in the Hanoi Backpackers Youth Hostel on Ma May. The second hostel in Hanoi of the same name and perhaps the plushest in the whole city, the guys who own the brand have got the tourist spot covered now with a site either side of Hoan Kiem lake, both of which put you right in the heart of the city.
And when I felt like getting away from the hostel scene, I spent a few nights in the Titanic Hotel on Ngõ Huyện. It's fairly basic but the guys who run it work their socks off and were incredibly helpful and friendly.
As cruelly as it always does, the end of my time in Hanoi and therefore the end of the whole trip came all too quickly. The idea of getting the train all the way home was slightly more exhausting than it was intriguing, so I decided to fly. And with a small budget and not much notice I found some flights on Skyscanner's Hanoi to London page within my limit.
So there I was all of a sudden, gazing out the window of the plane, Vietnam slipping away beneath me. From my seat in the sky I saw a train clunking through the countryside way over in the distance. I don't know where it was headed; maybe north to China, where I had spent so much time happily exploring.
Perhaps a lone traveller on board was just setting off on some grand adventure, the trip of a lifetime. Maybe they were sat in their seat filled with excitement, picturing all the wonders that were about to unfold through the windows of the trains of the world.
Popular in the Community