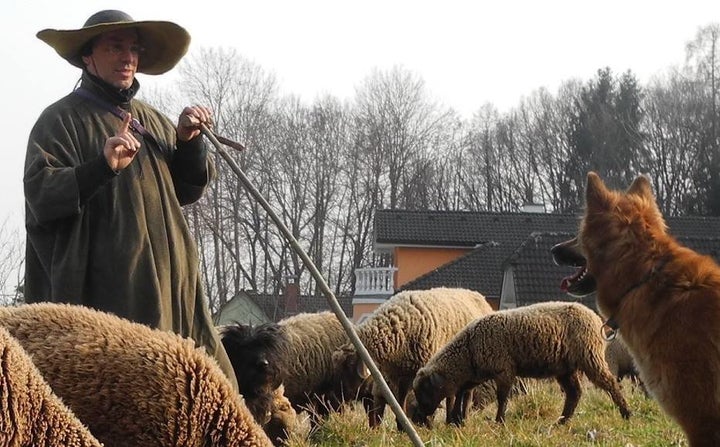 When the Hungarian government cracked down on refugees in late August, herding them into holding camps and barring their passage to Germany, Hans Breuer knew he needed to act. Many Austrians have shown compassion for refugees, but for Breuer, it was personal. He is the son of an Jewish refugee from the Holocaust. 
"My father was a refugee and half of his family was killed in the Nazi time, so how I can resist helping these people?" Breuer asked in an interview with The Huffington Post. His father escaped to London just as the borders were closing. After the war, he returned to his native Austria, where he met Breuer's mother, a non-Jewish anti-fascist activist who had been tortured by the Gestapo for resisting the Nazis.
Breuer, a folk singer who also herds sheep in Austria's Burgenland region, recently started giving rides to groups of mostly Syrian refugees leaving Hungarian camps for the Austrian border so they could continue onward to Germany. 
With other activists, Breuer has personally transported dozens of Syrian and Iraqi refugees to safety in Austria. Two of his adult sons, Wolfgang and Andreas, have also conducted their own efforts: Wolfgang founded the Intereuropean Human Aid Association, a network of volunteers helping refugees as they cross into Europe.
The novelty of a Jewish Austrian man helping mostly Arab refugees is not without its poetic moments. Earlier this month, Breuer picked up a family of Syrian-Palestinian refugees who had fled the Yarmouk refugee camp in Damascus, Syria.
Breuer and the family can be seen singing the chorus of the Yiddish song "Oyfn Veg Shteyt A Boym" ("By The Road Stands A Tree") in the video below, which has made the rounds on the Internet.
Breuer described the emotional encounter that led to that unlikely Yiddish singalong. He drove to one of Hungary's notorious refugee camps and started looking for someone who spoke some English so he might offer them a ride. After locating a family that could understand him, the mother signed a heart shape with her hands in gratitude. Breuer began to cry, moved by the prospect of helping people in need. 
"They said they come from Syria, and then the mother said from Palestine, too -- and I said I am a Jew, and we make a Jewish-Palestine handshake," Breuer said. "This was a moment where humanity was breaking through. There are lot of Jewish people who feel solidarity with Palestinians and a lot of Palestinians that know that Jews are not all bad people -- and many people who know that everybody is just human." 
"It was completely by accident that the woman was Palestinian, but it is true it was symbolic," he added. "I like human exchange."
Breuer has not always identified as Jewish -- let alone as a Yiddish folk singer. He discovered Yiddish folk songs by accident as a young man, after a Finnish acquaintance played one for him and asked for help deciphering the language.
So he did some research and "got addicted," Breuer said. He now knows 150 classic Yiddish songs by heart, and has composed 50 original ones. Many of his songs match new lyrics with old melodies -- the better to address contemporary social justice issues, like the squalid conditions in Austria's Traiskirchen refugee camp. 
Just as memories of the Holocaust moved Breuer to help refugees, he sees his Yiddish ballads as a way to connect to a Jewish culture that has been all but lost. Yiddish, a German-based language dating back to the Middle Ages, was for centuries the lingua franca of millions of Central and Eastern European Jews and their descendants in the Americas -- spawning its own literature, theatre and, of course, music. Versions of it still survive in insular ultra-Orthodox Jewish communities, and there is a movement to preserve the secular, typically left-wing Yiddish culture that once thrived from Warsaw to New York. 
Sales of Breuer's records, which people order by contacting him directly, supplement the modest living he makes as a shepherd. He lives in a mobile home in the mountains with his wife, Mingo, and their two young children, Louis and Rosa. (In addition to Wolfgang and Andreas, Breuer also has a third adult son, Gunter.)
Breuer sees himself as an heir to the radical secular Jewish tradition that produced the Jewish socialist Bund movement and inspired many Jewish leftists to volunteer with the Republicans in the Spanish Civil War. Like many of those Yiddish-speaking idealists, Breuer's personal experience of historic persecution against Jewish people has led him to embrace a radical universalism. He believes in open borders, and says the sheer volume of refugees this summer should force Europe to become more welcoming.
"We will try to make holes in the wall of fortress Europe," Breuer said. "These masses of refugees -- they show that we can do it."
PHOTO GALLERY
Inspiring Reactions to The Migrant And Refugee Crisis
Calling all HuffPost superfans!
Sign up for membership to become a founding member and help shape HuffPost's next chapter