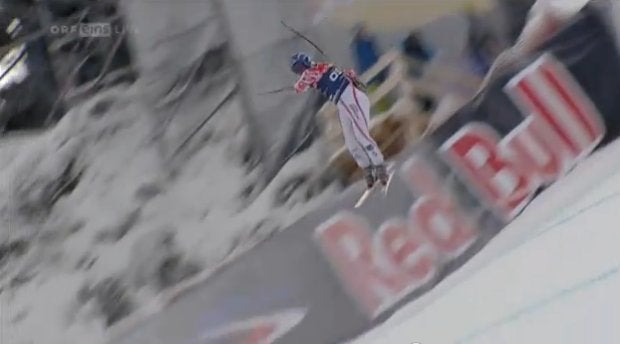 KITZBUEHEL, Austria -- Austrian skier Hans Grugger was hospitalized with a brain contusion and a chest injury after crashing Thursday during a training run for Saturday's World Cup downhill on the demanding Streif course.
Austria ski federation spokesman Markus Aigner said Grugger was "not responsive" and taken by helicopter to a hospital in nearby Innsbruck. There were no details available.
Grugger fell after losing balance at the Mausefalle, a long jump shortly after a sharp right turn, and landed motionless on the slope. Grugger was the fifth racer on the course but the first to face troubles in that section.
Didier Cuche, who won the downhill race in Kitzbuehel last year, said Grugger missed out on the ideal racing line and was not able to adjust.
"The problem is that you have several bumps in the first two turns," said the Swiss skier, who posted the fastest time when training resumed after more than 30 minutes. "If you can't keep your direction there, it can cause you real troubles."
Grugger's teammate, Michael Walchhofer, said the crash frightened him.
"I saw the crash. It was really bad to watch," the World Cup downhill leader said. "If you see something like that, you start thinking: 'Should I do this to myself?' But you have to put that aside."
Grugger is the third racer in the last four years to get seriously injured after crashing on the 3.3-kilometer Streif course, which is famous for its dangerous bumps, turns and jumps.
In 2008, Scott Macartney of the United States sustained brain injuries and was kept in an induced coma after smashing his head on the icy slope following a crash on the final jump. The next year, Daniel Albrecht of Switzerland sustained life-threatening brain and lung injuries in a similar accident. Both racers recovered and returned to World Cup ski racing.
The 29-year-old Grugger's career has been marred by knee injuries that kept him sidelined several times over the last couple of seasons. He has four career World Cup victories, two in downhill and two in super-G.