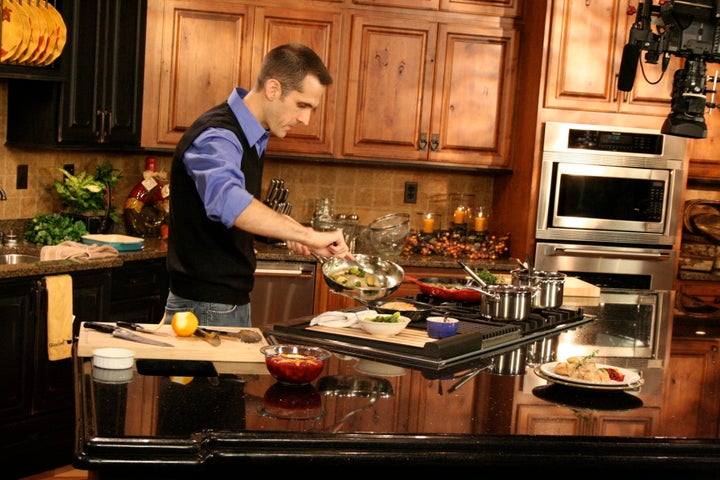 In the summer of 2005, chef Hans Rueffert, of the Woodbridge Inn in Jasper, Ga., had reason to be optimistic about his future in the culinary world.
He'd just finished participating in the first season of The Next Food Network Star, and things were going well at the Woodbridge Inn, the hotel and restaurant his parents had bought in 1976, when he was four years old. His father had taught him to cook there at age 18, when he wanted to impress his then-future wife Amy with his chops in the kitchen; since then, he'd taken over the kitchen as head chef. He was gregarious and telegenic, so more TV appearances were by no means out of the question. But then, out of the blue, disaster struck. He was diagnosed with stomach cancer.
When Rueffert heard the awful news, he immediately thought of his two small children. His sister had died of breast cancer not long before his own diagnosis.
"When I was diagnosed, I thought back to how my wife Amy and I had explained cancer to our kids; we had painted it as this awful boogeyman," he explained to the Huffington Post. "Now I had to tell them, 'Daddy's going to be OK,' when I wasn't even completely sure I was."
Doctors told Rueffert he had a 2% chance of survival.
"When they told me that, what I thought about was the fact that, if you look at a wall with a door, most of the area is occupied by the wall, and only a tiny little sliver is a door," Rueffert told the Huffington Post. "I thought, if I concentrate on the wall, I'm going to hit the wall -- so I have to go through the door. I'm aiming for that 2%."
Rueffert's medical team decided to treat the cancer using surgery. They believed the tumor was localized in his stomach, so they expected the operation to take four hours. Once they opened his abdomen, though, they realized it had spread to his esophagus. They ended up having to remove the top half of his stomach and most of his esophagus. They constructed a makeshift digestive system using the remaining parts of the stomach and esophagus. After an 11-hour-long procedure, they managed to remove the cancer. But it was unclear when, or even if, Rueffert would be able to eat solid food again. Considering his career and his life-long love of food, this was devastating.
"There was very much a chance that I wouldn't be able to eat again, that I might be on feeding tubes for my whole life," he said. "It scared the crap out of me to think that I would sit in a room and never eat real food again."
A few weeks into his recovery, he was still getting all his nutrition from an IV, but he missed food desperately. He started accompanying his wife to the hospital canteen. Rueffert found it vivifying just to be around food and to watch people eating.
"It was just magic to be around food," he said. "So I think that if I were told tomorrow that I could never eat again, I would still be around food. It's sort of like oxygen for me. I need it."
After seven weeks, Rueffert regained the use of his digestive system and began eating again. But over the next several years, the digestive system the surgeons had fashioned -- the "stomaphagus," as Rueffert jokingly called it -- began to falter. The stomaphagus leaked, leading to absesses and life-threatening infections. Twice, these infections spread to his brain, leading Rueffert's medical team to believe that his cancer had recurred. A brain infection in 2010 was so bad that Rueffert's medical team decided they needed to take drastic steps to prevent further sickness.
In March, Rueffert has his entire stomach, and 95% of his esophagus, removed. Doctors connected a part of his intestines called the jejunum to the very top of his esophagus, circumventing the idea of a stomach entirely. This "jejunum intervention" seems to have worked, but it's changed the way Rueffert will eat forever.
Today, he eats six small meals a day; because he lacks the receptive space a stomach provides, eating a meal larger than a kid's meal can induce vomiting. Rueffert can no longer eat spicy or sugary foods, which he loved before he fell ill. Since he was first diagnosed with cancer, his weight has dropped from 215 pounds to 135 pounds. Even this latter number is an improvement from his thinnest, when he weighed just 126 pounds.
Yet somehow, Rueffert, a cheerful, fast-talking person, doesn't treat the matter of his operation too gravely. "The ironic, dark humor of a chef without a stomach was not lost on me," he said.
The dark irony of the situation has inevitably drawn comparisons between Rueffert and Grant Achatz, the chef of Alinea, whose dramatic bout with tongue cancer was documented in a New Yorker profile and a memoir. Doctors told Achatz his disease would cost him his ability to taste, just as they told Rueffert his would cost him the ability to eat. But both have stayed in food.
For a while, Rueffert kept working at the Woodbridge Inn, which he and his wife bought from his parents in 2009. His medical team, though, told him that the stressful life of a cook and restaurateur was too risky for his health. He and Amy have had to put the Woodbridge Inn on the market, much to their chagrin.
But, inspiringly, Rueffert has not let his disease, and the treatment that saved his life at the cost of his stomach, keep him from pursuing his passion for food. He has shifted his focus away from eating vast quantities of food to eating the highest quality of food he can. He is more excited than ever about fresh, seasonal, organic fruits and vegetables.
"Since I have such a limited ability to eat, I really make it a point to eat really good things," he explained.
In between treatments for cancer, he wrote a cookbook, Eat Like There's No Tomorrow, that beautifully weaves together healthy recipes, stunning photos taken by his wife Amy and personal essays on family, illness and food. He's working on a second cookbook about working with kids in the kitchen, which he plans to call Eat With Love.
He frequently teaches cooking classes at the Piedmont Cancer Wellness Center; this allows him to engage with food and to help others at the same time. He works with the Gastic Cancer Fund to mentor people with stomach cancer through their disease. Having survived cancer -- and having lost a sister to cancer -- has made him want to help others in any way he can. His passion for health has led him to reach into his German heritage for a new life motto, which he uses in all his correspondance: "Gesundheit."
"People usually just think of that word as something you say when you hear someone sneeze, but really, it's German for 'good health,'" he told the Huffington Post. "That's really the one thing that I can offer anyone: an offer of good health."
Rueffert recently appeared on CNN's Sanjay Gupta show to discuss his battle with cancer; below is the clip of his appearance.
Popular in the Community