In the past few years, super-curator Hans Ulrich Obrist has been conducting interviews with the minds that shape contemporary culture for his Interview Project. Now Obrist is underway to consolidate and digitally archive over 2,500 hours of his interviews, making his conversations with today's most inventive minds available to a large audience. "The way we might read Vasari for primary information on the Italian Renaissance, people will be looking at the archive of Hans Ulrich [Obrist]'s interviews to construct the art history of this era," Jeffrey Deitch once told the New York Observer.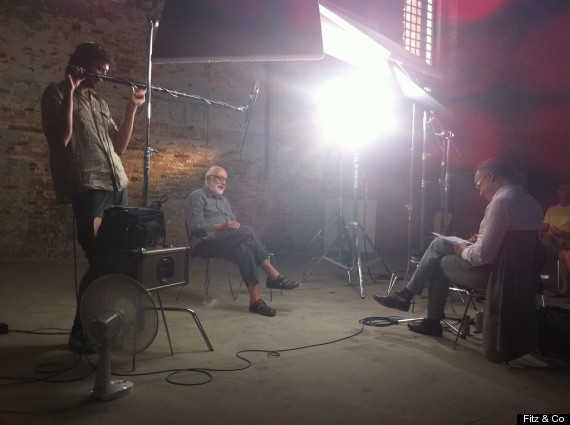 Obrist launched the Institute of the 21st Century with Bettina Korek and Karen Marta to create the hefty archive, channeling historian Eric Hobsbawm's call to "protest against forgetting." This weekend and early next week, Obrist will conduct two free public interviews in Los Angeles with seminal artist John Baldessari and computer scientist Danny Hillis, in partnership with the Institute.
The conversation presents a rare chance for three cultural giants to engage in a conversation which will both illustrate and transform the cultural climate of the world. Obrist, who was named the most powerful person in the art world by ArtReview in 2009, has been curating exhibitions since he was a mere 23 years old. He is currently the Co-director of Exhibitions and Programs and Director of International Projects at the Serpentine Gallery, London, and has been dubbed a "rock star in his field."
Obrist has always looked beyond art to enrich the artistic conversation, having become somewhat of an icon for his daring multidisciplinary approach. "It's about creating sparks between people who otherwise wouldn't meet," he told the Standard UK. "We don't have a space where scientists and poets, say, can just meet by chance. It needs some curating to make it happen."
Hans Ulrich Obrist in conversation with John Baldessari will take place Sunday, July 29 at 4 p.m. at LACMA. Hans Ulrich Obrist in conversation with Danny Hillis will take place Monday, July 30 at 7 p.m. at ForYourArt. ("Time," a 24-hour presentation of works by Danny Hillis and John Baldessari, will take place Tuesday, July 31, 12-8 p.m. at ForYourArt as well.)
Related
Popular in the Community