A member of President Donald Trump's voter fraud commission expressed outrage that Democrats would be appointed to sit on the panel, saying they would only obstruct its work.
Hans von Spakovsky, a former Justice Department official now at the conservative Heritage Foundation, wrote the email in February, three months before Trump announced the creation of the Presidential Advisory Commission on Election Integrity. Someone forwarded the email to an aide for Attorney General Jeff Sessions, with a request that it be given to the attorney general.
In the message, obtained through a public records request by the Campaign Legal Center, von Spakovsky wrote:
"We're also hearing that they are going to make this bipartisan and include Democrats. There isn't a single Democratic official that will do anything other than obstruct any investigation of voter fraud and issue constant public announcements criticizing the commission and what it is doing, making claims that it is engaged in voter suppression."
The disclosure is significant because Trump and Vice President Mike Pence, who is chairing the panel, have said it will have no predetermined conclusions. Critics say the effort is an attempt to stir up fears of widespread voter fraud, which previous studies have found is not a pervasive issue, and will lead to more restrictive voting policies.
In his email, von Spakovsky also expressed concern the White House would choose "mainstream" Republicans and academics who wouldn't know anything about voter fraud.
"There are only a handful of real experts on the conservative side on this issue and not a single one of them ... have been called other than Kris Kobach, Secretary of State of Kansas. And we are told some consider him too 'controversial' to be on the commission," von Spakovsky wrote. "If they are picking mainstream Republican officials and/or academics to man this commission it will be an abject failure because there aren't any that know anything about this or who have paid any attention to the issue over the years."
Von Spakovsky initially said he knew nothing about the email when a ProPublica reporter asked him about it on Tuesday. But the Heritage Foundation told Gizmodo later on Tuesday that von Spakovsky did, in fact, author the email.
The email raises new questions about the relationship between the Department of Justice and the commission. Voting advocates were concerned earlier this year after the department sent out a request to 44 states asking for information about compliance with federal voter purge requirements on the same day Kobach, vice chairman of the commission, sent a letter to election officials in 50 states asking for voter data. The Justice Department said the two requests were unrelated.
In a statement on Wednesday, von Spakovsky said he had never discussed the commission with Sessions.
"I have never had any discussions by email or otherwise with General Sessions about the election integrity commission," von Spakovsky wrote. "I did send a private email in February to private individuals who were not in the administration to express my personal concerns about the efficacy of the President's Advisory Commission on Election Integrity months before it was organized or any of its members were selected. I did not send it to General Sessions and was unaware that it had been forwarded to him."
He added that he was confident in Democratic members of the commission and in the panel's work so far.
Voting advocates were concerned by von Spakovsky's appointment to the commission, given his role in pushing for voter ID in Georgia, his past exaggeration of voter fraud and his criticism of the National Voter Registration Act, a law that protects people from improperly getting kicked off voter rolls.
Bob Bauer, who served as former President Barack Obama's White House counsel from 2009-2011 and co-chaired a previous presidential commission on elections, said von Spakovsky should resign.
"The Administration chose to appoint to the Commission an individual who strongly objected to a bipartisan inquiry but also to a formal role for social scientists trained in data collection and dispassionate analysis. The story should not end there," Bauer wrote in a blog post.
"Von Spakovsky may now appreciate that his position on the Commission has become untenable and that he should resign," Bauer added. "He has made clear that he's open only to Commission 'fact-finding' that supports his well-known beliefs about fraud. If he had imagined he could persuade anyone to the contrary, he must know that the email puts an end to any such hope."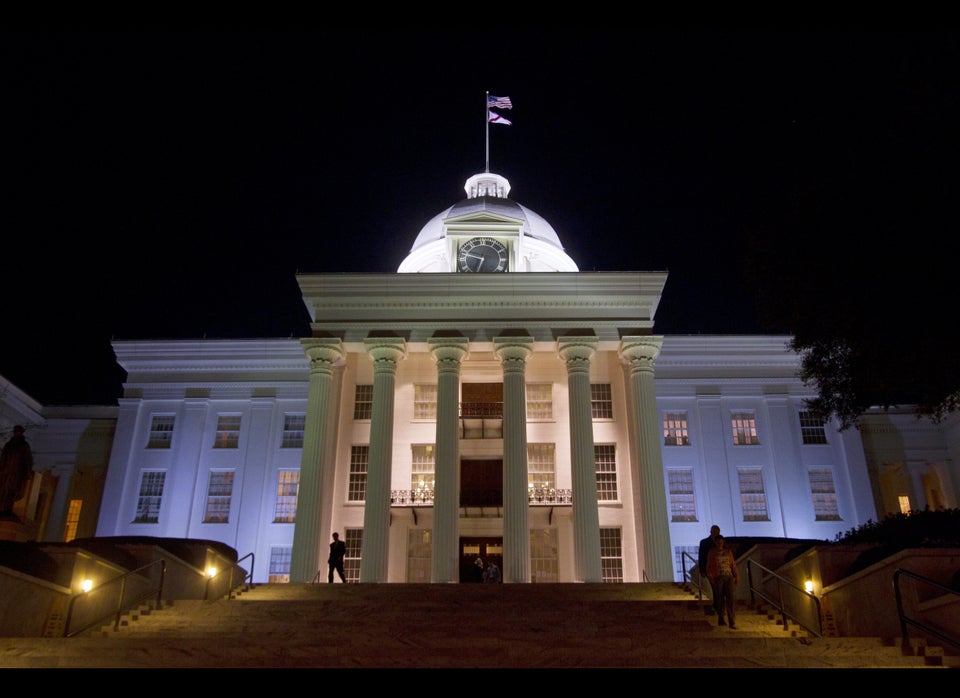 U.S. State Capitol Buildings
Popular in the Community