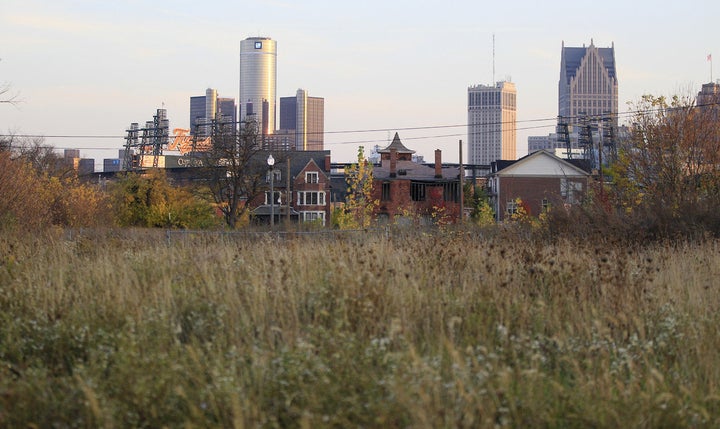 Tuesday, the Detroit City Council voted 5-4 in favor of the transferring the largest parcel of publically owned land to a private development corporation. Council President Charles Pugh was joined by members Jenkins, Tate, Brown and Cockrel voting in favor of the sale. Councilpersons Watson, Kenyatta, Jones and Spivey voted against the proposed deal.
This approval came after widespread public condemnation of the proposal to sell nearly 2,000 publicly held lots for less than $600,000.
The council met amidst a crowd seeking to speak against the proposal.
These comments were a continuation of those made at a public hearing held Monday on the eve of the vote. A large crowd gathered on the Lower East Side to talk about another path for development. The crowd flowed out into the street, with some people waiting in the cold almost two hours to be admitted through a cumbersome and invasive security check. Long time residents, architects, army veterans, retired teachers, home owners, young people, gardeners, artists, activists, preachers, politicians, real estate developers and concerned citizens voiced objections to the Hantz deal.
Hantz Farms/Woodlands, and much of the corporate elite who support him, envision a city that fosters land speculation, spectator sports, and a service economy dedicated to providing for the comforts and pleasures of a wealthy few. Hantz, whose corporate history emphasizes banking and finance capital, has repeatedly said his motivation for the project is to "create land scarcity," thus increasing property values.
What emerged on Monday night was a very different vision. Speaker after speaker talked about creating a city that grows from the strengths of local initiatives to improve neighborhoods. They talked of fostering urban gardening that builds communities, home ownership, and locally owned businesses supplying neighborhood needs. People suggested policies and programs that would rebuild neighborhoods in ways that honored the work that many in the room had been doing for years.
People at both the public hearing and before the City Council session raised very specific questions about the proposal. Professional architects and city planners scoffed at the development agreement, calling it "a public relations piece, not a serious plan." People pointed out there were no environmental or community impact study.
Others raised questions of fairness. People told of their how they had been thwarted by city bureaucracy. Others pointed out they had paid much more than Mr. Hantz was offering for land. Council member Jo Ann Watson called up a member of the administration to affirm that no assessment of the land had even been done.
Detroit has the opportunity to point toward another path of development. It is the path that has already begun, fostering local self-sufficient neighborhoods that restore community while rebuilding our city. This vision, rooted in the steady, often unseen work of neighborhood people, is the best hope for our future and that of the planet.
Related
Popular in the Community