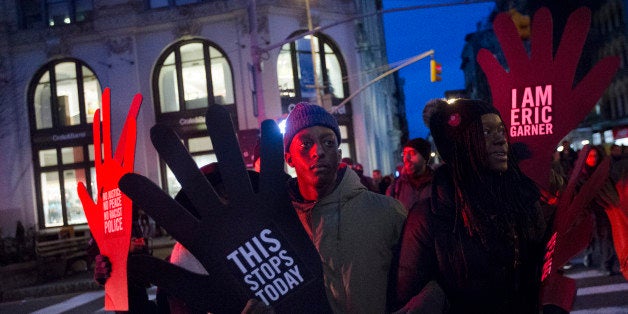 When many families are home lighting the menorah for the first night of Hanukkah, an interfaith coalition will use the spirit of the holiday to demand an end to racial profiling and police brutality.
On Tuesday Dec. 16, Jewish and Muslim community members led by the Arab-American Association of NY (AAANY), Jews for Racial & Economic Justice (JFREJ), and Bend the Arc: A Jewish Partnership for Justice will gather in front of the Barclays Center in Brooklyn to urge Commissioner William Bratton "to end discriminatory and abusive Broken Windows policing."
Rabbi Ellen Lippmann of Brooklyn congregation Kolot Chayeinu/Voices of Our Lives will lead a candle lighting during the action and told HuffPost she hoped the Hanukkah miracle would offer inspiration to the participants, "illuminating a vision of a just society."
"I pray that Black and Brown Americans can move forward powerfully toward that society, and that we allies can help in ways that respect and respond to their leadership," Lippmann said. "I am glad to join on this special night with our Arab and Muslim colleagues, as we work together in this important and growing movement. Black Lives Matter, and must matter, so that we can move from mourning unjust deaths to celebrating just lives."
The action is seventh of 11 demonstrations that make up the #11Days of Action campaign organized by #ThisStopsToday, a pro-reform coalition organized by Communities United for Police Reform (CPR), Million Hoodies and Freedom Side. The 11 days, which run Dec. 10-20, are representative of the number of times Eric Garner said "I can't breathe" before he died.
Tuesday's action is also part of the national Jewish #ChanukahAction to End Police Violence campaign, which provides information about local protests and offers toolkits for activists on its website. Among the toolkits is one called "8 Nights, 8 Actions" for those who wish to engage in activism over the Hanukkah holiday.
Earlier in December JFREJ helped organized a protest against racial injustice, during which four prominent rabbis were arrested.
"Rabbis and all Jews need to stand up and say that every single person is a creation in the divine image -- that black lives matter," Rabbi Jill Jacobs, who was among those arrested, told HuffPost after the protest. "We put our bodies on the line to show how crucial it is that the systems meant to protect us do protect all of us."
Organizations involved in #11Days of Action put together a list of 11 demands to #ChangetheNYPD, which include:
1)Mayor de Blasio should insist on full accountability for all NYPD officers responsible for killing Eric Garner and Akai Gurley and all officers who brutalize New Yorkers.
2) Department of Justice should convene grand juries to federally indict officers responsible for the killing of Eric Garner, as well as other NYC cases such as Ramarley Graham.
3)Governor Cuomo should issue an executive order directing the Office of the Attorney General to serve as special prosecutor in cases involving civilians killed by police officers.
4)Governor Cuomo should veto legislation (S7801/A9853) that would allow New York police unions to make police disciplinary policies subject to contract negotiations.
5)New York City should end the NYPD Commissioner's exclusive authority over disciplinary decisions for officers in cases of abuse, misconduct, excessive and deadly force.
Read the full list of demands here.
Related
Popular in the Community