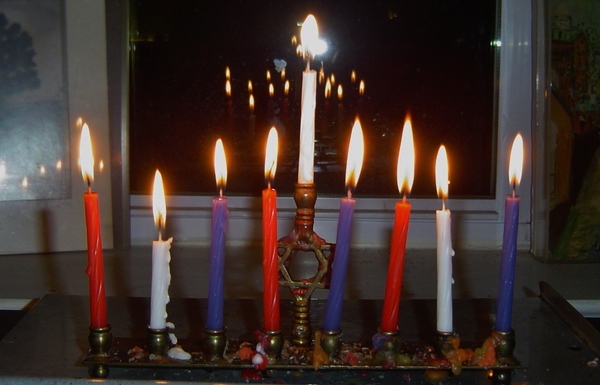 Lynne Shapiro
"Dear Matthew:
They posted the results for the Hanukkah Hustle race. Although I came in last in the 5K run/walk, I was first in my age category, which is 70 to 99 years! Unlike other events where they give you a banana, yogurt and juice drink, they served us latkes and Kosher hot dogs. Love, Dad."
-- Joel Greenspan, age 70.
Hanukkah has always brought families together. The eight-day festival of lights is steeped in history, religious rituals, cultural traditions and the delicious aroma of deep-fried potato latkes and jelly doughnuts (sufganiyot).
But Hanukkah celebrations are changing for many of us. Today, they may include a visit with grandkids via Skype and photos of them sent from cell phones. We're lighting virtual menorahs and watching Hanukkah videos on YouTube and singing along with Adam Sandler or the traditional "Dreidel" song -- there are more than 200,000 videos with the song.
Now that we're grandparents, we aren't always cooking the latkes. Our daughters, sons and their partners share that responsibility. They cook for us! Some of us admit to eating a Dunkin' Donut during Hanukkah or "Golden frozen latkes with cranberry sauce."
This year, we're celebrating giving more to others
We're helping people in our communities, especially those in the middle of a crisis. A toy store owner in Brooklyn donated Hanukkah toys to kids in the Rockaways whose homes were destroyed.
"It's the thing that I own, that I can give," he told the Jewish Forward.
Children's book author Doreen Rappaport says: "Our family decided that we will not be giving presents to the grandchildren this year. We're pooling our money to give to families caught in the aftermath of Hurricane Sandy."
Creating new traditions
Joel Greenspan (70), Ernie Gershon (78) and Lori Gershon (76), have made the Hanukkah Hustle 5K and 10k walk/run race a new tradition. The half-marathon walkers travel together to the race and help raise money for a fitness center at Shalom Village, a Jewish long-term care home in Ontario.
"The highlight of the day," says Lori, "is not our race. It is the 1K race participated in by residents of the home in wheel chairs, walkers and on foot, supported by caregivers and family members and cheered on by all."
Lighting the candles
Lynne Shapiro, a researcher and archivist, describes herself as "a pretty observant Conservative-Egalitarian Jewish woman" and more observant since her mother died. She'll light her candles on a 50-year-old family Hanukkah menorah and sit with no media on until the candles go out. As children, she says, "my brother and I used to place bets on which candle would go out last."
"We have our own tradition," says Joan Roth, a photographer friend. "On the eighth night when we light the candles a very, very bright light fills the room at my daughter's home. We are seated together feeling blessed as a family. We look on as the light first fills our hearts, then burns down," she says, "giving us pause to consider the possibility that in a place of light, there is no darkness."
Welcoming a 'gift' from the next generation
Writer and activist Letty Cottin Pogrebin said, "When our kids were young, Bert and I gave huge Hanukkah parties." The more than 50 guests were asked to offer something literary, artistic, educational or entertaining that would 'increase the light.' "People came prepared," she said, "they recited poetry and performed songs, skits and had dance recitals. In one case, [there was] a stand-up history lesson about the Maccabees taught with the aid of a poster board on an easel!" The parties were elaborate, and she began buying gifts for the children and grandchildren the day Hanukkah ended for the following year.
"I loved those over-the-top parties, and I can only guess that my metabolism must have been on overdrive when I was in my 30's and 40's," said Letty.
"This year, thank God my daughter Abigail is doing our family Hanukkah party and knowing how creative she has been in running our Passover Seders, I'm sure it will be very spirited, original, meaningful and lots of fun." That's a gift in itself!
Reinventing "Latke Fest"
In 1998, producer Wendy Woll's boyfriend gave her a food processor for Hanukkah. "And what better way to take a new food processor out for a spin than making latkes?" she said. "We had a few friends over, nothing big." A year later, the boyfriend became her husband and the small Hannukah party turned into "40 lbs. of grated potatoes fried into greasy but addictive latkes."
The sheer weight of spuds, onions and oil was too heavy to be called just a Hannukah party. This was the birth of "Latke Fest," and each year, preparations began in October.
"Our house turned into a little latke factory complete with oil-slicked floors, greasy counters and smudged cabinets." The biggest challenge during the prep phase was "managing the real-estate in the freezer." She had to "borrow" freezer space from friends.
The party was big -- and so was the traffic jam outside their home. It only lasted for two or three years at its peak. But the original is still mentioned by friends. Each year, she receives unsolicited inquiries for the return of "Latke Fest." Wendy says, "This year, it just may live again!"
Celebrating Hanukkah and Christmas
I am not Jewish and like many families, we celebrate both Hanukkah and Christmas in our home. Our menorah is already placed next to the window. My husband, Marty Keltz, and son, Jonathan Lippert Keltz, will probably not be here on the first night of Hanukkah this year. But I will light the candles for our family and send a photo to their cell phones. I haven't bought a Christmas tree yet!
We all have traditional family latkes recipes and love them. My Hanukkah gift to you are links to wonderful variations on the theme from Deena Prichep, whose cooking adventures appear on Mostly Foodstuffs (her blog), Food52.com, NPR and elsewhere:
Sweet Potato Parsnip Latkes with Feta and Leeks
Scallion Latkes with Rice Vinegar Sour Cream
Happy Hanukkah. Enjoy!
REAL LIFE. REAL NEWS. REAL VOICES.
Help us tell more of the stories that matter from voices that too often remain unheard.