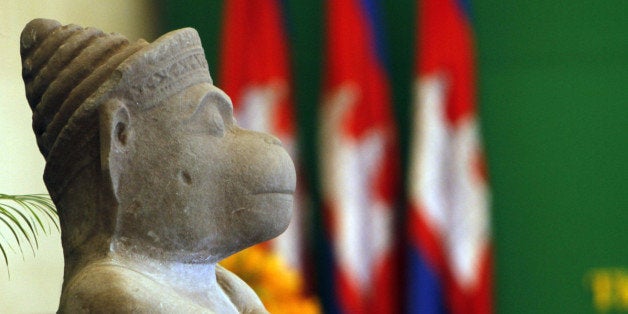 PHNOM PENH, Cambodia (AP) — Cambodia welcomed home a 10th century stone statue of a Hindu god that was looted from a temple during the country's civil war and spent the past three decades at an American museum.
The sculpture of monkey god Hanuman was formally handed over Tuesday at a ceremony in Phnom Penh attended by government officials and the director of the Cleveland Museum of Art, which acquired the sculpture in 1982.
"If Hanuman were alive, we would see a smile on his face showing his joy at being here among us where he belongs," Deputy Prime Minister Sok An said at the ceremony in the Office of the Council of Ministers.
The statue was stolen from the Prasat Chen Temple in the Koh Ker temple complex in Siem Reap province, which is also home to the famed Angkor Wat temples, said Sok An, adding that it was shipped to Europe and then the U.S.
"Now, after his long journey, he is finally back home," said Sok An, who praised the museum's initiative in returning the statue and called on others "to follow the example of returning plundered treasures to their rightful owners."
Officials at the Cleveland museum found last year that the statue's head and body were sold separately in 1968 and 1972 during the Vietnam War and the Cambodian civil war. An excavation showed the sculpture's base matched a pedestal at the ancient temple.
"As more and more information came to light, we became firmly convinced that the sculpture belongs here," said William Griswold, the director of the Cleveland museum. He said that when the museum acquired the piece its connection with the Koh Ker temple was "far from certain."
The Hanuman is the sixth "blood antiquity" returned to Cambodia in recent years. The Metropolitan Museum of Art in New York returned two, and one antique has been returned each from Sotheby's auction house, Christie's auction house and the Norton Simon Museum in Pasadena, California.
Their returns mark steps to bringing back together nine figures that once formed a tableau in a tower of the temple. The scene captured a famous duel in Hindu mythology in which the warrior Duryodhana is struck down by his cousin Bhima at the end of a bloody war of succession while seven attendants look on.
"We in Cleveland have been fortunate to benefit from the presence of Hanuman for more the 30 years," Griswold said.
The sculpture was displayed constantly at the museum since its acquisition, and was a favorite among schoolchildren who imitated its kneeling pose during tours.
"He has taught visitors to our museum about the glories of Khmer civilization," Griswold said. "While he will be sorely missed in the United States, we rejoice in his return."
Related
Popular in the Community