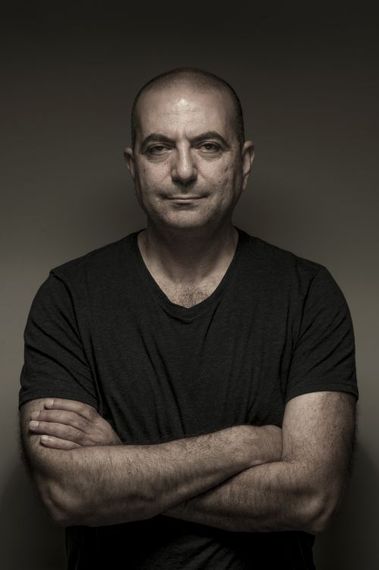 "Life can only be understood backwards, but it must be lived forwards," noted Soren Kierkgaard, but what if you don't see much of a future for yourself and those around you? Will you just become mired in the past? That's the plight of many of the characters in the critically acclaimed offerings of Palestinian director Hany Abu-Assad, whose contentious works have twice been nominated for Best Foreign Film Oscars: Paradise Now in 2006 and Omar in 2014.
Paradise Now is a buddy film about two young Palestinian men recruited to be suicide bombers. Their target: an Israeli bus packed to the rafters with children, your everyday folk, and a few soldiers. What one would expect to be a horrifically tragic tale, an exploration of the mindset of the "heroes," their families, and their handlers, is indeed horrifically tragic, yet also surprisingly witty, romantic, suspenseful, political ambiguous, and even at times broadly comic.
I pointed out at the time of the film's release that there was the dilemma, at least for me, of being Jewish and sympathizing with the lead characters who under the right circumstances would blow me up. Freud would know what to say here.
Omar deals with a Palestinian freedom fighter who winds up against his will working for the Israelis. Rana's Wedding (2002) pursues a young woman's ordeal to get married, a quest that's constantly hindered by the Israeli traffic blockades, and the documentary Ford Transit (2003) exposes the the thoughts of a cross section of the Palestinian populace as they travel in a van while constantly being halted by Israeli soldiers.
What's interesting here is that the Palestinians depicted in Abu-Assad's oeuvre are not whitewashed. While many are honorable survivors of a chaos they were born into, definitely worthy of empathy, just as many are exploitative of their peers, selfish, villainous, or at times bumblers.
Now comes the director's most light-hearted offering, The Idol, at least light-hearted by his standards. Based upon the true story of Mohammed Assaf, the winner of the 2013 Arab Idol television reality show, this biopic's dramatic arc is not so different from let's say Phillip Phillips' or Scotty McCreery's. The main variance is that Assaf was raised in Gaza amongst bombed-out buildings and his chance of winning such a contest was probably less than you winning the Mega Millions lottery. Add a tragic death in the family, no money to buy musical instruments, schoolmates who believe making music is sacrilegious, and his having no visa to get to Egypt where the contest is held, Assaf's future seemed pretty bleak until his unrelenting pluck and talent were rewarded.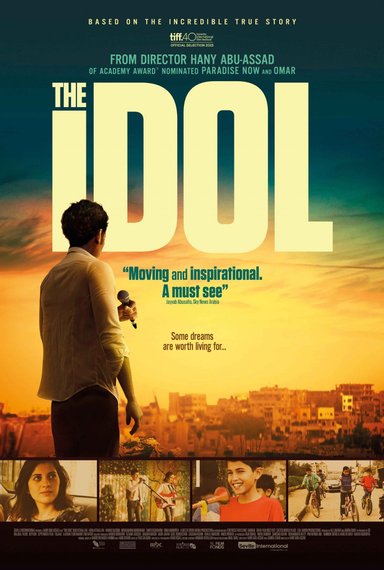 With just enough sentimentality, Abu-Assad chronicles Assaf's life full throttle, from childhood until his miracle win that had thousands of his fellow Palestinians rooting for him in the streets on the nights of the broadcast. The singer's out-of-left-field victory became their victory. And while The Idol lacks the unnerving power and edginess of his previous films, the director's move to a more populist entertainment format can never be divorced from the Middle Eastern politics that frames his other works.
Sitting down recently in the Smyth Hotel's restaurant in Tribeca, the enthused Abu-Assad held forth on his latest venture, while his lunch went cold.
"The experience of making Paradise Now was so difficult, it was almost as difficult as the storyline itself," he shared. "I swear we were almost killed. There was a kidnapping, explosions, people died around us. It was hell. The experience of making Omar was likewise similar to the story of Omar. It was difficult, a lot of conflict, a lot of paranoia, producers that felt that they were betrayed. I felt I was betrayed by the producers. However, the experience of The Idol was like the story itself. It was difficult in the beginning, but in the end was such a joyful experience, and I regained my trust in making movies because after Omar, the shoot, I almost said to myself, 'I'm not going to make movies any more. If movie-making is so difficult, why should we do it?' It was like I regained my trust again, my joy in making movies with The Idol.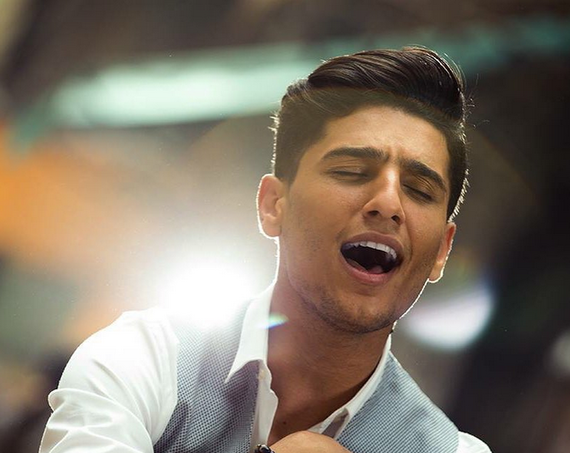 The genuine Mohammed Assaf, whose victory on Arab Idol inspired Hany Abu-Assad to film his life story.
In an interview from 2006 with Ilana Sichel, Abu-Assad said, "The only thing I'm trying to do is tell the story of my culture - my narrative, my history. I don't think [my films] can play a role now, but maybe in ten, fifty years. Maybe [they] can be a small piece in the puzzle of history. [They] could move you, but [they're] not forcing you to change your ideas." Currently, he's the world's most famous Palestinian director. Does that crown affect how he makes his movies? Does he feel a certain responsibility to represent his people in a certain way?
"I don't like the idea of becoming the voice of the Palestinian cause," he responded, "even though I suffer from the occupation, from discrimination, from apartheid, but the Palestinians are asking a lot from me to become the savior. This is a burden because a lot of the Palestinians have lost hope in their politicians and in the political situation, and they are now hoping through other institutions, like the arts, to free themselves, and this is impossible. Art will never take the place of the political arena. It is impossible. Art can help situations. It can give hope. It can give inspiration. In the end, the politicians and political situations are going to solve the problems. Now this burden is bothering me . . . . They will be disappointed as they are disappointed in the politics, more even. Are they kidding to think filmmaking can really change your situation? Sometimes, I feel even guilty because I am making movies about Palestinians. Yes, I became famous, and they're still under occupation."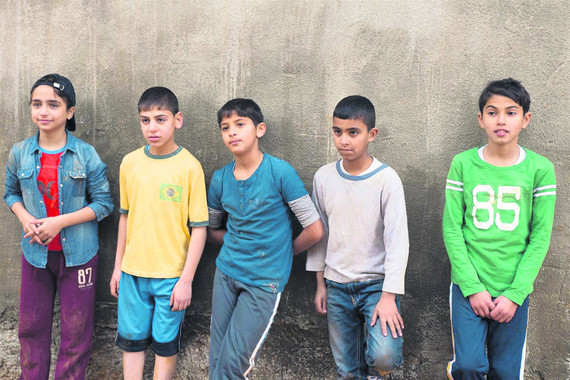 A young Mohammad Assaf with his pals and sister as depicted in The Idol.
After taking a bite of food, Abu-Assad added, "However, I learned from The Idol about the role of the importance of art in our life. I did not realize before that it is so important. Because when I saw so many people united, rich and old, Christians and Muslims, rich and poor, there on the squares, united, hearing Mohammed Assaf's voice, hearing the beauty of his voice, it was amazing. His voice is very beautiful. It is art. Hearing him singing brought the same expressions [of joy] to the faces of all these people, frustrated, not frustrated. I felt, "My God! How important art can be in our lives." I learned from that, even though in the past I was more skeptical about the power of art. I learned that we can't leave the masses of people to Walt Disney. As an artist, you have to take responsibility also to tell these people something and not just leave these concepts to the big studios. You have to take your role as an artist and reach out to these people."
He then took another bite.
(The Idol, which is currently playing in New York and Los Angeles, will be opening in Tucson, AZ (June 10), Palm Desert, CA (June 10), Fresno, CA (June 24), Chicago, IL (June 10), and Detroit, MI (June 24).)
REAL LIFE. REAL NEWS. REAL VOICES.
Help us tell more of the stories that matter from voices that too often remain unheard.