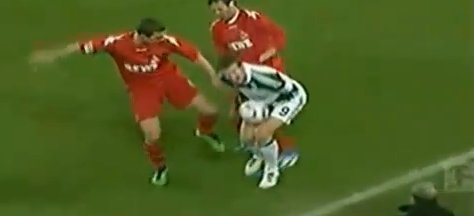 Last week, Hapoel Tel Aviv F.C. won its first group stage game at the UEFA Champions League against S.L Benfica. It was an emotional moment, both good and bad; Israeli football reaching its European neighbors' threshold, as the apprehension of the rarity of the occasion slowly sunk in. While the main objective is our own Israeli league championship, and more particularly winning the games against our archenemy -- Maccabi Tel Aviv -- we were all elated to a certain extent. But in Israel, like in Israel, happiness is a short-lived event when people around us tend to bundle us all together, and refuse to understand that many of us have a different mentality, political view and beliefs.
The following morning, football forums and other blogs began publishing the objection of Olympique Lyonnais (Lyon, France) fans and other bandwagoners, to Israel, and their preparations for a sort of protest prior to the Champions' League game on December 7th. Casting Hapoel fans as representatives of Israel is quite frankly nothing short of criminal, especially by football fans who are all well aware of the allegiance to the club vs. representation of ones' country. In other words, I cannot imagine the doom these fans would have brought on any other group that would dare presenting them as representatives of France! Football fan 101 is you are your team, not your country. It is no different for Hapoel fans.
Out of all Israeli clubs, it is highly ironic that the French (by necessity given the fact that Hapoel is the only Israeli team playing in Europe this season) will protest against Hapoel fans arriving to see the game. While there are the unfortunate exceptions, the core of Hapoel is socialism and anti-racism. The word, Hapoel, means "the worker." It was founded in the late 1920s by the Histadrut, the Jewish trade union under the British Mandate, on the tenants of, of the people, by the people, for the people.
It is a club that has, is and will continue to sign players based on their talent and ability, disregarding their origin, religion or any other society-driven distinction and parameter. Walid Badir, our captain is Arab -- which is not a pride for us -- because he is no different than any other captain. The pride comes from his contribution to the games and the club.
It is the first Israeli club to win the European Club Association (ECA) for social action, and the only one that has an independent fan founded foundation, The Red Workers. The Red Workers (2006) was started as a depot to help younger fans in their homework, and older ones in finding jobs. Over the years it organized meetings between Jewish and Arab soccer fans and tied strong ties with the Arab football club, Bnei Sakhnin, in up-state Israel. It further developed into a charity that collects food and clothes for poverty-stricken families, and organizes meals for the elderly on a regular basis. It is 100% voluntary.
The club's Ultras organization (its official fan club) brings together fans for a full day of soccer, which takes place at the training facilities of the club (compliments of the team's management). They invite refugees to join the tournament for a day of relief.
So throwing a protest against us as we enter the stadium in Lyon, will not only be barking up the wrong tree, but some of us may actually join the demonstration.
P.S. A couple of weeks ago I was boarding a plane from New York to Tel Aviv. I wore my Ultras Hapoel (Hapoel Tel Aviv fan club) hoodie, when a football fan whose name I never learned approached me. He was a fan of Beitar Jerusalem F.C. -- a team we had a game against the next day. One of the first things he chose to tell me, after stating they will @#$% us at our own home stadium tomorrow, is that I can call it whatever I want, but he does not want any Arab players on his team; He wants it to remain a Jewish team. "You're a racist," I said. "Call it what you want," he shot back at me. "Racism," I said and smiled bitterly. He did not object. I do.

REAL LIFE. REAL NEWS. REAL VOICES.
Help us tell more of the stories that matter from voices that too often remain unheard.