I resolved to "keep it light" for Father's Day, because our collective psyche has been battered by so many traumatic events this week - mass murder, the death of innocents and inexcusable attacks against our country's leader by one who aspires to take his place. But the irony of celebrating our fathers with socks and ties while our patrimony is being stolen from right under our noses is too great.
Patrimony is defined as "an estate inherited from one's father or ancestors." Americans have no greater or more desirable estate than the 630 million acres of public lands and waters that our forefathers began setting aside for us back in the 1860s. From our forests to our wildlife refuges and our national parks, we have been bequeathed an incomparable legacy that we are charged to protect "for the benefit of this and future generations."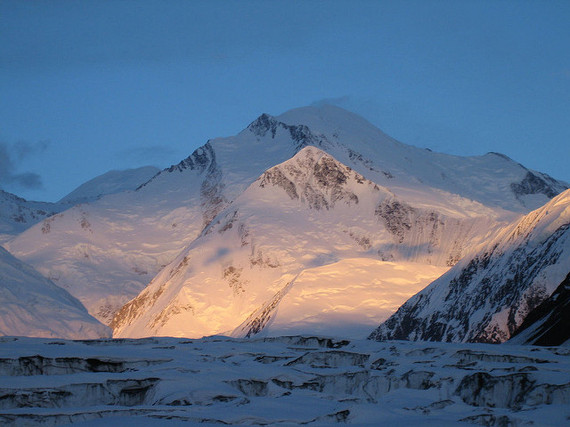 Seeing the alpine glow over Mount Denali in Alaska in the middle of the night is one of the greatest memories of my life. I want my descendants seven generations from now to enjoy the same view, affected by nothing but nature.
But it's all hanging in the balance right now. It is quite possible that we will end 2016, the much ballyhooed centennial of our National Park Service, with a system that is severely depleted.

Here's how I see it going down:
For the better part of this century, the Republican-dominated Congress has made clear their distaste for even the concept of public lands, and their desire to remove large areas of our forests and return them to the states. Knowing that public outrage would erupt if they expressed their intent to treat our national parks the same way, they've taken a different tack. Our parks have been so underfunded that an order from the director granting increased corporate access by 2017 seems not only logical but inevitable.
Thankfully, the Coalition to Protect America's National Parks, comprised of current and former employees of the service and boasting 30, 000 years of park management experience has pushed back:
". . . we are concerned the DO (director's order) undermines the importance of appropriations, mandates additional duties for park staff, and begins to send parks and the NPS down a road of increased commercialization. . . It is difficult for us, despite our extensive NPS experience, to understand exactly what it is that NPS is trying to accomplish with the proposed changes in policy. . ."
The National Parks Conservation Association on whose board I'm serving a fifth three-year term also questioned the order. But the 45-day period to comment on this disastrous proposal closed before I even learned about it. "We the people" of America have the right and responsibility to examine it and decide our future course because once that door is opened, there can be no going back.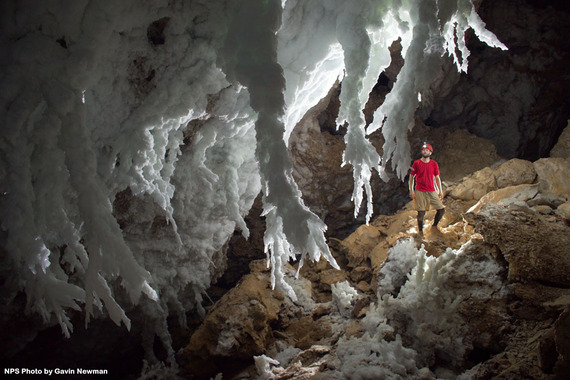 President Obama and the First Family are spending Fathers Day weekend in our national parks, visiting Carlsbad Caverns in New Mexico and Yosemite in California. NPS photo.
President Obama has waged a valiant battle and conserved 265 million acres of land and waters, over the Republicans' objection, using the same Antiquities Act which President Theodore Roosevelt used to protect Grand Canyon and Petrified Forest among many other parks. The Republican leadership that threw snowballs on the senate floor to refute climate change and lapsed the Land & Water Conservation Fund that pays for parks in cities, has done everything they can to gut the Act and relieve the President of that power.
The chairman of the Senate Energy and Natural Resources Committee scores four percent on (4%) the League of Conservation Voters list. The Chair of the House Committee on Natural Resources has a zero rating. By contrast, our Congressman Alcee Hastings has a 2015 rating of 97%.
So the upcoming elections will decide our future in starkly different ways. Will we become a hellish wasteland that's ditched and diked with little regulation, or a paradise in which we are adapting to climate change? It's time to ask candidates from city and local government to state and federal office:
"What is your vision for our public lands system? How do you intend to deal with the threat to remove lands? How do you intend to help take care of the backlog in funding? What is your plan to deal with climate change?"
When Frank and I stumbled upon the parks on our road trip around the country in 1995, we made it our mission to share these incredible places with our fellow Americans so we all know our heritage. I could wring my hands now and bemoan where we are, but I choose to be grateful for the knowledge and experience I've gathered from spending the last 20 years involved at every level from the grassroots to Congress while being on no one's payroll. I know the problems and opportunities inherent in the troubled system right now, and as part of the Next100 Coalition I have a cogent policy recommendation to the President about what needs to change.
The Brundtland Commission warned us from 1987 that a key principle of sustainability is "meeting the needs of the present without compromising the ability of future generations to meet their own needs." We're on the verge of tipping over that balance now, just as more urban-based Americans are becoming interested in our public lands.
So as we gift the fathers in our lives with lunches and ties, golf clubs and cologne, let's spare a thought for the patrimony of nature that we will leave to future fathers. Will they thank us as we can thank our forefathers? Or will they revile us for being avaricious and exploitative as we paid lip service to caring about them? We are deciding that right now, by action or inaction. Happy Fathers' Day!
Related
Popular in the Community