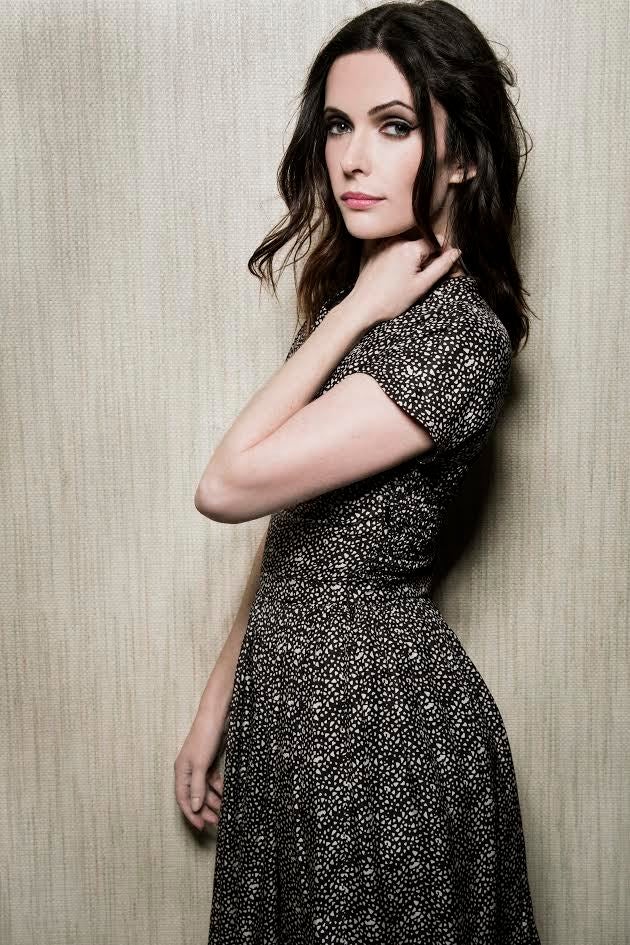 "I love doing period pieces!"
Gushed the classically stunning actress of both The Artist and Parkland, San Diego native Bitsie Tulloch, finishing the thought by saying; "When you get to be in wardrobe from another time it's so much easier to envision being there." And luckily for the enchanting starlet, her timeless beauty and poised talent can translate to any moment in history from the renaissance to the present. Elegant and statuesque in a Mad Men like way, Tulloch could very easily party with Don Draper and Holly Golightly one second, then immediately transform into an upper-class mademoiselle ready to walk down the stairs of the Titanic the next, while always managing to be able to play someone completely contemporary that the every girl can relate to in modern day.
And perhaps that is why the fan-favorite actress has become so vehemently adored with such a loyal fan-base. On the cult phenomenon Grimm, Tulloch has really managed to tap into the sweet spot of all of her most natural assets; showcasing the most perfect blend of a present day woman dealing with all the struggles of life while still always somehow channeling a fairy tale princess swept up in a world of excellent mythology. After six seasons, the gifted actress has become one of the most beloved females in cult television- and it's easy to see why; outside of being perfectly cast and abundantly talented, she is also just as dedicated to her fans as they are to her, recognizing that it is them that helped keep the show alive, and it is that gratitude that makes audiences love her all the more.
And in this case, there's a lot to love. Beyond the talent's work on the show and her dedicated commitment to her craft, the luminous Grimm star is also a total brain! Smart as a whip, Tulloch is a Harvard graduate with a double major in literature and fine arts, and she's even begun pitching and producing in television- something that she would definitely like to continue. And with fiancé and Grimm co-star David Giuntoli having just recently directed an episode of their hit show, it could be very likely that the power couple bring their Grimm "family" back together again and recreate some more magic!
But, as far as magic goes, this sizzling star has nothing to worry about as her life is truly turning into a fairy tale. Outside of planning a dream wedding this year, Tulloch also has a slew of films on slate, including Dead Draw, We Love You, Sally Carmichael!, and Chronic- which not only co-stars the amazingly talented Tim Roth, but it was also selected for the 68th annual Cannes Film Festival and has been nominated for an Independent Spirit Award! It looks like Tulloch will most definitely be living happily ever after!
With Grimm coming to a close, and so many other hot projects on her plate, the celebrated artist sat down to talk about the impending finale of her hit show, how much she loves her cast, her hot new movies, her love for her fans, and plenty more! Read on to see what Tulloch had to say!
You have had a fantastic run on "Grimm," which really has become quite the cult phenomenon with an amazing mythology behind it. How does it feel knowing that the show is coming to a close?
Thank you! I can't believe we made it to 123 episodes. That rarely happens anymore and we have our fans to thank for their loyalty. The end of this has been really bittersweet. One of the reasons I think Grimm did so well was the chemistry among the cast- being on location in Portland for six years, we became a family. So it's been hard the last two weeks since I wrapped, now that I really miss the crew and the cast. David and I are getting married soon, so we will always have an extra soft spot for Grimm because that's when we fell in love.
Your role has had a major evolution through the years and really faced one of the most prevalent issues in society today that is so rarely talked about; PTSD. Is there anything you did in particular to specifically research for that aspect of the role?
Not necessarily PTSD because those symptoms can be so intense and dramatic, and when Juliette evolved into Eve, it was more of a "wipe the slate clean" sort of thing. The difficulty there was how controlled Eve was- for her, it's all about economy of movement and energy. She never spoke more than she needed to, or moved more than she needed to, so that she could preserve her energy in case a threat presented itself.
Working with your cast for six years now, you all must have become immensely close - and they really are so talented; you have David Giuntoli, who recently starred in "13 Hours," and Russell Hornsby, who was amazing in "Fences," not to mention Bree Turner, Claire Coffee, Sasha Roiz and Reggie Lee. Can you touch on working with such great people?
Everyone is so amazing and so different. I can't stress enough how unusual it is to shoot 123 episodes and still love these people this much. To this day we all talk to each other on a group text thread, we hang out together and will likely do our fourth cast vacation in Montana this summer. I'm so proud of Russell by the way - he was great in Fences. And I clearly think David is pretty exceptional and I was so proud of how great he was in 13 Hours and what a terrific job he did directing episode 603 of Grimm. The entire cast was wonderful and I'm so grateful we got to play together for six years.
And, obviously you plan on staying close to your cast as you and your co-star David have recently gotten engaged. David was the one who actually urged you to take the role of Juliette, right? Will you miss working with him regularly?
David and I had played love interests in a movie called Caroline And Jackie about six months before we booked Grimm. I was auditioning for pilots and saw he booked the lead and texted him to congratulate him, and he said "the role of my love interest Juliette hasn't been cast yet, you'd be great for it." Coincidentally, my agents were sending it to me that afternoon anyway, so, in hindsight, it feels very serendipitous and like it was meant to happen. I'll definitely miss working with him, but I get to see him every day so win-win!
You also have another film coming out with the incomparably talented Tim Roth called "Chronic," which was selected for the 68th Cannes Film Festival, and has been nominated for an Independent Spirit Award. Can you tell fans a bit about that film, as well as what it was like to work with the amazing Tim Roth?
I LOVED the director Michel Franco's film that won Cannes, Después De Lucía. It was so good. I couldn't get it out of my head. So I was thrilled when I booked Chronic because I love Tim Roth, and I had been anxious to work with Michel. Chronic is the story of a hospice nurse's relationships with his patients and their families. Mine was a small role, but very emotional- I play the daughter of a dying man, played by Michael Cristofer. Tim Roth was also great to me. He gave me solid advice about trying to save the emotional stuff for when the camera was on me. I had been trying to just stay in the emotion and Tim saw that I was exhausting myself. I'm very happy he was also nominated for Best Actor at the Independent Spirit Awards.
You really have worked with a slew of great people in a wide collection of powerful projects; "The Artist," with Jean Dujardin and John Goodman, "Parkland," with Jackie Weaver, Billy Bob Thornton and Paul Giamatti, and "Concussion," with Will Smith. What other kinds of roles would you love to play, and who else would you love to work with?
Thank you! I feel so lucky to have worked with such incredible actors. I love doing period pieces. I was in heaven during The Artist and Parkland because when you get to be in wardrobe from another time it's so much easier to envision being there. Part of my wardrobe from The Artist had been Dorothy L'Amour's. Paul Giamatti was so wonderful to work with during Parkland. He was in all of my scenes and we both had a ton of emotional material and were trying to help the other one get there and stay there. Billy Bob was also terrific. I never shot with Jackie Weaver, but she's a fantastic actress and I'd love to work with her someday. Speaking of wish lists; Cate Blanchett, Jessica Chastain, Annette Benning, Michael Shannon and Viola Davis- to name a few.
Beyond being immensely talented- you're also a brain! You graduated from Harvard with a double-major in literature and fine arts. You've already stepped behind the lens as a producer, joining the powerful Women Behind The Lens movement, but, do you ever think you'll begin screenwriting as well, or even directing?
I have pitched television shows in the past that I created, so I definitely think I'll want to keep producing more down the road, but beyond coming up with an idea, I'm not really a writer. There are so many incredible writers out there, I'd just as soon let them take over. As for directing, I haven't thought too much about it, but I watched David have a blast directing Grimm this season, so, who knows?
Another fun fact about you: you worked on "Star Wars: Episode II: Attack of the Clones," and you were in "R2D2: Beneath the Dome," so, are you a big Star Wars fan? Are you a big sci-fi and mythology fan in general, and is that a big part of what drew you to "Grimm"?
I do love Star Wars! That little role was totally random though. I got that part through a friend of a friend, years before I even started acting. I wouldn't say I'm a huge sci-fi fan, but I know I would have watched and loved Grimm even if I wasn't on it, and I want to give a special shout-out to all the sci-fi fans because we wouldn't have made it to 123 episodes without them. They are the best fans!!!! So loyal and amazing.
You also have two more films on the way; "Dead Draw," and "We Love You, Sally Carmichael!" What can you tell audiences to expect from those films?
They are so different! Dead Draw is an indie heist film with Gil Bellows- who I have loved ever since The Shawshank Redemption, and We Love You, Sally Carmichael! is a sweet family comedy with Chris Gorham, Sebastian Roché and Jack McBrayer.
And last, but not least, as "Grimm" comes closer to its big finale, can you give fans any scoop at all on what lies ahead?
Not really! We only have about 8 episodes left so who at this point wants spoilers?! All I can say is 607 is based on a Shakespeare comedy and SO FUN. And the final few episodes: watch with tissues nearby!
The idea of not having Tulloch to look forward to every week could make any fan want to reach for the Kleenex, but, luckily for audiences, there is no doubt that the Grimm actress will most certainly have a long and prosperous career.
Grimm continues its final season on Friday nights at 8/7c on NBC.
Support HuffPost
The Stakes Have Never Been Higher
Popular in the Community