Note: Do not read on if you have not seen Season 1, Episode 10 of HBO's The Leftovers, titled "The Prodigal Son Returns."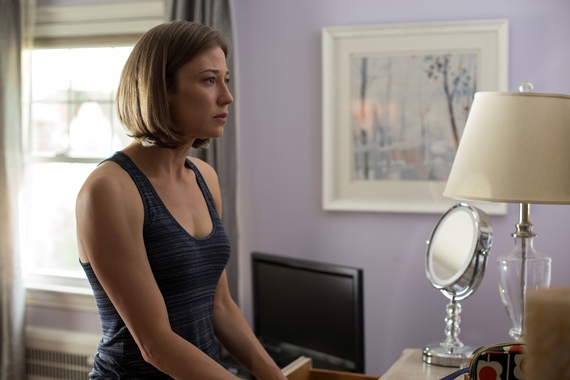 This is what I was waiting for all season. Total and complete chaos.
I was sure we were stuck with Kevin in the woods and wondering what the heck the GR were doing laying out baby clothes.
They crossed a line -- making people remember with wax figures of the departed.
Jill had gone to be with her mother on the very night they were going to leave figurines all around town, and then almost dies in the riots.
Nora? If I could use profanity I would. I was convinced she was going to shoot herself, so the little twist on the porch was well worth it.
Things I Love About This Show:

1) The use of sound and silence. Maybe it's overdone every now and again because the show is so dark. But the silent screams and the physical acting being good enough to work under that theme song? Not an easy combo.
2) Of course, the story's about the family. Cue the piano. I was annoyed that we kept forgetting about Tom. And trying to figure out how he was going to fit in. I'm glad he's back in the center -- almost "Walking Dead"-style.
3) Not being sure if I should laugh or cry. So yes, the family. But the dog?
What did you think of the finale? Is this show cheesy or am I totally cynical? Are we almost happily ever after? Let me know @karenfratti or in the comments.
"The Leftovers" airs Sundays at 10 p.m. ET on HBO.
Calling all HuffPost superfans!
Sign up for membership to become a founding member and help shape HuffPost's next chapter