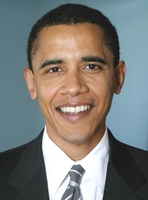 America's first black President, Barrack Obama, is to address the NAACP at their centennial convention this week in New York
Were the successful efforts of the Abyssinian Baptist Church and black leaders they marshaled to kill the landmark designation of Harlem's historic Renaissance Casino something other than a gross act of self-loathing cultural genocide, mistakenly seen as black-advancement and resistance to white power?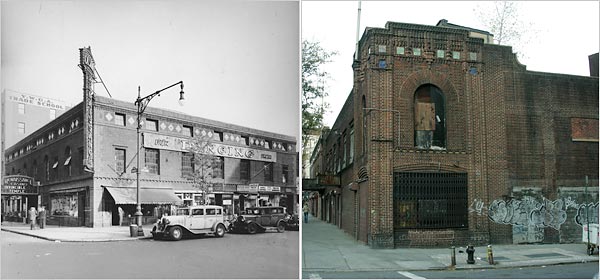 Historic Renaissance Casino, under partial demolition for a luxury apartment tower
Little by little, bit by bit, incrementally, all over the city structures which resonate with the history of African American-greatness vanish, from the Renaissance Casino, built by followers of Marcus Garvey, to Joseph H. Freedlanders's magnificent complex at Harlem Hospital, deemed by many, when it was planned in the 1920s, as "too fine for Negros."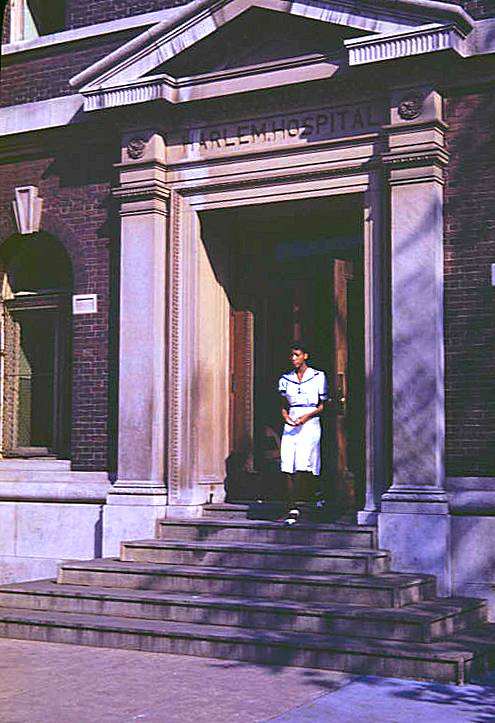 Historic Harlem Hospital Building currently under demolition
And this is what makes the centennial observation of the National Association for the Advancement of Colored People, held in New York this week, where the country's foremost civil rights organization started, such an important opportunity to evaluate powerful landmarks, as intimately associated with black accomplishment as the sterling deeds of lost heroes.
How different the un-air-conditioned New York of a century ago was. Only five years old, the subway cost but a nickel. Cars were rapidly gaining in popularity but horse-drawn conveyances and the attendant mess, still prevailed. Black ragtime music and dancing were starting to cross-over to become fashionable among the elite and middle class alike, as the "latest thing."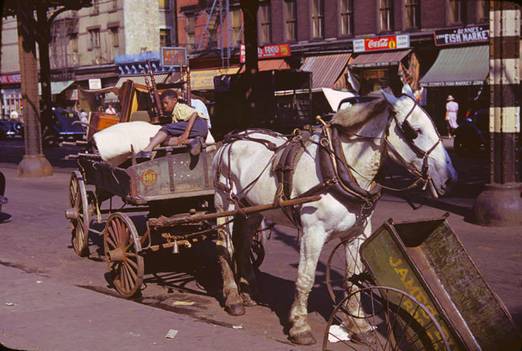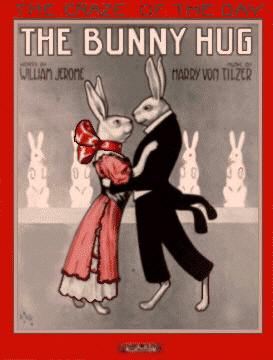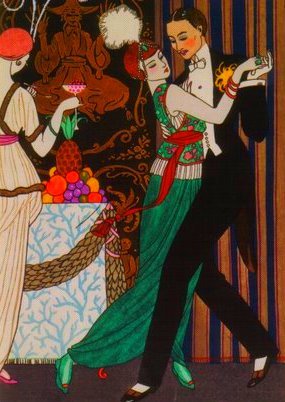 Yet, while whites here enjoyed an average wage of $2,500 per year, black citizens earned only an average of $800 annually. Representation at institutions of higher learning among blacks was miniscule then, and in professional offices or corporate boardrooms, all but nonexistent. As late as 1940, among a black population numbering a little over one million, versus nearly six and one half million whites, fewer than 400 black New Yorkers owned their own home.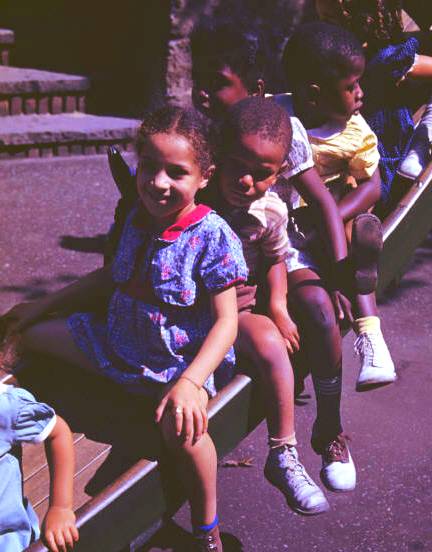 Crowded primarily into substandard multiple dwellings in congested blocks on the west side of Manhattan Island's numbered streets, from the twenties to the sixties, most African American households could only dream of luxuries like electric lights, gas stoves, refrigerators, elevators and private bathrooms. An opportunity to at last live in new housing, boasting these modern marvels, was what helped make Harlem, just opening up to Negros,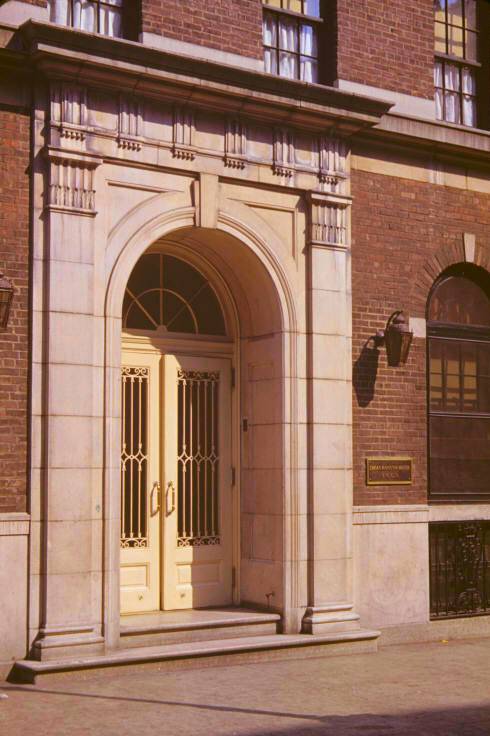 Historic Harlem YWCA, unlandmarked and partly destroyed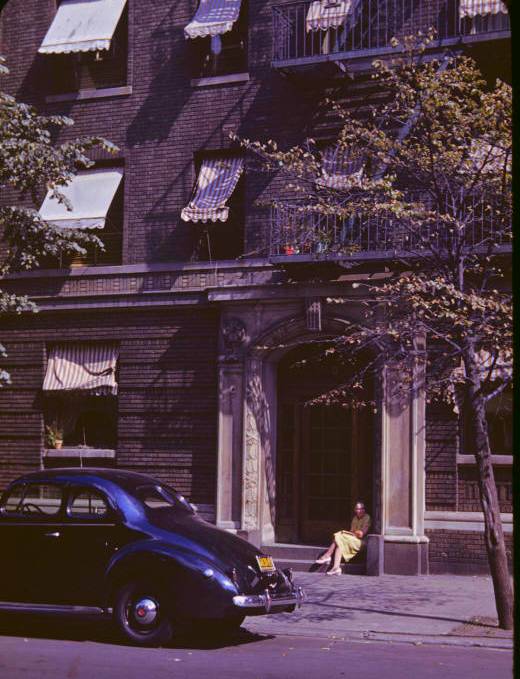 80 Edgecombe Avenue, home of heiress A'Lelia Walker, unlandmarked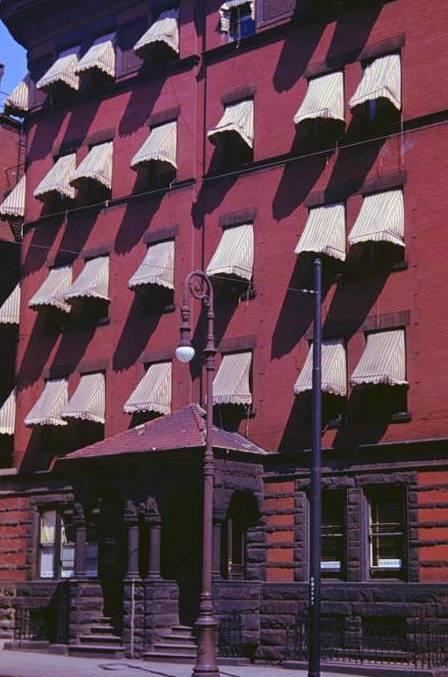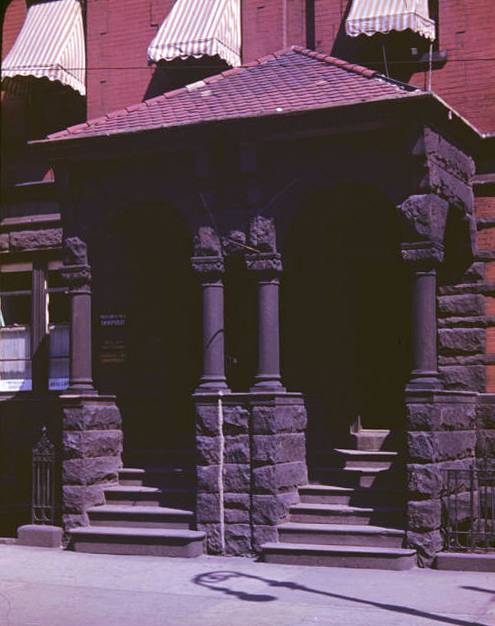 James Weldon Johnson's apartment building, designed by Berg & Clark and built in 1887 at 187 West 135th Street is unlandmarked. By 1909 135th Street had become black Harlem's main shopping thoroughfare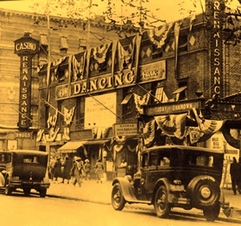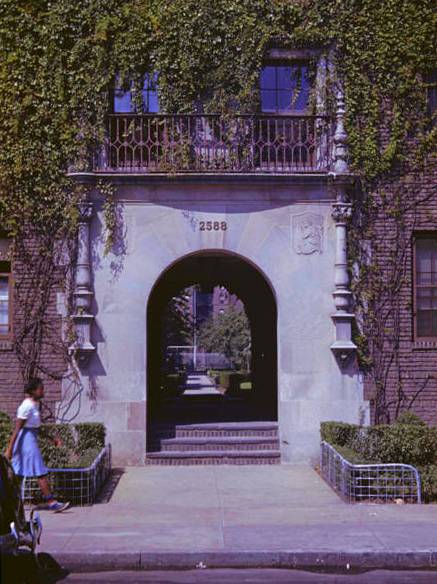 Upon completion in 1928 the Dunbar Garden Apartments became W. E. B. DuBois' new home. Though landmarked the building's ornate parapet was demolished

seem like a promised land, despite the endurance of segregated theatres, restaurants and hotels, there until after the Second World War.
Resulting in several deaths and scores of serious injuries, in 1900 New York experienced its worse race riot, since the draft riots over fifty years before. Persistent lynching, highlighted by a 1908 race riot
in Springfield, Illinois, was at the center of the National Association for the Advancement of Colored People's formation 100 years ago. That Springfield, the birthplace of President Lincoln, had been the backdrop for such ugly brutality had appalled many progressives almost as much as this latest instance of casual violence committed against blacks long, long after the war between the states.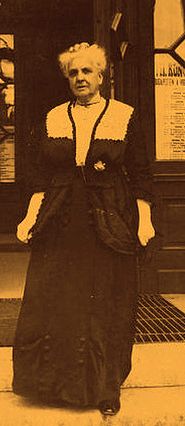 Fanny Garrison, Mrs. Henry Villard, the daughter of abolitionist William Lloyd Garrison and mother of Oswald Garrison Villard, was a staunch early supporter of the NAACP
So a group of white liberals, including Mary White Ovington and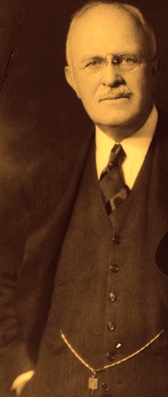 Oswald Garrison Villard, both descendants of abolitionists, William English Walling and Dr. Henry Moscowitz, organized a public meeting, to deliberate and identify means of combating racial injustice. Among the sixty people who signed a call for action, seven were African American. William Edward Burkhart Du Bois, Ida B. Wells-Barnett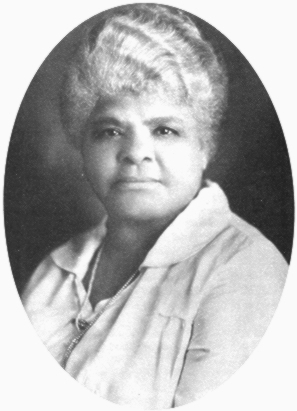 and Mary Church Terrell were a part of this warily-viewed faction. With apt symbolism the group's appeal was released on Abraham Lincoln's hundredth birthday.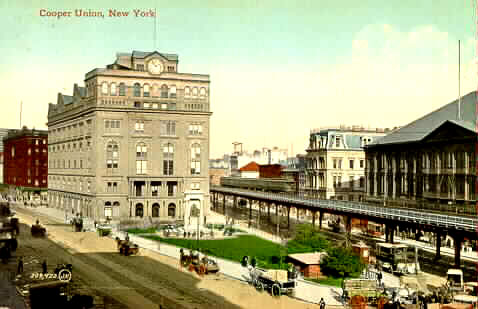 The NAACP birthplace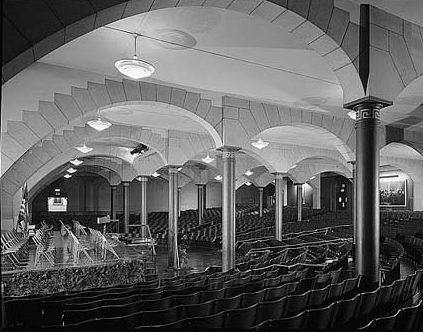 Racially and socially diverse, early members of the resulting organization included Joel and Arthur Spingarn, Josephine Ruffin, Mary Talbert, Inez Milholland, Jane Addams, Florence Kelley, Sophonisba Breckinridge, John Haynes Holmes, Mary McLeod Bethune, George Henry White, Charles Edward Russell, John Dewey, William Dean Howells, Lillian Wald, Charles Darrow, Lincoln Steffens, and Ray Stannard Baker.
Echoing the focus of Du Bois' Niagara Movement of 1905, the NAACP's stated goal was also courageous and wide reaching. The group strove to secure for all, the rights guaranteed in the 13th-15th Amendments to the U. S. Constitution. Through the democratic processes and social involvement, these disparate humanitarians vowed to secure educational and economic equality even for minorities, eliminating all barriers of racial discrimination, for good and all.
Their lower Manhattan national office was established in 1910. Subsidized, these quarters were made available by Oswald Garrison Villard at the new New York Evening Post Building, designed by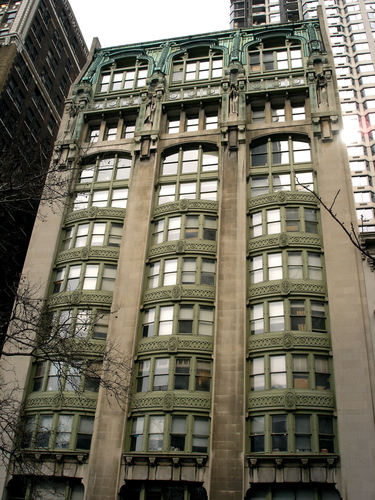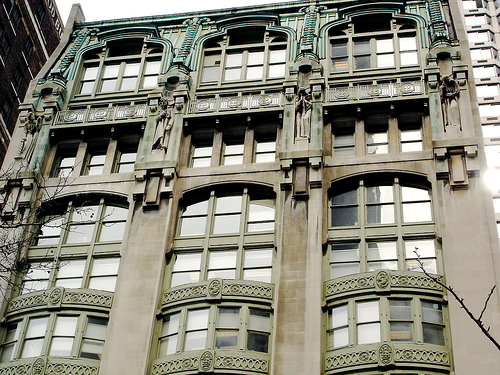 innovative architect Robert D. Kohn.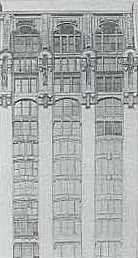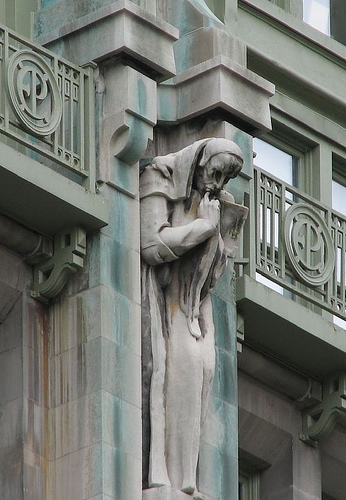 Designed in the Viennese Secessionist style, Robert Kohn's Evening Post Building features dynamic abstracted sculptural embellishments by Gutzon Borglum
Heir to a railroad fortune, Villard who published The Nation, in addition to the Evening Post, was a grandson of abolitionist William Lloyd Garrison.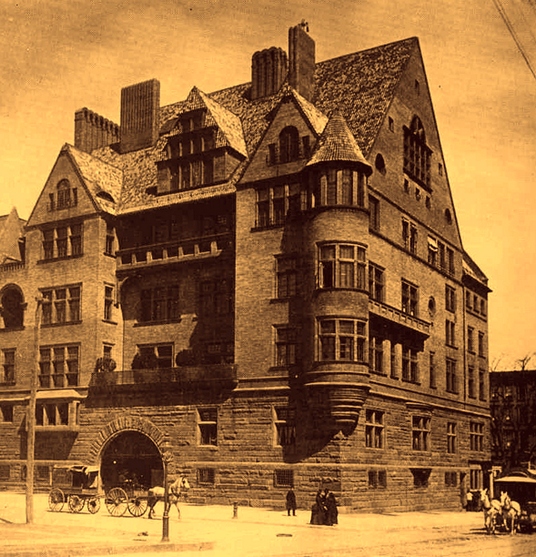 In youth Oswald Garrison Villard's family occupied a portion of the famous Tiffany mansion on Madison Avenue at 72nd Street by Stanford White, which combined three houses in one.Completed in 1882, it was razed in 1937
A board of directors elected white constitutional lawyer and former president of the American Bar Association, Moorfield Storey, president. Just as with the earlier abolitionist movement to end slavery, the fledgling NAACP was mired in conflict. Well-intentioned, some white members, particularly Villard, feeling better qualified and decidedly richer, arrogantly attempted to frustrate blacks seeking a leadership role in this new undertaking for equality. Such sentiments were even directed toward Du Bois.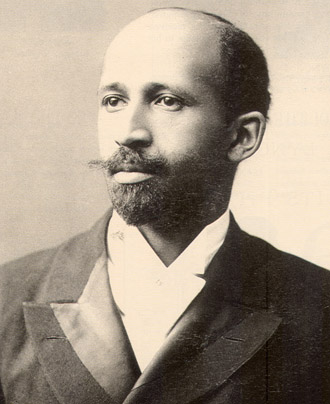 Becoming the only African American among the organization's executives, named director of publications and research, he strategically established the NAACP's official journal, The Crisis.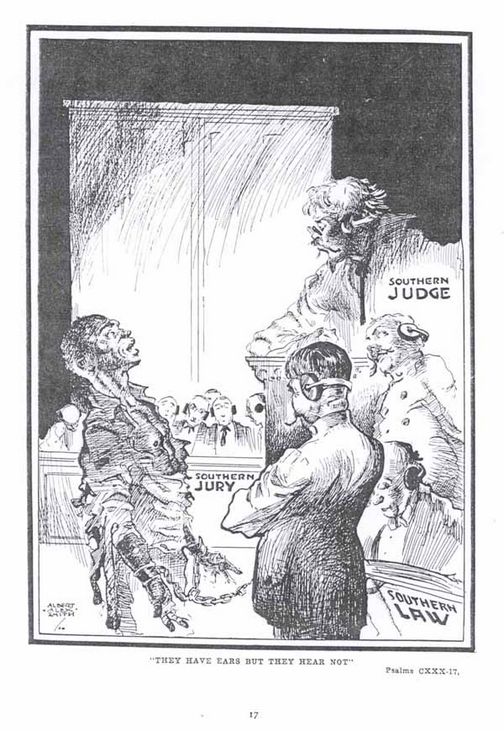 A respected journal of thought, opinion and analysis, The Crisis became a championing voice of the Harlem Renaissance, offering black intellectual attainment as yet another rationale for equal treatment. Du Bois published works by Langston Hughes, Countee Cullen and other African American literary figures, illuminated by artwork by superb draftsmen like Albert Alexander Smith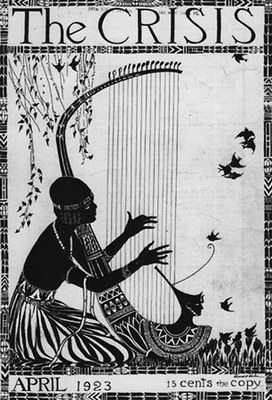 and Aaron Douglas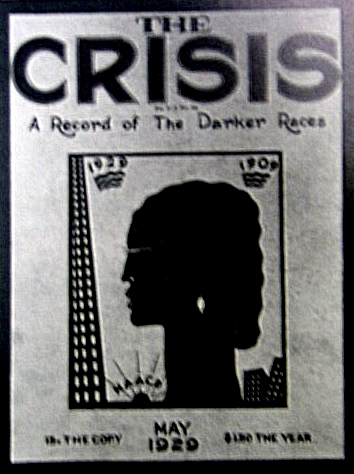 , fostering a hopeful era that made Harlem the cultural capital of black America.
Remarkably, a one-time washerwoman had also stood up to the whites who tried to dominate the NAACP. Born Sarah Breedlove, the daughter of slaves, recreated through her own enterprise, she became Madam C. J. Walker, 'hair culturist', scalp specialist and a wildly successful capitalist, the country's first self-made woman to become a millionaire.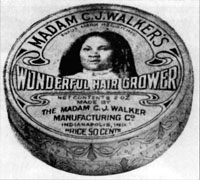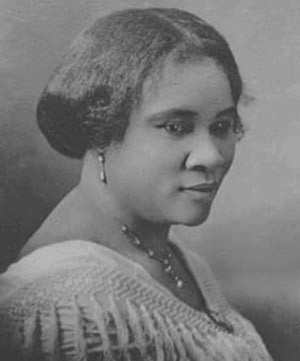 A proud race woman, Madam Walker was hardly deterred by condescension, neither from whites, nor from black men. Booker T. Washington, who initially tried to thwart her ambitions as a civil rights activist, had ended by becoming her friend.
Supporting the burgeoning NAACP's agenda of empowerment, eager to benefit from the growing circulation of Du Bois' The Crisis, Walker signed on as one of the magazine's earliest advertisers, advising potential customers in a half-page ad: "Your hair will not be beautiful unless it is healthy."
In 1917, following yet another unwarranted assault of blacks by whites, this time in East St. Louis, Walker and James Weldon Johnson were in a small delegation sent to the White House, pleading with President Woodrow Wilson to make lynching a federal crime.
"We should protest until the American sense of justice is so aroused that such affairs as the East St. Louis riot be forever impossible,"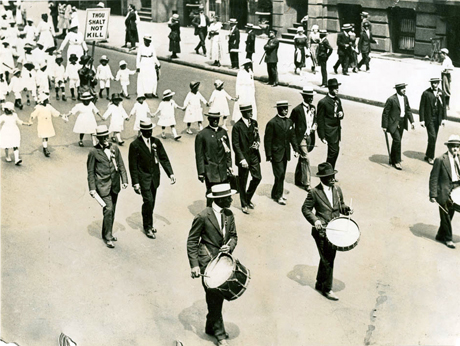 On July 28, heeding Walker's exhortation, the N.A.A.C.P. staged a "Silent Protest" parade in New York that attracted 8,000 participants marching in silence to the staccato tattoo of drums up Fifth Avenue, arm -in-arm, dressed in white.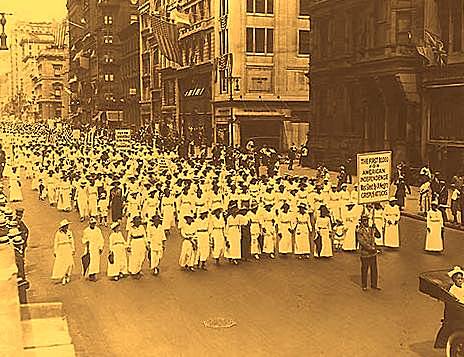 The protest was organized by the Rev. Dr. Hutchens Chew Bishop; the rector of St. Philip's Episcopal Church. In the same year the NAACP was founded, St. Philip's vestry, made up of some of the city's most distinguished African American residents, had sold their church building on West 25th Street.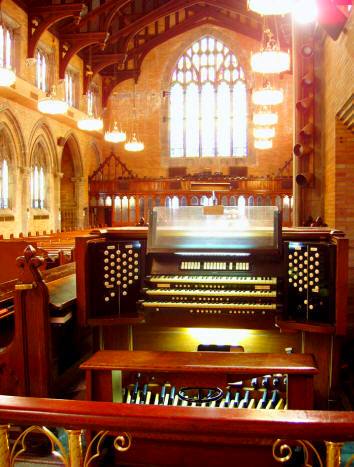 By 1911 they completed a new Neo-Gothic style church, at 214 West 134th Street designed by the state's first registered black architect, Vertner Woodson Tandy. At the same time, eager to participate in the creation of a black Mecca at Harlem, they acquired ten six-story new-law tenement buildings at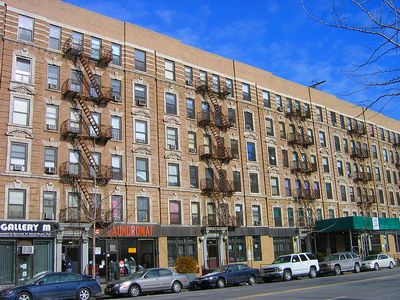 107-145 West 135th Street. Costing $640,000, these apartments, where white occupants were evicted to make way for blacks, were envisioned as an investment that would generously endow the 'nation's richest colored church' for generations to come. By far the transaction was the most extensiv, involving black capital, up until that date. Currently valued at 20 times their appraisal in 1910, these structures now belong to the Rose Smart Growth Investment Fund, which plans to make them both environmentally friendly and affordable.
Confined to her bed due to failing health, on May 5, 1919, a critically-ill Madame Walker sent word to the NAACP's Anti-Lynching Conference at Carnegie Hall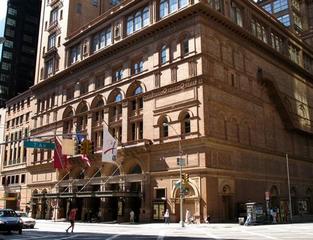 : She would pledge $5,000 to the group's efforts to combat mob violence. The largest pledge the Association had ever received; her announcement electrified 2,500 assembled delegates, inspiring over the course of the convention, primarily from black delegates, $4,400 in additional pledges. Three weeks later, on May 25, says her great-great-granddaughter and biographer, A'Lelia Bundles,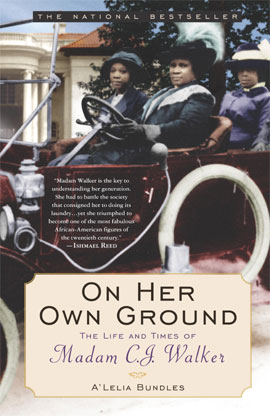 Walker died at her imposing estate at Irvington-on-Hudson,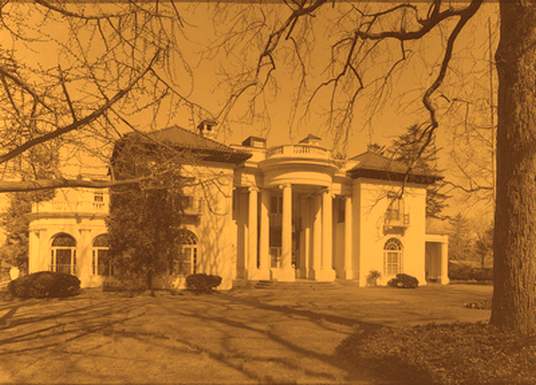 Villa Lewaro, Irvington-on-Hudson, designed by Vertner Woodson Tandy and completed in 1918
is listed on the National Register of Historic Places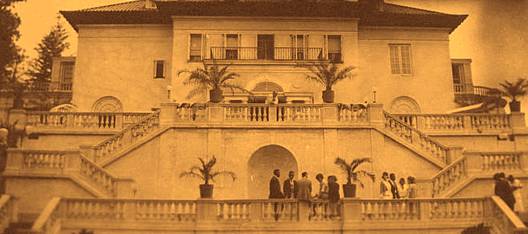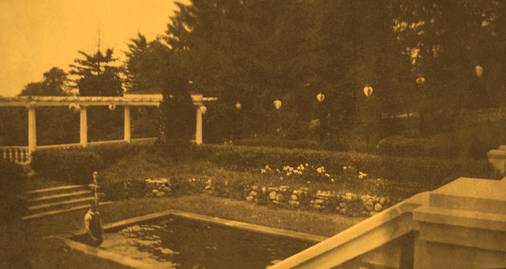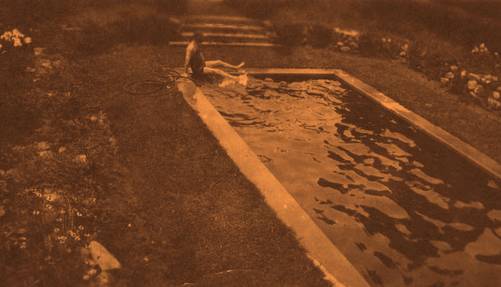 "comforted that her heartfelt gesture had paved the way for future philanthropy."

To inquire about tours of New York's landmarks of black greatness, call: 212-862-2556
Calling all HuffPost superfans!
Sign up for membership to become a founding member and help shape HuffPost's next chapter