Back in the 1990s, James Michael Tyler was working as a barista at an LA coffee shop but he longed to be a professional actor. "I had a Master of Fine Arts degree in acting and was also working as an extra on television shows -- like a lot of people with my degree do in Hollywood," explains Tyler.
Then in 1994, the second assistant director of a brand new NBC sitcom who Tyler had worked with on other shows, asked if he'd like to be an extra for a day. That meant free food and $40. Plus the assistant director thought that the extra job might extend another five more episodes. Tyler took the gig. "I had no name, no speaking lines," he remembers. On the show's production schedule (or call sheet) he was called, "the coffee guy."
The following week Tyler was asked to be on the show again. Week after week for a solid six months, he was brought back to work. "The show was getting more and more popular," says Tyler. Then during the summer when the show was in reruns, it climbed to number one in the ratings. "I wasn't paying attention so I didn't even know if I was coming back," explains Tyler. "So I still had my real job at the coffee shop being a real barista."
That brand new TV show was Friends. Not only was Tyler coming back, he ended up staying on the series for a decade until it ended in 2004. In a sense, he was a one-man Greek chorus and foil for Rachel, Monica, Phoebe, Joey, Chandler, and Ross. "It was 10 years of the most amazing experience. I never thought I was going to work. We were always laughing," says Tyler.
Central Perk, the coffee shop that was Gunther's home base would be the ideal place to chat with Tyler about his beloved lovesick character who pined and pined for Rachel. But since a real one doesn't exist, it seemed fitting to chat with Tyler at a Central Perk pop-up.
This month, as Friends celebrates the 20th anniversary of its premiere, Warner Bros. Television Group and Eight O'Clock Coffee joined together to create a simulated Central Perk in New York City. Until October 18, Friends fans can drink free Eight O'Clock java, marvel at actual costumes and check out props used the show (like Phoebe's guitar, the Geller Cup and love letters that Monica and Chandler wrote to each other). They even have the opportunity to take selfies with the actual iconic orange couch which was such a centerpiece.
Tyler met me at the Central Perk pop-up to decode Gunther and share fun facts about Friends. To read the full story (including how he would advise Gunther to get over Rachel) go to Parade.com.
James Michael Tyler marks the 20th anniversary of Warner Bros. Television's Friends on the show's iconic orange couch at the Central Perk pop-up shop in NYC.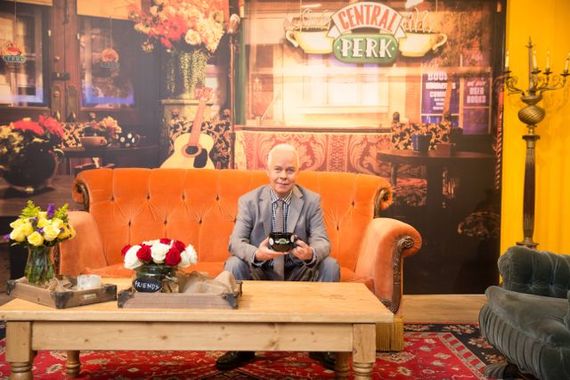 (©2014 WBEI. All Rights Reserved.)
Iconic costumes and props on display at the Central Perk pop-up coffee shop.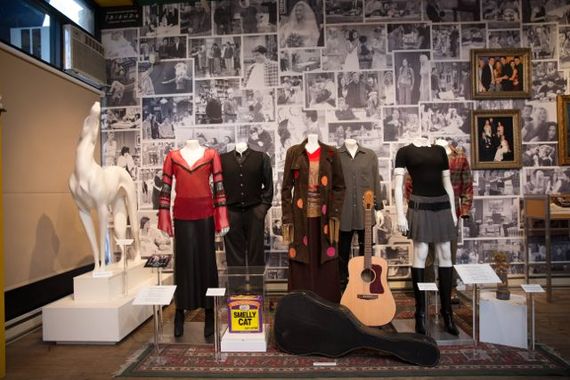 (©2014 WBEI. All Rights Reserved.)
Free cups of Eight O'Clock coffee served daily at the Central Perk pop-up replica.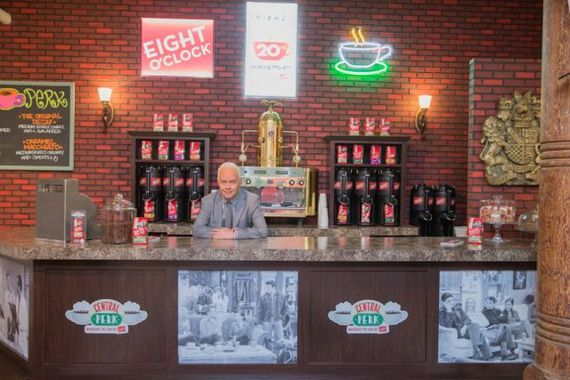 (©2014 WBEI. All Rights Reserved.)
(All photos used with permission.)
REAL LIFE. REAL NEWS. REAL VOICES.
Help us tell more of the stories that matter from voices that too often remain unheard.