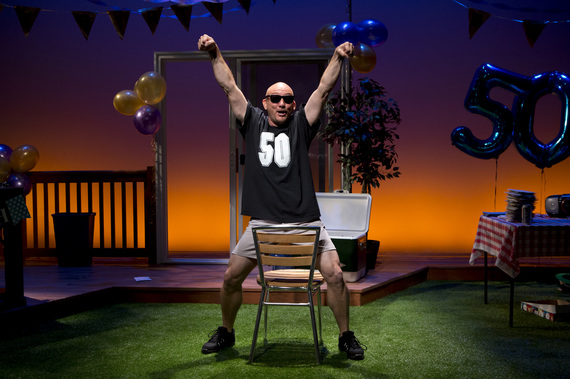 Although there are several milestone birthdays most of us anticipate such as 16, 18, 21, & 30, the one that, traditionally, causes the most anxiety is the big 5-0. Mired in stigma and fear, turning 50 really isn't what it used to be with many people actually calling it "the new 40" and a birthday that can actually be a great time to start new careers, relationships, or other adventures.
Still, when that first AARP letter arrives in the mail or the doctor wants to prescribe hormone replacement or erectile dysfunction medication, it can be a bit jarring. Which is a great reason to see the new off-Broadway show Happy 50ish! now playing at The Beckett Theatre in New York through August 30th. I sat down with Lynn Shore, who created the book, music and lyrics, for a quick chat on what inspired him to create a show about reaching this special day.
TR: How did you get involved in musical theater?
LS: I started in high school doing shows like Music Man, Peter Pan, and Godspell. I went on from there to be the youngest member of the Los Angeles Civic Light Opera's Musical Theatre Workshop that only accepted 11 men per year. From there I went to San Diego's Balboa Theater and played Rolf in Sound of Music and Alan in the West Coast Premiere of Babes in Toyland. I decided to come to New York after winning Jason Robert Brown's worldwide singing competition, last year. I sang in concert with him at 54 Below.
TR: What made you decide to write a musical about turning 50 rather than expressing the experience in a different way?
LS: I was a comic for a while and originally started this exercise as a one-man stand-up act. When I contacted my lifelong friend Mark Vogel to help with the music, we realized our natural banter made for a better two-man show. From there it morphed into the musical it is today.
TR: The musical is based on your own experience in turning 50, what was so different about this birthday? What triggered your midlife crisis?
LS: The year I turned 50, I lost one of my very best friends to a sudden heart attack. That sent me spiraling into a depression about mortality. From here I needed to express myself creatively.
TR: The plot revolves around your character arriving early to his own surprise party ... is this a true story?
LS: That part isn't. However, my wife did throw me a backyard 50th birthday party, complete with a band playing and everything. In fact, I did take over at the end and play and sing.
TR: What was the creative process behind writing the book, music and lyrics?
LS: Once I got Mark involved, we started writing scenes and songs. Then, my wife (Teresa) and I invited several married friends over as our sample market. We then invited them back three or four more times until we knew we had material that was working for this genre, and this demographic. From there we brought on David Burnham to really help us turn this thing into a musical.
PHOTO GALLERY
Happy 50ish! The New Off-Broadway Comedy
TR: You collaborated with Mark Vogel and David Burnham to write the book, music and lyrics, did they have experiences in turning 50 that helped shape the script and music?
LS: Mark did, but David is not 50 yet. So, he actually didn't get some of the references ... and in fact, he didn't know what the AARP was!
TR: When did you first realize this show could be a real hit with audiences?
LS: We started work-shopping it in San Clemente, California at The Cabrillo Playhouse. We didn't invite any guests, and didn't have any money for marketing. The theater did some small press releases and from the name alone, we drew a sizable crowd our first night. We sold out almost three weeks straight following ... that's when we knew this was a hot topic, and we were touching people with the right material.
TR: How has this show changed the way you view turning 50?
LS: Just the story of me turning 50, and still having this happen for the first time in my life...wow, it makes me realize you're never too old. You can accomplish anything...and even though I'm over 50, I'm still relevant. I'm here. I can still do things!
TR: Both personally and professionally how has watching this show grow to Off-Broadway affected you and the other members of the team?
LS: We're all ridiculously excited. My wife and I sold our home in California to move here, that's how affected we are! Mark and David are equally excited to be here and our entire team of ad, marketing, general management, press, and crew couldn't be better! It's all very amazing!
TR: Why should audiences come see Happy 50ish!?
LS: It's very, very funny. And it's real. These are all real things that happen to real people. We all turn 50 (if we're lucky). And especially men go through these issues we touch on. It's heartfelt and warm and will make audiences leave with a huge smile on their face and a warm touch in their heart.
TR: Do you believe this show has the potential to change the way people feel about getting older?
LS: ABSOLUTELY! Take a look on stage at two guys in their 50s. We carry the entire show ourselves. Running, jumping, dancing, singing, and more. We wrote this show while in our 50s and it couldn't be a better advertisement for what you can still accomplish!
PHOTO GALLERY
My Super Sweet 50
Calling all HuffPost superfans!
Sign up for membership to become a founding member and help shape HuffPost's next chapter