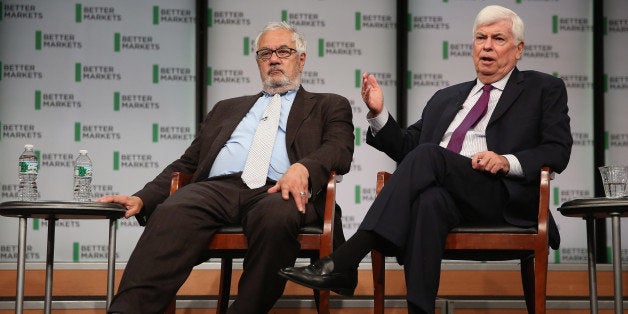 The Dodd-Frank Wall Street Reform and Consumer Protection Act of 2010 was meant to protect our economy from Wall Street greed. The legislation was passed into law in response to the 2008 financial crisis, which caused home foreclosures for millions of families and long-term unemployment for tens of millions of workers.
The Dodd-Frank Act led to some positive change over the last five years. For example, it created the Consumer Financial Protection Bureau, which has recovered billions in dollars for consumers from financial institutions that violated federal laws. But some of the biggest offenders are still operating in a "business as usual" mode.
On this fifth anniversary of the Dodd-Frank Act, I wish I was writing a congratulatory letter to all the regulatory agencies in Washington, D.C., for its successful implementation. Instead, I'm expressing the frustration of millions of working families who believe there is a lot of work still to be to done to rein in Wall Street excess.
The truth is that the Dodd-Frank Act was a compromise that largely left to the regulators the details around many structural changes. As a result, it has proven to be vulnerable to the political power of the handful of "too big to fail" banks that continue to dominate our financial system and exert disproportionate influence on our politics.
For example, financial regulators have not finalized many of the Dodd-Frank Act's executive compensation reforms. The Securities and Exchange Commission has not yet required public companies to disclose their ratio of CEO to median employee pay. And the financial regulators have failed to issue a final rule to ensure that large financial institutions stop paying their executives in ways that encourage excessive risk taking.
The time has come to finalize the Dodd-Frank Act's rules. We must also reject Congressional efforts to weaken the Dodd-Frank Act -- most of which are thinly disguised efforts to help the wealthiest people and institutions in our country. And finally, we must finish the job of financial reform by implementing a modest tax on financial speculation, breaking up too-big-to-fail banks, and passing the "21st Century Glass-Steagall Act" to ensure that commercial banks cannot play speculative games that lead to financial meltdown.
The Dodd-Frank Act improved economic stability in many ways, but the biggest banks are still allowed to gamble with taxpayer-backed funds. This means they still have the power to hold the nation's economy hostage, leaving taxpayers on the hook for another bank bailout.
Now is the time to change the rules and close loopholes that enable the big Wall Street banks to benefit themselves and increase their political power with no regard for protecting customers' or taxpayers' money. Working people should not have to suffer for the mistakes of unscrupulous financial institutions, and workers demand that this broken system be fixed.
Calling all HuffPost superfans!
Sign up for membership to become a founding member and help shape HuffPost's next chapter