I've known my mother all of my life. As a helpless young bystander, I watched her marriage to my father unravel until she finally cut the cord. With three young chicks tucked under her wing, she packed up the pieces of her heart and flew us to NYC to marry the man I dubbed "Mister Mean," followed by husband #3, "Mister Meaner."
My mother met Herb, the love of her life, when she was just 15 years old. If she had only known, she would have bypassed all that heartbreak. And Herb would have not tied the knot with the women I crowned, "Miss Guided" and "Miss Led," only to spend years untangling himself from them.
Mom and Herb were high school sweethearts. He was her first date, her first kiss, her first "second base." They graduated and chose colleges in distant cities. He enlisted in the Navy and drifted away.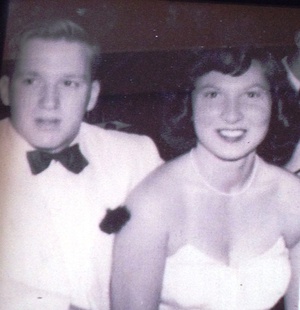 Several decades later, Mom tried to locate Herb, to no avail. She finally gave up.
And then, when they were both barely 78 years old, Herb had a vivid dream about Mom one night. It was the kind of dream that stays with you, and feels so real that you wonder if your spirits flew off and danced together while your bodies were sound asleep.
Three months later, Herb happened to bump into my mother's only sister, Betty, at his friend's dinner party. They had both moved away, hadn't seen each other for decades, and had no idea they had a mutual friend. My Aunt Betty exclaimed, "I know you! Weren't you my sister's date at my wedding?!"
"Yes, it's me!" He reintroduced himself and said, "It is great to see you again, Betty! How is Carol? I'd like to re-connect with her. Would you please give her my email address?" Aunt Betty was delighted to re-introduce her sister to her first love.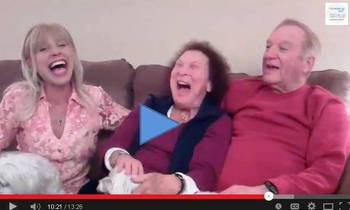 http://youtu.be/TjwdKmnwUok

And so the two 78-year-olds began rekindling their courtship through email. Two months later, Herb picked up the phone, took a deep breath, and called her. They talked into the wee hours of the morning.
After several calls that flew by like the first call, Herb asked if he could fly to Florida to visit the snowbird for a week. She agreed to meet, with the condition that he stay in a nearby hotel. Herb is a class act. He booked his flights and his hotel room, and showed up on Mom's doorstep laden with flowers and chocolates, to take her out on their first date together since 1948. They had a wonderful time. And Mom says that Herb was a real gentleman all week long.
His patience paid off. Two months later, Herb flew back again to see mom. And this time, after waiting more than 60 years, he finally got past second base, and was finally "home."
Herb and Mom are like octogenarian teenagers. During lunch with them last week, they were both texting away on their iPhones. "Come on, kids. You know the rules. Put your phones down at mealtime."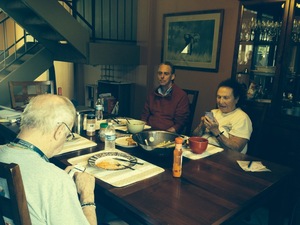 They both say they still feel like high school sweethearts and are so grateful to be together again. Herb calls it, "A God thing -- a one in a million chance."
They are so good together and their joy is contagious. Their love and gratitude for each other is palpable. And, as a woman entrepreneur and inventor, I am regularly buoyed by their youthful optimism and encouraging support.
They tease each other and laugh a lot, go for long walks, hold hands at the movies, and celebrate holidays and special occasions with their elated blended families. It's as if time stood still, waiting for them to catch up with each other.

Take it from the octogenarian teenagers. It is never too late to have a happy adulthood.