Two years ago--July 8, 2014, to be exact--Monkfish Publishing released How Do you Pray?
This book was the manifestation of a vision I awoke with six years before where I heard those words, "How do you pray?" and saw the essence and oneness of all people, religions, and cultures.
How do you pray? the words continued. Is it an hour a week at a designated place of worship or do you take your prayers out to the streets? Do you pray like your parents, culture or tribe, or did you develop another way? Do you pray to God or do you have another special name, or name at all? Is it a monologue or a conversation?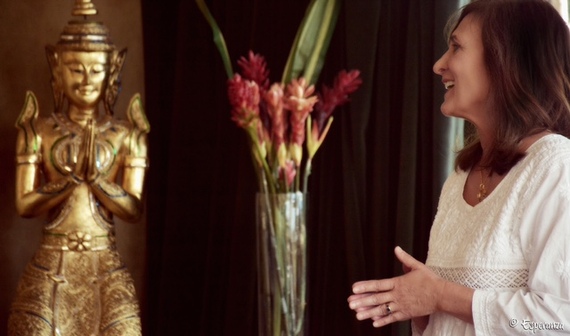 Celeste Yacoboni

I asked these questions of everyone I met, and I'm still asking. As I sit in this inquiry I reflect on who is praying--and to whom? It is beyond the mind and thinking. It's more of an awareness, a prayerness.
It is a realization that all of life is sacred. Waking up alive in these bodies on this planet Earth spinning through space is already miraculous and a great prayer, as prayer is a connection with something larger than ourselves.
The book How Do You Pray? is touching many from all traditions and walks of life. I have offered talks and workshops at spiritual centers, churches, and soon a synagogue and Islamic center. Since I have donated some copies to prisons, I've been invited in to introduce interspiritual prayer to the inmates.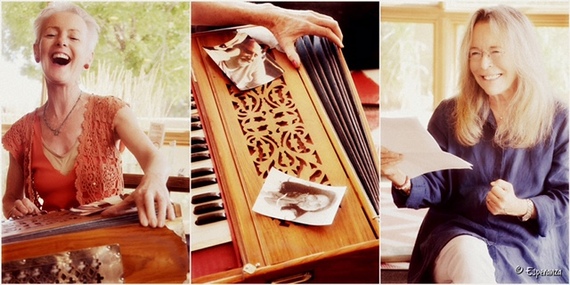 Left, Sita Jamieson Caddle; center, Sita plays the harmonium; right, Joanna Harcourt-Smith.

We celebrated this second anniversary in Santa Fe at BODY with friends, family, prayers, poems, stories, and chants. Sita Jamieson Caddle opened the sacred space with the chant "I Am, I Am" and closed with "Asalaam, Shalom, Shanti, Peace on Earth."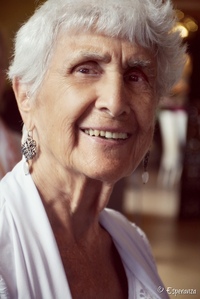 Millie Yacoboni

Jennifer Esperanza memorialized the event with photos like the ones posted here of Sita, Joanna Harcourt-Smith, my mother Millie Yacoboni, and me. Jennifer has been illustrating this vision since the beginning, starting with an image of a little child with big blue eyes that was the first invitation to this inquiry and project. She has two images in the book and continues to put a face to prayer with her photos.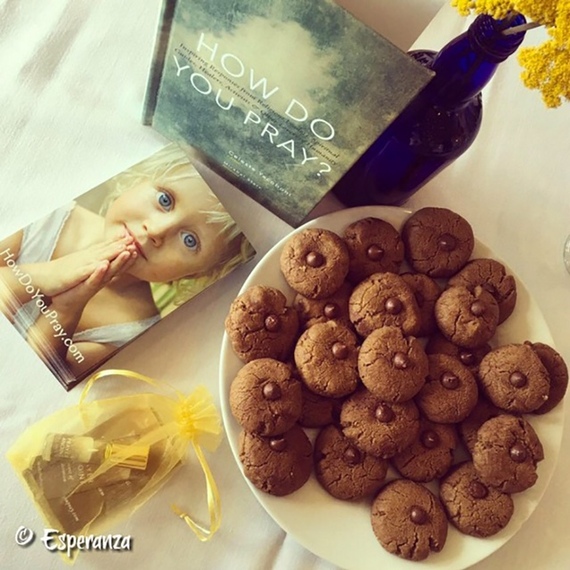 In this photo you can see the Prayer Anoint and hardcover book that you can purchase on the website. (Don't forget that you can also download a free 10-page excerpt.) The cookies we served from the café at BODY were also divine!
The vision has been about bringing people together and is growing in momentum. In hearing the prayers of each other, it becomes clear that together we are one spirit of love celebrating life.
Here is a video created by Bob Keeton of some of the contributors sharing their prayers last spring at BODY, called "Celebrating the Spirit that Unites Us." Bob has been amazing at bringing these events to life as well as recording my Ho'oponopono Chant.
As we appreciate the beauty of our diversity, our unity blossoms. We are all like flowers of many colors and fragrances, yet all plants just the same. Some have thorns and some soft petals, growing side by side in the earth and sunlight. What a magnificent garden it is!
Related
Popular in the Community